Top 10 Favorite Moments from Meteor Garden
F4 and Shan Cai are back on TV! We're listing 10 fangirl reasons why it's worth the revisit.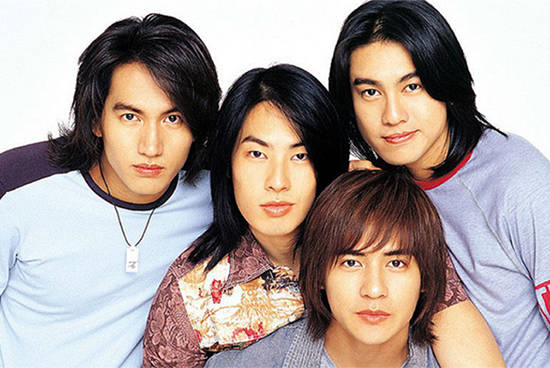 (SPOT.ph) Dao Ming Si, Hua Ze Lei, Xi Men, Mei Zuo and Shan Cai are invading the local telenovela landscape again for the ultimate throwback with the return of Meteor Garden. Eleven years after the show initially aired, the fans' fervent fascination with the show remains the same.
With the re-airing of Meteor Garden, a new generation will get to experience the drama's emotional rollercoaster of a plot, while longtime fans will get to relive the telenovela's glory days.
ADVERTISEMENT - CONTINUE READING BELOW
CONTINUE READING BELOW
Recommended Videos
Here are our favorite moments from Meteor Garden!
10. The Flower Four Grand Entrance
The shadow of four men in the opening sequence should have been a warning: F4's appearance signaled how the lives of future hardcore fans would be changed forever. Experience for the first time again (what) with this video featuring the opening theme song of Meteor Garden.
9. Mei Zuo's Mane
Admit it, when Mei Zuo whips his hair back and forth, you're completely mesmerized. Seriously, how could this man's hair be shinier and silkier than most women's? We bet it was Vanness Wu's hair that clinched this product endorsement for F4.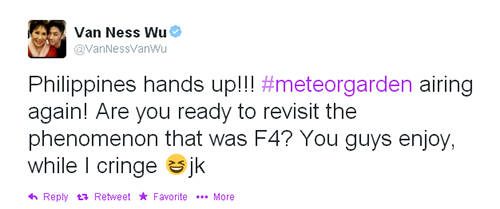 ADVERTISEMENT - CONTINUE READING BELOW
On another note, Vanness has tweeted about the rerun.
8. Piggy 4's Friendship
They will always be there for each other. Proof of the deep friendship shared by these men is seen at the airport, when Hua Ze Lei is about to leave for Paris. They have looks, fame, riches, wit, and charm. Name it, they've got it, but the most admirable thing is probably their loyalty, and their willingness to help each other out. Remember the scene with Dao Ming Si pretending to be dead in the hospital, tricking Shan Cai into revealing her feelings? The prank was complete with F3 crying silently by Dao's side...and then they laughed riotously when Dao suddenly sprang from his deathbed to comfort the poor girl.
7. Unforgettable Lines
Lines that made us cry in empathy, howl in anger, or laugh uncontrollably. Meteor Garden is what it is because of these jaw-dropping quips.
ADVERTISEMENT - CONTINUE READING BELOW
Xi Men's known for making girls cry, so his mocking jibe is classic: "A woman has an expiration date of one week."
Then there's Hua Ze Lei's heartbreaking litany: "Why can't the person I like be you?" or "There are two types of regret in this world. One is losing the person you love. The other is seeing your beloved lose happiness."


The most memorable ones have got to be those from Dao Ming Si. It might sound idiotic at first, but you have to love a guy who's brutally frank and says how he honestly feels. When he innocently blurts out, "I'm a man of size, you know," he makes us go "hmmm."
But every wisecrack from him is best heard and read in Filipino. Like absurd retorts: "Sino ba naman ang iibig sa babaeng marumi?" or crushing smackdowns: "Gusto mo bang ipakita ang pagkakaibigan ng mga hampaslupa?"
ADVERTISEMENT - CONTINUE READING BELOW


And of course, the best hirit ever, "Kung pwede pala ang sorry, aanhin pa ang pulis?"
6. Cookies for Dao Ming Si
The adage, "It's the thought that counts" definitely applies to Shan Cai's birthday present for Dao Ming Si. The cookies she gives him, shaped in his likeness, are burned beyond recognition. But the look on his face is priceless. He has everything he needs (and more) in this world, but at that moment, those cookies are worth more than all of his possessions combined.
5. Dao Ming Si versus Hua Ze Lei
A lot of scenarios in Meteor Garden have pitted Dao Ming Si against Hua Ze Lei. But imagine this: these two flower boys fighting over Shan Cai, literally pulling her arms so that she can be with one or the other. Who wouldn't want to be that lucky girl? Or better yet, how about playing a game of basketball for the love of Shan Cai? Catch Hua Ze Lei's smirk while making Dao Ming Si jealous!
ADVERTISEMENT - CONTINUE READING BELOW
4. Xi Men and Xiao You
Who wanted this couple to end up together? Shippers, sound off in the comment section! We'll never really know if Xi Men pursued Shan Cai's BFF, but one thing's for sure, we felt the love. No one can deny the romantic tension slowly building up between these two love birds. On another note, how we wish Ken Zhu and Rainie Yang were a couple in real life!
3. "Watcheley." Who?
Many have been confused in spelling and pronouncing his name. Hua Ze Lei, Hua Zhe Lei, Hua Zi Lei or Watcheley, which takes the cake for being the weirdest version of HZL's name. But Lei will always have a special place in our hearts because of his unrequited love for his childhood sweetheart, Jing, and how he fell hard for Shan Cai. Props to Vic Zhou (or Zai Zai, as we fondly call him), for his flawless portrayal of HZL.
ADVERTISEMENT - CONTINUE READING BELOW
Hua Ze Lei is the perfect example of a walking contradiction. Spontaneous yet reserved. One who loves to sleep the whole day but can do handstands in a snap. One who buys cakes at Italian Tomato even though he doesn't like sweets. He's a mystery, and we just can't help but stop, look, and listen.
2. The Iconic Dao Ming Si
Dao Ming Si, the definition of "knight in shining armor." A few things that make him unforgettable:
ADVERTISEMENT - CONTINUE READING BELOW
His pineapple haircut.
When Dao changes the way he looks by wearing an Astro Boy shirt, just to get Shan Cai to notice him.
He waits for hours in the rain on their first date.
His funny dance.
How he tightly grabs Shan Cai's hand during their zoo date.
How he runs after the bus after Shan Cai breaks up with him.
How devastated he is after breaking up again with Shan Cai. In the rain.
1. The Warehouse Scene
Gut-wrenching. That is all.
Load More Stories