A Heritage Playlist: 10 Filipino Classic Songs
As we celebrate this season of patriotism, we're checking out the great recordings of Pilita Corrales, Celeste Legaspi, Nora Aunor, and other artists. How's that for a throwback?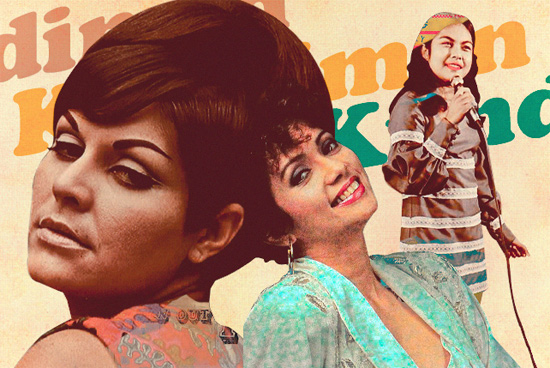 (SPOT.ph) Call it an Independence Day hangover, this throwback look at one part of Philippine heritage; our rich, full-bodied original music (if we're prone to wine metaphors, it's because the music goes well with that too). So here, a collection of kundimans, folk songs, and other distinctly Filipino genres, is SPOT.ph's playlist of Filipino classics.
1. "Katuwaan" by Sylvia La Torre
Sylvia La Torre is one of the great singers in Filipino music. Her vibrant voice is what makes it distinct, and it's plain to hear in this recording. It's a joy to listen to, because it evokes a certain time and place-Manila in a less frantic era, but already on the brink of modernity. "Katuwaan" would go well with a period film.
2. "Ikaw ang Ligaya Ko" by Ric Manrique Jr.
Listen to this Ric Manrique Jr. number and you'll also be reminded of a time your parents must now be nostalgic about. Somehow it suits the rhythm of Downtown Manila, the BGC of their days.
3. "Bituing Marikit" by Celeste Legaspi
Okay, this one's dark-very dark, really. And it shows the power and eloquence of the great composer Nicanor Abelardo, whose music provides the bulk of Celeste's critically-acclaimed 1984 recording Koleksyon, which also features Ryan Cayabyab's beautiful piano accompaniment.
4. "Ang Pipit" by the Mabuhay Singers
This one's a swinging version of a song that has become this group's signature. Trust the Mabuhay Singers to win you over, whether singing fast or slow numbers.
ADVERTISEMENT - CONTINUE READING BELOW
5. "Tunay na Tunay" by Ruben Tagalog
A list of timeless Filipino songs, especially the kundimans, wouldn't be complete without the highly expressive singer Ruben Tagalog. His contemporaries are just as essential, of course, but in our book, it's this artist who sings his repertoire as if they're film epics. This version of the Juan Silos Jr. song is a fine example.
6. "Ikaw ang Mahal Ko" by Bobby Gonzales
This is one of the more definitive versions of the Tito Arevalo-Levi Celerio standard, and here we take the liberty to cull from Jon Red's art-film masterpiece, Astig(matism). Released by Viva Films in 2004, Astig(matism) is notable for being Robin Padilla's venture into art cinema, playing a soulful hitman stricken by a conscience and by the visual impairment identified by the movie's title. (But Padilla is rarely seen in this movie because he's the one wielding the astigmatic-simulated camera.) The film is also notable for incorporating classic Filipino music into the action genre, as demonstrated by this highly inventive set piece.
CONTINUE READING BELOW
Recommended Videos
For another unique version of "Ikaw ang Mahal Ko," check out this version by the seminal folk-rock band Asin.
7. "Sa Kabukiran" by Gloria Dizon Coronel and Rachelle Gerodias
Two sopranos-a renowned veteran (Gloria Dizon Coronel) and a celebrated contemporary star (Rachelle Gerodias) of our opera scene-combine their talents in a stirring version of this Sylvia La Torre signature.
8. "Bakya Mo Neneng" by Ryan Cayabyab
In 1981, the versatile composer-pianist-conductor-arranger Ryan Cayabyab released an a cappella album of Filipino standards and his own compositions aptly titled One. He did all the singing in this multitrack recording, and One became an instant landmark in OPM. This masterpiece starts off with a formidable version of Santiago Suarez and Dominador Santiago's "Bakya Mo Neneng."
ADVERTISEMENT - CONTINUE READING BELOW
9. "Somos Novios" by Pilita Corrales
Pilita Corrales will always be celebrated as Asia's Queen of Songs, a title backed by her prolific recordings of songs in Tagalog, Visayan, English, and Spanish. This famous bolero from Mexico (made more popular by the English-language version sung by American singer Perry Como) has become one of Pilita's signature songs. It's not, strictly speaking, part of our musical heritage-but that point is rendered moot by her interpretation.
10.  The George Canseco Medley by Nora Aunor
Let's end our playlist with this slice of greatness from Lino Brocka's 1981 romantic farce, Dalaga si Misis, Binata si Mister. It's an overlooked work by Brocka, full of delightful mayhem, but the movie begins on a melancholy note with this opening scene-featuring Nora Aunor with a medley of George Canseco's now-timeless songs. We truly miss La Aunor the singer-that facet of her artistry which began her career but which has been silent for a long time now.
Share this story with your friends!
---
Help us make Spot.ph better!
Take the short survey
Load More Stories