10 Best Movie Striptease Scenes
The closest you can get to your favorite actor taking it all off.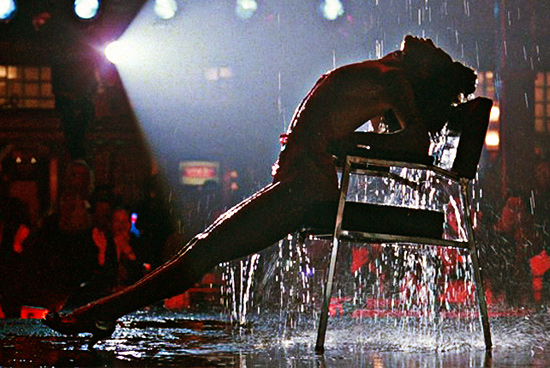 (SPOT.ph) Sex is fun, but stripteases are all about the fantasy. The outfits, the dim lights, the mood-setting music, and finally, the titillating performance. Technically, the act involves taking off articles of clothing one by one, but we're broadening it to "actors seductively dancing." There are more than a handful of steamy scenes out there, but we've narrowed it down to 10 choice favorites.
ADVERTISEMENT - CONTINUE READING BELOW
This list is not ranked.
Jennifer Beals in Flashdance
There's a good reason why this dance sequence has been touted as "iconic." The scene features the lead character, and nothing else but her silhouette, a chair, and that memorable bucket of water. The unique routine has been re-enacted, parodied and even adapted numerous times since it was first released in 1983. Sometimes, less really is more.
Jessica Alba in Sin City
Jessica Alba stars in this critically acclaimed neo-noir flick as Nancy, a former kidnap victim-turned-exotic dancer. A huge chunk of the film's promotions involved photos and clips of a scantily clad Jessica performing on stage. Talk about successful advertising schemes, because it raked in $29.1 million in the box office on opening weekend.
ADVERTISEMENT - CONTINUE READING BELOW
Salma Hayek in From Dusk Till Dawn
Before the TV show adaptation and Britney Spears' infamous python dance at the MTV Video Music Awards, there was Salma Hayek who sizzled in Robert Rodriguez's From Dusk Till Dawn. She even pours tequila into a much-younger Quentin Tarantino's mouth with her, er, foot.
Rose McGowan in Grindhouse: Planet Terror

This double feature from the prolific team of Quentin Tarantino and Robert Rodriguez opens big with Rose McGowan dancing on stage. Too bad she later gets one of her legs amputated by a horde of zombies.
Demi Moore in Striptease
Demi Moore portrays Erin Grant, a former FBI secretary who loses custody of her daughter to her ex-husband. To pay her hefty legal bills, she becomes a stripper. Fun fact: Demi's real-life daughter Rumer Willis plays her daughter in this not-so family-friendly film.
ADVERTISEMENT - CONTINUE READING BELOW
Jessica Biel in Powder Blue
Rose-Johnny (Jessica Biel) is a performer in a sleazy strip club owned by Velvet Larry (Patrick Swayze in his last role). Her dance routine involves a creative use of candle wax, while a mortician strangely named Qwerty (Eddie Redmayne) looks on.
Tina Fey and Steve Carell in Date Night
If you thought this list would solely include steamy stripteases, think again. This stripping scene with Tina Fey and Steve Carell deserves a spot for how hilarious and unforgettable it is. It's not sexy in any way, but it's definitely worth a watch for a good, long laugh.
Natalie Portman in Closer
The real show in this scene is Clive Owen interrogating Natalie Portman on her profession, but it's almost hard to pay attention when she struts around their private room wearing a pink wig and close to nothing. Can we save the deep and meaningful conversations for later, when we're less distracted?
ADVERTISEMENT - CONTINUE READING BELOW
Cameron Diaz, Lucy Liu, and Drew Barrymore in Charlie's Angels
Half the fun of watching the Charlie's Angels adaptations are the multiple identities and fun costume changes. These three Angels prove that nothing distracts baddies like a good, captivating striptease-props and audience interaction included.
Everyone in Magic Mike
If there's one thing we learned from Magic Mike, it's that male strippers can be just as entertaining as women. Is the sequel here yet?! (Also read: 10 Actors Who Should be in Magic Mike 2)
Load More Stories