There's going to be a huge change in Avengers: Age of Ultron
A first for Marvel movies since 2008.
(SPOT.ph) There are some things in life that are constant. For fans of the Marvel Cinematic Universe, it's the awesome post-credits scene at the end of each superhero movie, like an exciting sneak peek into what's coming next. Well, we've got some bad news for you.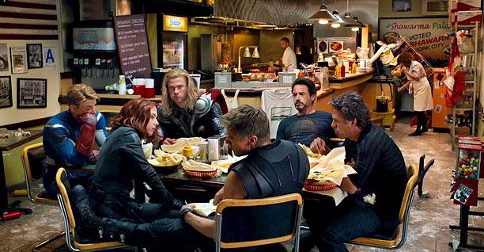 Writer and director Joss Whedon has announced that there will be no post-credit surprise in the upcoming Avengers: Age of Ultron movie. The folks behind the film are skipping the Marvel tradition because they "couldn't top" the post-battle shawarma scene in the first Avengers movie.
ADVERTISEMENT - CONTINUE READING BELOW
Don't despair! Here are other exciting things that you can expect from the latest installment, out in theaters April 22:
ADVERTISEMENT - CONTINUE READING BELOW
To replace the post-credit scene, there will be a "short, epilogue-like scene" that pops up right after the credits start to roll.
Someone will play the instructor to a young Black Widow (Scarlett Johansson), and she may be portrayed by either Linda Cardellini or Julie Delpy (who are both confirmed to be part of the ensemble cast).
Other new cast additions include James Spader as Ultron, Paul Bettany as Vision, Elizabeth Olsen as Scarlet Witch, and Aaron Taylor-Johnson as Quicksilver.
Everyone gets a cool costume upgrade. For instance, Captain America's (Chris Evans) famous shield will have new features, including the ability to be "called back." Oh, and The Hulk has stretchy pants now (Mark Ruffalo).
The massive Avengers Tower will be a backdrop to plenty of scenes, and it's reportedly the largest set ever built for a Marvel movie. In the story, the tower was designed and built by Tony Stark (Robert Downey Jr.)
Also read: 7 Movies We Can't Wait to Watch This April
Recommended Videos
Load More Stories