10 Movies to Marathon With Mom This Mother's Day
Quality time on the couch with mom? We've got a couple of ideas.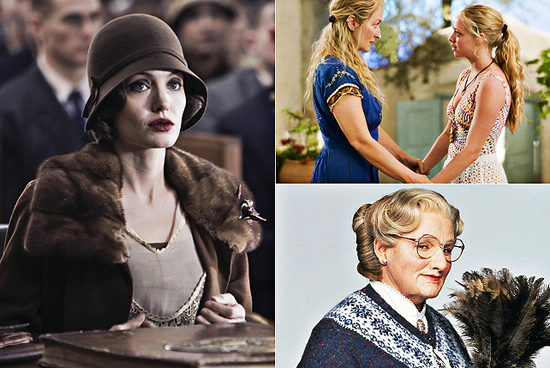 (SPOT.ph) Whether you've got a whole day of pampering planned or you've decided to go for a nice dinner, don't let the quality time with mom end there. Kick back and unwind on the couch with these 10 films perfect for a movie marathon night. Think tearjerkers, heartwarming comedies, and maybe even a bit of drama. Oh, and don't forget the movie night snacks!
ADVERTISEMENT - CONTINUE READING BELOW
Also read:
The SPOT.ph Mother's Day Gift Guide: 30 Gift Ideas for Every Budget
10 Things Your Mom Has Probably Said to You at Least Once
SPOT.ph Guide: Where to Take Mom This Mother's Day
10 Mom-Friendly Restaurants in Manila
The Guilt Trip (2012)
Perfect for: The strong-willed mom who, of course, means well
Here's a pairing we never saw coming, but it surprisingly works: Barbra Streisand and Seth Rogen. Rogen plays Andy, the down-on-his-luck son to Streisand's Joyce. As he embarks on an important business trip, a quick stop at his overbearing mom's house turns into an epic cross-country roadtrip.
Mrs. Doubtfire (1993)
Perfect for: The mom who wants a good laugh...and cry
Mrs. Doubtfire is one of those movies that is always worth a rewatch. After a bitter divorce, a talented but troubled voice actor loses custody of his three kids. He then disguises himself as an elderly housekeeper to spend more time with them.
ADVERTISEMENT - CONTINUE READING BELOW
It's Complicated (2009)
Perfect for: The mom who doesn't mind a little raunchy comedy
Nothing says "mom movie" like a Meryl Streep movie, and It's Complicated would be perfect for a night of laughs. Streep plays a successful baker-slash-single mother who reignites her relationship with her ex-husband (Alec Baldwin). There's a catch: He's married.
Freaky Friday (2003)
Perfect for: The mom who doesn't quite get you (and vice-versa)
Do you and your mom have a wide generation gap? You can probably relate. In this Disney remake, Anna (Lindsay Lohan) is an aspiring musician who just doesn't get along with her mother (Jamie Lee Curtis). A magical fortune cookie causes them to switch bodies, and they are both forced to live out each other's lives.
The Sound of Music (1965)
Perfect for: The mom who loves a good classic
Make it a musical movie night, with the lengthy but infectiously cheery The Sound of Music. You've probably already seen this with mom when you were much younger, but you two can bond and sing along to "Do Re Mi."
ADVERTISEMENT - CONTINUE READING BELOW
The Joy Luck Club (1993)
Perfect for: The insightful mom
If your mom is into thought-provoking movies, check out The Joy Luck Club, the film adaptation of Amy Tan's popular novel of the same name. The plot explores the stories of four older Chinese women and their complicated relationships with their Chinese-American daughters.
Changeling (2008)
Perfect for: The mom who prefers a compelling drama
Angelina Jolie stars in this Clint Eastwood film about a single mother desperate to find her missing son. She takes on the Los Angeles Police Department (LAPD) for its corruption and incompetence. Several months after the disappearance, the LAPD claims they have found her son, only to find that the boy isn't him.
Brave (2012)
Perfect for: The mom who enjoys animated films
Pixar's Brave tells the story of a headstrong princess named Merida (Kelly Macdonald) who is determined to go against marital tradition and carve out her own destiny. When she strikes a bargain to change her fate, she accidentally sets off a curse that she must now undo.
ADVERTISEMENT - CONTINUE READING BELOW
When Harry Met Sally (1989)
Perfect for: The mom who loves a good rom-com
If your mom is in the mood for a rom-com, you can't go wrong with this Nora Ephron favorite. The story follows the titular characters in a time span of 12 years, from their road trip meet-cute to chance encounters in New York City. As their lives change, so do their views on life, love, and each other.
Mamma Mia (2008)
Perfect for: The mom who wants to sing her heart out
Trust us: It's almost impossible not to sing along to an ABBA song. Mamma Mia brings together the catchiness of "Dancing Queen" with the tale of Sophie (Amanda Seyfried) and her quest to find her dad, who may be one of three men that her mom (Meryl Streep) previously dated. Oh, and let's not forget those picturesque Greek beaches!
Also read:
The SPOT.ph Mother's Day Gift Guide: 30 Gift Ideas for Every Budget
10 Things Your Mom Has Probably Said to You at Least Once
SPOT.ph Guide: Where to Take Mom This Mother's Day
10 Mom-Friendly Restaurants in Manila
ADVERTISEMENT - CONTINUE READING BELOW
Recommended Videos
Load More Stories