10 LSS-Inducing Film Scores (2015 Edition)
WARNING: May cause mental breakdowns due to last score syndrome.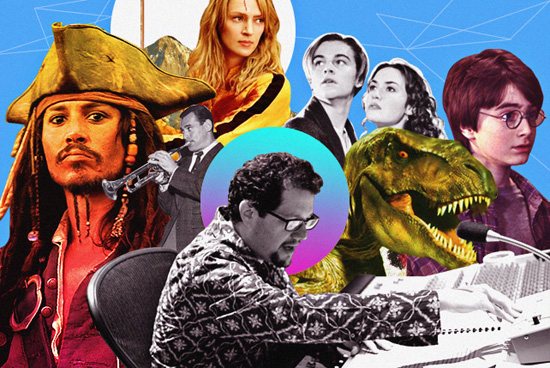 (SPOT.ph) Film scores hold great power. They can set a film's atmosphere and cause excitement, dread, or sadness. They can also cause LSS, or what we like to call "last score syndrome." These scores leave the cinema with the audience, playing over and over in people's heads. We know and love the '60s, '70s, and '80s classics—Pink Panther, Star Wars, Psycho (all of which are on a previous list of LSS-inducing film scores), but of course, we have to make room for the new. Here are some of the film score earworms that have been causing LSS since the 1990s.
Theme from Jurassic Park (1993)
Music by: John Williams
John Williams is responsible for some of the most memorable themes in film history (i.e. Star Wars, Jaws, E.T.). His work in Jurassic Park is no exception. An updated version reappears in its box-office-record-breaking sequel Jurassic World (with music by Michael Giacchino). In both films, the score is used to evoke wonder and fascination: living dinosaurs in Jurassic Park, a functioning amusement park in Jurassic World. Like the characters in the films, when we see something so grand, this score plays in our head as we stare in awe.
ADVERTISEMENT - CONTINUE READING BELOW
"Hedwig's Theme" from Harry Potter and the Sorcerer's Stone (2001)
Music by: John Williams
Let's keep the John Williams love going. The legendary composer worked his magic once again in 2001, creating this now-iconic piece for the first Harry Potter film. "Hedwig's Theme" was heard and reconstructed throughout the Potter films' 10-year run, and can be heard when you visit the Potter theme parks and museums all over the world. It continues to be the franchise's theme song, transporting Muggles back into the wizarding world of Harry and his friends from the first note.
"Lux Aeterna" from Requiem for a Dream (2000)
CONTINUE READING BELOW
Recommended Videos
Music by: Clint Mansell
Mansell used this piece during the most difficult scenes in Darren Aronofsky's film about addiction. As the images get more and more powerful, so does the score. You've definitely heard this before because it's become so popular, it's been reconstructed and re-orchestrated in many trailers for TV shows, video games, and other films, including Lord of the Rings: The Two Towers.
ADVERTISEMENT - CONTINUE READING BELOW
"He's a Pirate" from Pirates of the Caribbean: The Curse of the Black Pearl (2003)
Music by: Klaus Badelt
If you ever find yourself at the helm of a boat charging out into the sea, this is probably the music playing in your head accompanying you on the journey. Inception and Interstellar composer Hans Zimmer worked with German composer Klaus Badelt to create the music for this swashbuckling adventure.
"Battle Without Honor or Humanity" from New Battles Without Honor and Humanity (2000) and Kill Bill: Vol. 1 (2003)
Music by: Tomoyasu Hotei
Though most known for its appearance in Quentin Tarantino's Kill Bill, this track is actually of Japanese origin. Tarantino is known for sampling other works in his films (another piece in Kill Bill is legendary composer Bernard Herrmann's "Twisted Nerve" track), and this track's rock-instrumental is the perfect song to accompany the introduction of one of Kill Bill's badass villains O-Ren Ishii (Lucy Liu). It's a score that also makes you want to kick some butt as you walk down the street.
ADVERTISEMENT - CONTINUE READING BELOW
"Married Life" from Up (2009)
Music by: Michael Giacchino
Get your tissues ready. Pixar does not shy away from more adult themes in animated films targeted for kids, and one of its most heartbreaking scenes is the dialogue-free "married life" montage from Up. Giacchino uses the same tune and melody in varying speeds and shape to complement the changing lives of Carl and Ellie. One moment it's full of life and joy, the next, it's slower, more melancholy. This sequence is a testament to the strength of a film score, especially when it is as catchy as this.
"La Valse d'Amélie" ("Amélie's Waltz") from Amélie (2001)
Music by: Yann Tiersen
Unlike others on this list, Amélie does not use a full orchestra, opting instead for a piano and accordion-heavy score. A production assistant of director Jean-Pierre Jeunet popped in a Tiersen CD, and Jeunet immediately knew Tiersen's style was what he wanted for the quirky and fantastical Amélie. Tiersen used music he had already made and mixed it with original music for the film to create the soundtrack.
ADVERTISEMENT - CONTINUE READING BELOW
"George Valentin" from The Artist (2011)
Music by: Ludovic Bource
Since we're already in French territory, it's only right to visit the only French film to win Best Picture at the Oscars. Because it's a silent black-and-white film, The Artist relies heavily on its score to set mood and tone. Bource uses Old Hollywood films as inspiration for the score, and this piece, which has sort of become the film's theme as well, keeps things light and breezy. "Peppy & George" is another piece that can stay in your head.
"Briony" from Atonement (2007)
Music by: Dario Marianelli
Sometimes, instruments aren't enough. In Marianelli's classical score for Joe Wright's film, he incorporates a typewriter to create this military-style beat. It adds that extra intensity and dread, which is uncommon for a romantic period film. After watching Atonement, the audience would likely be walking along to typewriter beats playing in their head. Marianelli's score is a good example of composers building on the classical—a true modern classic.
ADVERTISEMENT - CONTINUE READING BELOW
"Hymn to the Sea" from Titanic (1997)
Music by: James Horner
Though better known as the melody from Titanic's theme song "My Heart Will Go On," Horner had composed it as an instrumental piece before Celine Dion went on to record one of the biggest songs ever, as director James Cameron was against the idea of having a theme song. Either way, those opening flute notes are unmistakable.
Honorable mention:
Theme from Inception (2010)
Music by: Mike Zarin
There are many other films with wonderful, memorable scores. Films like The Social Network or Gravity have incredible scores as a whole. They don't always quite have that catchy, LSS-inducing style, but that obviously doesn't take away from their greatness. There is one piece of music worth a mention that pops up everywhere and it is the "BRAAAAMMMM" sound from Inception. Though not exactly a whole score, and it's not as if Inception started it, but you can't not hear "BRAAAAMMMM" when something major is about to happen (or when you watch one of the many trailers for blockbusters nowadays—it is literally everywhere.) BRAAAAMMMM.
ADVERTISEMENT - CONTINUE READING BELOW
Share this story with your friends!
---
Help us make Spot.ph better!
Take the short survey
Load More Stories