10 #FriendshipGoals From Pinoy Movies
No, it's not just about being friendzoned.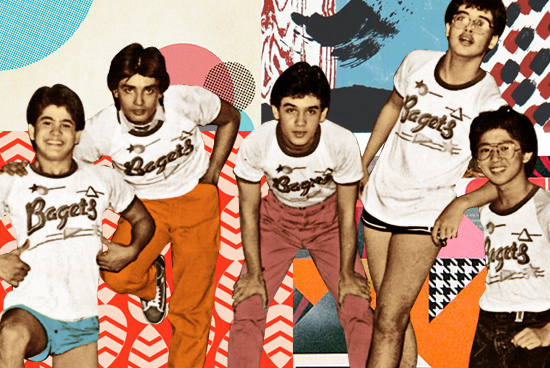 (SPOT.ph) Whether it's Jolina and Marvin in Labs Kita...Okey Ka Lang? or Kim and Gerald in Paano Na Kaya, Pinoy moviegoers are all too familiar with the storyline. Boy and girl are best friends, one of them has feelings for the other, things get complicated. Still, there are some Pinoy movies out there that celebrate the beauty of a lasting friendship. We round up 10 Pinoy movies that made us stop and think #FriendshipGoals.
Also read: 10 #RelationshipGoals We Should All Have in Life
One More Chance (2007)
Why they're #FriendshipGoals: Nothing tears a barkada apart faster than a relationship. You'd think that Popoy and Basha's tumultuous relationship would affect the group, but nope. Instead, they all act as buffers when the two have disagreements. When they eventually break up, the group makes sure Popoy and Basha would never run into each other. Plus, they always hang out at Bellini's! We're so there.
Bagets (1984)
Why they're #FriendshipGoals: Adolescence is a difficult time for anyone. Your parents don't get you, the future is terrifying, and everything is confusing...including yourself. The boys in Bagets go through a lot of drama and hijinks but if there's anything they learned, it's that having each other's backs makes a lot of difference. Who wouldn't appreciate a bond as strong as theirs, especially back in high school?
DoReMi (1996)
Why they're #FriendshipGoals: Reggie (Regine Velasquez), Mikki (Mikee Cojuangco), and Donnette (Donna Cruz) prove that despite having different personalities and hailing from different walks of life, you can still form a lasting friendship. In their case, it's music that brings them together and inspires them to pursue their dreams together. When they eventually go their separate ways, it also reunites them.
ADVERTISEMENT - CONTINUE READING BELOW
Rollerboys (1995)
Why they're #FriendshipGoals: Nothing brings people closer together like a common interest. For Christian (Patrick Garcia), Zach (John Prats), Sputnik (CJ Ramos), and the rest of their friends, they share a love for rollerblading. It was all the rage back in the '90s, enough to make us want to strap on our helmets and kneepads, and form our own rollerblading group.
BFF (Best Friends Forever) (2009)
Why they're #FriendshipGoals: Honey (Sharon Cuneta) is a housewife who heads to the gym because she feels her husband Tim, (John Estrada) is cheating on her. This is where she meets the fun and perky Frances (Ai-Ai delas Alas), and they instantly form a friendship. Frances is in love with a man named TJ...who also turns out to be Tim. Instead of plotting revenge on each other, they both realize that Tim is entirely to blame. Honey and Frances remain the best of friends...something we can all probably learn from.
Pare Ko (1995)
Why they're #FriendshipGoals: If there's anything we learned from watching the complicated love triangle of Nadine (Claudine Barretto), Mackie (Mark Anthony Fernandez), and Chipper (Jao Mapa), it's that relationships may come and go, but true friendships are forever.
Trip (2001)
Why they're #FriendshipGoals: Road trips among friends are fun in theory, but they usually lead to nothing but drama. Take it from this movie, where a road trip unearths secrets and pent-up frustrations among a group of eight friends. However, they weather the storm and end up having an even stronger bond with one another.
CONTINUE READING BELOW
Recommended Videos
Gimik: The Reunion (1999)
Why they're #FriendshipGoals: A year after college, seven high school friends reunite to take a walk down memory lane...only to find out that plenty of things have changed (some even for the worse). We give them plenty of props for trying their best to keep their friendship intact, even after they've all grown up and started living their own lives.
Crying Ladies (2003)
Why they're #FriendshipGoals: Stella (Sharon Cuneta), Choleng (Angel Aquino), and Aling (Hilda Koronel) couldn't be any more different. Stella is desperate to regain custody of her son, Choleng is pious but adulterous, and Aling is a has-been film star. It isn't just about staying friends despite their differences. It's the witty banter and familiarity among them that we love.
So Happy Together (2004)
Why they're #FriendshipGoals: A talkative Lianne (Kris Aquino) and a flamboyant Osmond (Eric Quizon) become fast friends in a Gay Pride Parade in the '80s. Their friendship is something we truly aspire for, spanning over 30 colorful years up until (spoiler alert!) Osmond's death. They do everything together, whether it's shopping or searching for the perfect man, and later, raising Lianne's two teenage daughters.
Share this story with your friends!
---
Help us make Spot.ph better!
Take the short survey
Load More Stories