15 Minutes with Walk The Moon
The band is finally in Manila and they're busting out their music...and dance moves!
(SPOT.ph) The band behind the catchy and energetic "Shup Up and Dance" has finally landed in Manila! It turns out they're just as energetic as the songs they play. Just hours before their first show in Alabang Town Center, the band chatted with the press about their early beginnings, their '80s style, and...their dance moves?
Photos by Ian Santos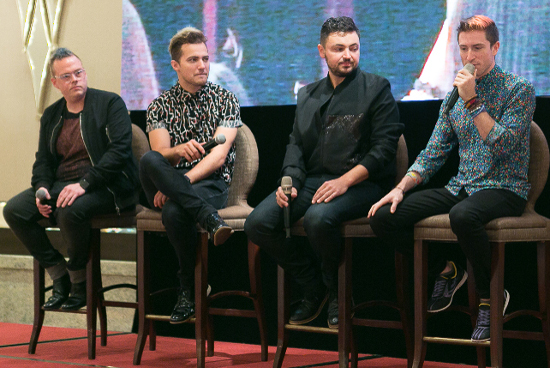 The band answers questions for the press
On the strong response to their album, Talking is Hard
Nicholas Petricca (lead singer and keyboardist): No, I don't think [it changed our band]. I think we kept our spirit really intact. We kept true to ourselves from the very beginning and we had amazing support from our parents, and our team that really allowed us to be ourselves.
On recording the new album
Nick: We were on the road for about four years and we took some time off to write. It was the first time we all got together—just the four of us—in this weird, old, Masonic lodge. [It was] this really old building in Kentucky. We wrote 50 songs for the record.
ADVERTISEMENT - CONTINUE READING BELOW
Kevin Ray (bassist): We love of all of [the 50 songs], so it was a painful process [to eliminate]. We sifted through all that and we realized there were certain songs that spoke to us or ones that really came together.
Nick: There are still 38 songs for the next record.
CONTINUE READING BELOW
Recommended Videos
On the inspiration for their new songs
Nick: [The lodge] was kind of a magical place. There were a lot of cool people there; visual artists, graffiti artists...It was a conscious decision to evolve and explore uncharted territory for us. I think people who hear the album will be surprised.
Eli Maiman (guitarist): On the lyrics side, it was important for us as well to take the opportunity to say something that was really important to us. Songs like "Different Colors," that had a message of celebrating diversity and not just tolerance. It was celebrating differences and coming together to effect positive change into the world.
ADVERTISEMENT - CONTINUE READING BELOW
On being inspired by fans and the people they meet
Eli: Absolutely, yes! Definitely. The bands we meet on the road are some of our best friends, so there are some very creative minds. The feeling from playing live is so incredible. We started playing music because we love it, but we found that what actually comes from us is the positive message and joy from this community of people who are so creative, and so willing to put themselves out there with letters and stories. That had a lot to do with the direction of this record. There's a story about a kid who had the courage to come out to his parents and friends...something like that. Stories like that really inspire us to take this platform seriously.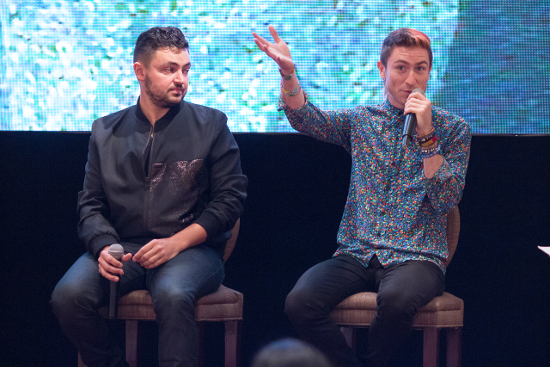 Eli and Nick
On their musical influences
Eli: It's fun because everyone kind of has a musical background. We all started playing in different ways...in school, in university, in one way or another. All that knowledge gave us different influences, like if we wanted to try something dark or dreamy. It's cool to be able to put on different hats.
ADVERTISEMENT - CONTINUE READING BELOW
Kevin: Ditto. I concur. [laughs] A place we like to start [in] is just being in a room together.
On their '80s music sound
Nick: For some reason, the '80s just flows out of us. I think the '80s was a really special time because it was the first time that electronic and rock music came together in such a popular way. You have artists like Prince or Talking Heads or David Bowie who were really experimenting with these sounds and fashion.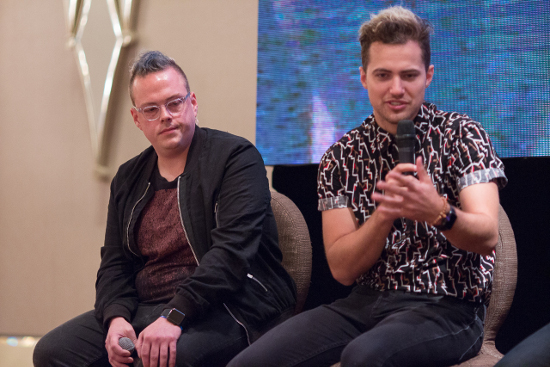 Kevin and drummer Sean Waugaman
On their advice to upcoming bands
Eli: I think that something that is crucial to us is we didn't wait for someone to come find us. We made the choice to make our own record, book our own gigs. I think that was the best decision we could have made...just having that attitude. There's a lot of competition out there, so it's all the more important to take it upon yourself.
ADVERTISEMENT - CONTINUE READING BELOW
Kevin: Don't forget to take advantage of the technology that's available to you. With technology now, anybody can make a record and that's a great thing. Just do it and put it out there.
Nick: Something that's really important to us is just kindness and friendliness. The first band we went on tour with is a band called Fitz and the Tantrums. They were so gracious and so generous and so kind to us. They treated us like equals even though we were like the "baby band." From that point on, we adapted that attitude to everyone.
Walk The Moon will be performing at the Alabang Town Center (August 18 at 6. p.m.); UP Town Center (August 19 at 5 p.m.); TriNoma (August 19 at 7:30 p.m.); Market! Market! (August 20 at 5 p.m.); and Glorietta Activity Center (August 20 at 7:30 p.m.).
---
Help us make Spot.ph better!
Take the short survey
Load More Stories