10 Things That are Wrong with the New Marimar
Food metaphors, flip phones that exist in 1990, and more.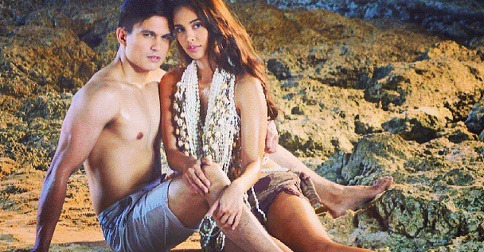 (SPOT.ph) You could say that GMA Network's remake of Marimar is a gamble. Not only will they have to deal with comparisons to Thalia's original telenovela, but there's also the 2007 version that skyrocketed the career of Marian Rivera. Recently, she formally passed the Marimar torch to the show's new lead, Megan Young (who stars alongside her new Sergio, Tom Rodriguez).
The premise is more or less the same; Marimar is a beautiful and innocent barrio lass who was separated from her biological parents at a young age. She meets and falls in love with the wealthy Sergio, and their heated but rocky relationship kickstarts a lot of drama. We couldn't help but wonder if the show would measure up to its predecessors, and while it's still too early to tell, we tuned in to catch the pilot episode that aired on August 24. Let's just say it gets...interesting.
1. The character names are the same, but it diverts from the 2007 version.
You'll see plenty of familiar names, but that's where it ends. In the 2007 version, Lupita Aldama (then played by Rita Avila) is the biological mother of Marimar. This time, Lupita is Gustavo Aldama's (Zoren Legaspi) scheming mother, who will stop at nothing to keep him and a janitress named Mia (Alice Dixson) apart.
2. Speaking of character changes, Angelika Santibanez is not who you might she think is.
You might as well just forget the 2007 version, which featured Katrina Halili as Angelika, Marimar's cruel rival to Sergio's heart. This time, Angelika is played by Jaclyn Jose, who—plot twist—will be Sergio's kontrabida step-mother. Lauren Young will be Angelika's socialite daughter, Antonia, who joins her mother in ruining poor Marimar's life. They both have yet to appear on the show.
ADVERTISEMENT - CONTINUE READING BELOW
3. The script insists that Lupita intermittently speak in Spanish.
Yes, we get it; they're a wealthy, high-society family with Spanish roots. Spanish one-liners are perfectly fine for the first time (at least to establish their place in society), but when she does it after almost every other line, it becomes off-putting. Gustavo speaks Spanish every now and then but for some reason, his dad, Fernando, doesn't.
4. It also likens female characters to food.
When Gustavo's scorned ex-girlfriend, Brenda (Ina Raymundo) tells his parents that he's dating a janitress, Fernando likens his son's supposed "phase" to food. We quote, "Alam mo naman kaming mga lalaki, mahilig tumikim sa iba't ibang putahe. Kung adobo lang kinakain namin araw-araw, siyempre titkim din kami ng afritada."
CONTINUE READING BELOW
Recommended Videos
It doesn't stop there. Brenda joins in on the food metaphor. "I'm not just any ordinary adobo, tito," she haughtily says. "I'm a first-class adobo, and I can't accept the fact na pinagpalit ako ni Gustavo sa isang pinritong galunggong from a cheap carinderia." (We got hungry just typing those sentences out.)
5. Despite knowing that his parents aren't likely to accept Mia, Gustavo inexplicably insists on introducing his girlfriend during an important business event.
He even announces their whirlwind engagement to everyone. At this point, he's just asking for a confrontation scene. Sure enough, a drunken Brenda storms onstage, armed with all sorts of insults. ("Dakilang taga-kiskis ng inidoro" and "Low-class, money-digging social climber" being just some of them.)
ADVERTISEMENT - CONTINUE READING BELOW
6. Gustavo continues to prove that he's a guy with no foresight.
Despite his parents' threats to disown him, Gustavo marries the pregnant Mia, rents an unnecessarily spacious townhouse that costs P15,000 a month, and buys all its interiors and furniture—even without a job. His parents wield their incredible influence to prevent him from getting hired and Gustavo eventually settles on a low-paying job where he scrubs yachts for a living.
7. In this universe, flip phones exist in 1990.
Not even the Nokia 3310 was invented in 1990, but maybe the Aldamas are just that wealthy and powerful that they could score such an advanced piece of technology so soon.
8. Even if Gustavo has been disowned, he can still find the time to go sailing.
We're not exactly sure how Gustavo has access to a yacht. His parents take away his car and maybe they just conveniently forget to take his yacht, too? Do his bosses allow him to take their yachts for a spin? We just don't know.
9. Mia suddenly gives birth on the yacht and Gustavo successfully delivers his newborn baby into the world.
Who needs qualified doctors and nurses when you have Gustavo Aldama?! The whole sequence feels rushed, as if the writers just wanted to get on with the juicier parts of the story.
10. Marimar's given name is Bella Aldama.
In both the 1994 and 2007 versions, Marimar takes the name of Bella Aldama when she returns to exact her revenge. Now that the show has reversed it, we're guessing she would just be going as...well, Marimar. Somehow, it just doesn't have the same vengeful effect.
ADVERTISEMENT - CONTINUE READING BELOW
Still, Alice Dixson and Zoren Legaspi play their roles masterfully enough to have us intrigued for what's next. And we admit, we're looking forward to Megan and Tom's take on their iconic characters.
Also read:
Megan Young and Tom Rodriguez look sexy in the new Marimar
10 Suggested Plot Twists for the New Marimar
Share this story with your friends!
---
Help us make Spot.ph better!
Take the short survey
Load More Stories