10 Great Sports Films for Date Night
For when you can't decide whether to go to the game or stay in to watch a movie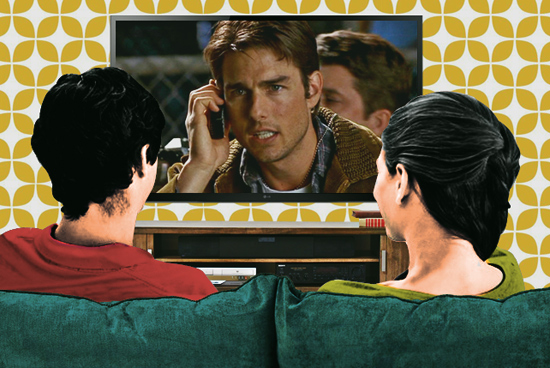 (SPOT.ph) Sports fans know the dilemma so well—how can I enjoy the game if my date doesn't like sports? Lots of people love watching or going to live sports games, and why wouldn't they? It's exciting, loud, and intense. It may not be the best place to bring a date though. Going to the movies may be better as it is more quiet and intimate. You're in luck, sports fans! Below is a list of 10 sports films that will not only make you cheer, but will also give you a cozy movie experience with your love.
Love & Basketball (2000)
Director: Gina Prince-Bythewood
This film follows Quincy (Omar Epps) and Monica (Sanaa Lathan) as they both try to attain their dreams of becoming professional basketball players. Having grown up together, Quincy and Monica share a love for the game and admiration for each other. As their careers head towards different paths, their romantic relationship is tested.
Why It's Great for Date Night: Romance and sports blend beautifully in this film, with Monica and Quincy's lives playing out like a fiery basketball game, and to see both man and woman playing competitive basketball is great, especially as it builds toward a refreshingly satisfying ending.
Jerry Maguire (1996)
Director: Cameron Crowe
Sometimes the best sports films are not set on the court. Tom Cruise plays Jerry Maguire, a sports agent loses his high-profile job, all his clients, and his fiance, and tries to get his life back on the right track with the help of Dorothy (Renee Zellwegger) in this Oscar-nominated film from Cameron Crowe (Almost Famous).
ADVERTISEMENT - CONTINUE READING BELOW
Why It's Great for Date Night: This film is a heartwarming, fun, romantic tale set in a world rarely seen in sports—plus this film birthed those classic lines you already know by heart. Say it with me: "You complete me." "You had me at 'hello'." "Show me the money!" Okay, that last one isn't as romantic, but still!
Rush (2013)
Director: Ron Howard
Rush is based on the astounding true lives of race car drivers James Hunt and Niki Lauda, and their historic rivalry. Hunt (Chris Hemsworth) and Lauda (Daniel Brühl) are highly competitive F1 drivers hoping to become legends. They are complete opposites: Hunt is charmingly cocky, while Lauda is sly and cool. During one race, Lauda suffers third-degree burns after a nasty crash, but comes back to resolve his rivalry with Hunt.
CONTINUE READING BELOW
Recommended Videos
Why It's Great for Date Night: The sleek, beautifully shot car races get the heart beating fast, and the film lets you into both Hunt's and Lauda's personal life that you find yourself rooting for both, no matter how different they are. A huge part of the film's success goes to the tough, loving women in the film, sure to make couples' bonds stronger.
The Wrestler (2008)
Director: Darren Aronofsky
Not everyone may categorize professional wrestling as "sports," but those guys put their bodies on the line every day, and this is portrayed with great care and detail in Darren Aronofsky's The Wrestler by Mickey Rourke. Rourke plays Randy "The Ram" Robinson, an aging pro-wrestler way past his prime, but he still gets in the ring despite his health issues. If wrestling with a bad heart isn't enough, he wants to reconnect with his daughter who wants nothing to do with him.
ADVERTISEMENT - CONTINUE READING BELOW
Why It's Great for Date Night: Something surprising about this sports film is how much it focuses on family and relationships, which will speak to many couples watching. Randy meets Cassidy (Marisa Tomei), a "stripper with a heart of gold," and she makes a huge impact on Randy's life and his attempts on reconnecting with his daughter.
Coach Carter (2005)
Director: Thomas Carter
When Ken Carter (Samuel L. Jackson) takes over coaching his old high school's star basketball team, his strict, disciplined way of coaching rubs many of his aggressive, rude players the wrong way. Coach Carter intertwines basketball with academics, making sure his players maintain good grades, and he also tries to morph them into gentlemen.
Why It's Great for Date Night: While it has the same formula that other basketball sports movies have, the addition of Coach Carter's values for respect, discipline, and smarts makes the film stand out. The bit of social commentary also makes it different, opening the door for some deep, important conversations.
Blue Crush (2002)
Director: John Stockwell
Surfing never looked so good until this John Stockwell film about friendship, a little bit of love, and never giving up came along. Anne Marie (Kate Bosworth) used to be a rising star in the professional surfing world, but a near-death experience in the waves leads her to avoid competitions entirely. With the help of her friends Eden (Michelle Rodriguez) and Matt (Matthew Davis), she tries to get back in the water and reach her maximum potential.
ADVERTISEMENT - CONTINUE READING BELOW
Why It's Great for Date Night: If girls kicking ass on surfing boards isn't enough to get everyone excited, there's also a bit of romantic drama between Anne Marie and Matt, and it's also just a really cool film with some gorgeously impressive surfing sequences, plus lots of eye candy for all.
Bend It Like Beckham (2002)
Director: Gurinder Chadha
Jess (Parminder Nagra) loves football (soccer) and idolizes David Beckham, but because of her Indian heritage, her parents forbid it. She secretly joins a team and meets the spirited Jules (Keira Knightley), falls for the handsome coach Joe (Jonathan Rhys Meyers) who Jules has a crush on, and shows off her terrific football skills, while trying to keep it all from her parents.
Why It's Great for Date Night: Bend It Like Beckham is a fun sports film due to its more light-hearted approach to the game, but it still has all the dramatic tension great sports films have, then there's also the Jess/Jules/Joe love triangle and Jess' family drama for the non-sports fans to admire. It's a charming, positive film that couples will definitely love.
The Fighter (2010)
Director: David O. Russell
There are many great boxing films in film history—Rocky, The Champ, Raging Bull just to name a few—but David O. Russell's The Fighter stands out because of its smarts, wit, and loud characers from Massachusetts. Micky Ward (Mark Wahlberg) is a struggling boxer being trained by his drug-addicted brother Dicky (Christian Bale, in his Oscar-winning role). His career starts off terribly, but then things take a turn. Micky's tale from zero to hero is one of the most compelling and entertaining stories out there.
ADVERTISEMENT - CONTINUE READING BELOW
Why It's Great for Date Night: This is a film, first and foremost, about family—the ones we're born into and the ones we discover in life and marry into. The Ward family dynamic is messy, but they are always there for each other, while Micky's life-changing relationship with his supportive wife Charlene (Amy Adams) is sure to inspire couples.
The Hustler (1961)
Director: Robert Rossen
If you're looking for a classic sports film, Robert Rossen's The Hustler is the one. Eddie Felson (Paul Newman) is a "professional" hustler that doesn't always seem to know when to quit. He gets himself into a lot of trouble throughout the film, getting people close to him, including Sarah who admires him greatly, in deep danger.
Why It's Great for Date Night: It's tragic, and dramatic, and is quite unpredictable, and asks viewers to question the things they do, especially when their loved ones are involved. It's also just a really terrific, classic film for a more serious crowd if that's what you're craving.
Million Dollar Baby (2004)
Director: Clint Eastwood
Maggie Fitzgerald (Hilary Swank) asks Frankie, an aging boxing trainer (Clint Eastwood) to train her. With the aid of a former boxer (Morgan Freeman), Frankie agrees to train Maggie despite her older age, and she turns out to be a natural, and quickly climbs the boxing ranks. A tragic twist brings some heavy drama in this powerful Oscar-winning film.
Why It's Great for Date Night: Besides just being a terrific movie, more than half the film feels like a girl-version of every tough-guy boxing movie, which is a rarity in film. It's great to see a woman kick ass (Ronda Rousey, anyone?) and women will be inspired by Maggie's fight. The film also deals with personal connection and helping one complete the other. The last chunk of the film will bring tears and emotion, and might be a little too tragic for a romantic night, but for a quiet night in, it's a touching, important film to experience with someone you love.
ADVERTISEMENT - CONTINUE READING BELOW
Share this story with your friends!
---
Help us make Spot.ph better!
Take the short survey
Load More Stories