10 Movies That Will Make You Hit the Gym
Motivation is everywhere...even in the movies!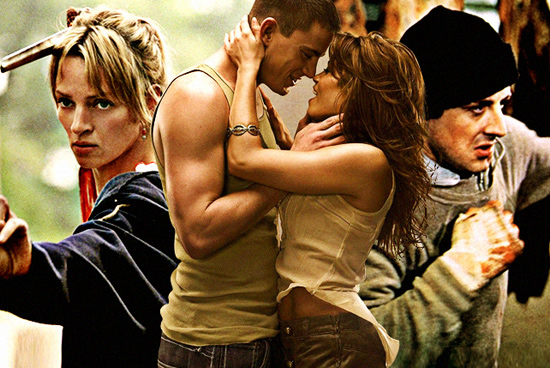 (SPOT.ph) Imagine being home on a Saturday night. You have a beer in one hand and the TV remote in the other, and you decide to do a rewatch of 300. Suddenly, all those tight shots of six-pack abs have you dropping that bowl of chips and lacing up your gym shoes. Sometimes, all you need is an inspirational training montage or a relatable underdog to get your butt into gear. Here are 10 more movies that will motivate you to get in shape.
Also read:
The 10 People You Meet at the Gym
10 Songs for Your Workout Playlist
10 Active Wear Pieces That Will Make You Want to Work Out
10 Great Sports Films for Date Night
Rocky (1976)
Rocky Balboa (Sylvester Stallone) is a small-time fighter with great potential. He is given the rare chance to take on the reigning and undefeated world heavyweight champion after the latter's scheduled opponent is injured.
The #GetFit scene: This franchise is home to some of the most awesome training montages in cinematic history, but the best one is easily from the film that started it all. Whether it's Rocky punching a cow carcass or running up a long flight of stairs, this montage will inspire even the most reluctant viewer.
Kill Bill: Volume 2 (2004)
Director Quentin Tarantino's Kill Bill franchise will have girls and guys alike rooting for The Bride (Uma Thurman), a former assassin who seeks revenge on those who tried to murder her.
ADVERTISEMENT - CONTINUE READING BELOW
The #GetFit scene: The second film sheds more light into The Bride's past, including how she came to be the badass fighter we love. She goes through one of the toughest training sequences we've ever seen in a movie, and trust us—you'll emerge feeling like you can punch through planks of wood, too.
Step Up (2006)
Although Flashdance and Footloose are classics in the dance movie genre, Step Up earns a place on our list for combining hip-hop and classical ballet. Plus, we love a cute romantic story...which incidentally, also crossed over off-screen for Channing Tatum and Jenna Dewan.
CONTINUE READING BELOW
Recommended Videos
The #GetFit scene: Fitness isn't just about treadmills and ab crunches! If Channing and Jenna's dance moves and killer bods don't get you off your couch, their dance-slash-training montage should do the trick.
American Beauty (1999)
Lester (Kevin Spacey) is a middle-aged man who gets bored of his stagnant, suburban life as a husband and father. An infatuation with his teenage daughter's best friend leads to a mid-life crisis that will change his life.
The #GetFit scene: If you want to trade your dad bod for a set of abs, Lester's journey to reinvention is right up your alley. The script sums it up nicely: "Are you looking to just lose weight, or do you wanna have increased strength and flexibility as well?" to which Lester answers, "I want to look good naked." Fair enough.
Bridget Jones's Diary (2001)
At 32 years old, Bridget (Renee Zellweger) decides to quit a job she hates and take control of her life, which includes an admirable attempt to get in shape.
ADVERTISEMENT - CONTINUE READING BELOW
The #GetFit scene: Bridget's quest for fitness speaks to us all, with a realistic portrayal of just how hard it really is to get fit when you have zero experience and motivation. We can totally relate to her mishap on a gym bike.
Honey (2003)
Honey Daniels (Jessica Alba) is a dance teacher with dreams of making it as a hip-hop choreographer. She meets a hotshot director who gives her the chance of a lifetime...but with a heavy price.
The #GetFit scene: Any time we get a glimpse of Jessica's sexy and toned abs is enough to have us skipping that extra cup of rice.
G.I. Jane (1997)
Director Ridley Scott's 1997 action film starred Demi Moore as Lieutenant Jordan O'Neill, the first woman to join the elite Navy Seals.
The #GetFit scene: Jordan undergoes intense training to earn the respect of her commanding officer. In one particularly memorable scene, Demi Moore busts out near-impossible sit-ups and pull-ups, with impressive ease. As an added motivational bonus, it's worth noting that Demi didn't use a stunt double for any of her workout scenes.
Girlfight (2000)
Michelle Rodriguez made her onscreen debut as Diana Guzman, a troubled teenager who channels her aggression into boxing, despite the disapproval of everyone around her.
The #GetFit scene: We love Million Dollar Baby as much as the next person, but we can't help but admire Diana for her self-discipline, determination, amd ambition. Her grueling training regimen is enough inspiration for us!
ADVERTISEMENT - CONTINUE READING BELOW
Warrior (2011)
In this gritty film, Tom Hardy and Joel Edgerton star as two estranged brothers who come face-to-face when they both compete in a mixed martial arts tournament.
The #GetFit scene: Nothing will get you pumped up to give MMA a try more than watching these two dominate their opponents.
Troy (2004)
This 2004 epic film by Wolfgang Petersen is an adaptation of Homer's Iliad, chronicling the events that come before, during, and after the Trojan War.
The #GetFit scene: If the sight of Achilles' (Brad Pitt) glorious physique in and out of battle doesn't inspire you to get in shape, the cringe-worthy fight scene between Paris (Orlando Bloom) and Menelaus (Brendan Gleeson) should do it. Nobody wants to be a wimp in battle.
Also read:
The 10 People You Meet at the Gym
10 Songs for Your Workout Playlist
10 Active Wear Pieces That Will Make You Want to Work Out
10 Great Sports Films for Date Night
Share this story with your friends!
---
Help us make Spot.ph better!
Take the short survey
Load More Stories