MOVIE REVIEW: Crimson Peak
A gothic horror that is visually grandiose but ultimately lacking in fright
(SPOT.ph) When it comes to Crimson Peak, it's best to leave your expectations of conventional frights and horror at the door. After all, the film itself states that it's not a ghost story, but rather, a story with ghosts in it.
Edith Cushing (Mia Wasikowska) is an American heiress and aspiring author, with a penchant for supernatural stories and the ability to see ghosts. She meets the charming and romantic Thomas Sharpe (Tom Hiddleston), a penniless English baronet looking to reclaim his family's former wealth. He is accompanied by his icy sister, Lucille (Jessica Chastain), who looks less than thrilled at Edith and Thomas' blossoming romance.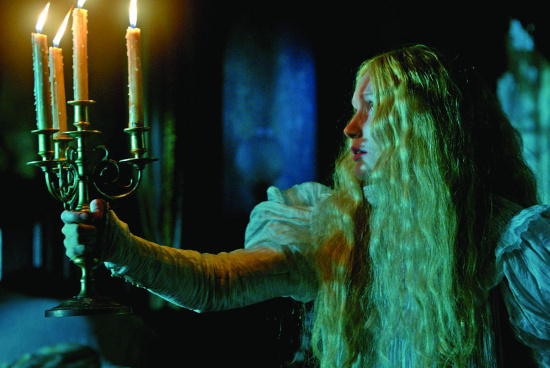 Without revealing any crucial spoilers, Thomas proposes to Edith and whisks her off to their crumbling ancestral mansion—the film's grandiose centerpiece. Ornate and dilapidated, the house sits atop a deposit of blood-red clay that vividly (and symbollically) seeps from its creaking floorboards, leaks through its pipes and walls, and stains the surrounding snow. Poor Edith must navigate her way through its malevolent halls with a candelabra in hand, as she uncovers its deadly secrets.
ADVERTISEMENT - CONTINUE READING BELOW
With horror maestro Guillermo del Toro at the helm, the devil is in the grisly details. The film is a visual spectacle, with historically accurate Victorian costumes, incredibly detailed baroque interiors, and touches on high-society life. Moviegoers have del Toro, production designer Tom Sanders, costume designer Kate Hawley, and cinematographer Dan Laustsen to thank for the sumptuous aesthetic.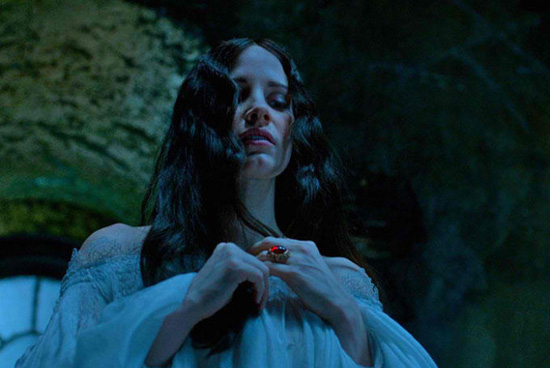 CONTINUE READING BELOW
Recommended Videos
In terms of performances, Chastain is the film's sinister, beating heart—icy, domineering, and teetering on the edge of deranged. Her intensity will leave you at the edge of your seats, so much so she easily steals the spotlight even in moments when she hovers in the background. One memorable confrontation scene, which features Chastain scraping a metal spoon against a ceramic bowl as she calmly describes horrific acts, is bone-chilling.
Unfortunately, the script by del Toro and Matthew Robbins, simply resurrects old horror tropes rather than utilizing them in fresh, unconventional ways. When compared to the film's camerawork and set design, it sadly falls flat. However, the script is bolstered by the cast's collective performance so even if the audience can already piece together the plot twist early on, it still somehow feels hair-raising and tragic the way a gothic tale should.
ADVERTISEMENT - CONTINUE READING BELOW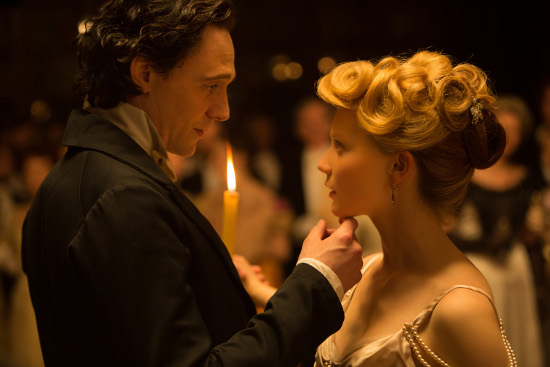 Ultimately, Crimson Peak isn't for horror fans, but that isn't necessarily a bad thing. Come in for the star power and potential thrills, stay for the rich and eerie atmosphere.
RATING: 3.5 out of 5 spots
Crimson Peak is now showing in theaters. Photos courtesy of United International Pictures.
Share this story with your friends!
---
Help us make Spot.ph better!
Take the short survey
Load More Stories