#SquadGoals: 10 Film Posses We Wish We Could Join
From a magical trio, quasi-Eraserheads, to an a cappella group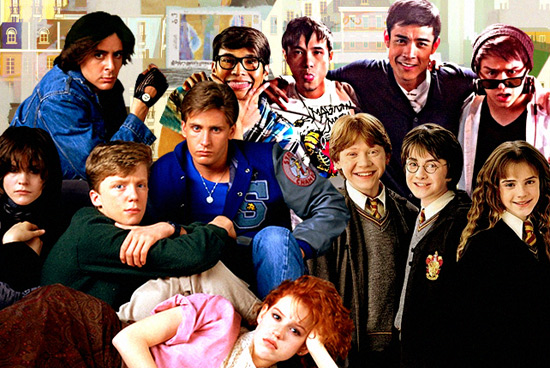 (SPOT.ph) Over the years, we've seen films where people from different walks of life come together and form some of the most enduring, wonderful friendships we could only hope to be a part of. True friends are hard to come by, but these friend groups or barkadas from the movies make it look easy. The films listed below showcase friendships that redefine #SquadGoals. True, there are many who want to be part of Taylor Swift's A-list friendship circle, but her Bad Blood posse has nothing on cinema's greatest "squads."
Also read:
10 #FriendshipGoals From Pinoy Movies
#SquadGoals: 10 Friends We Want From '90s Teen Shows
The Breakfast Club (1985)
The only way to start a "squad goal" list is to begin with the ultimate '80s high school clique made up of the criminal (Judd Nelson), the princess (Molly Ringwald), the athlete (Emilio Estevez), the brain (Anthony Michael Hall), and the basket case (Ally Sheedy). While having virtually nothing in common, these five misfit teenagers make the most of their detention and form one of the best, tightest clubs one could ever be a part of. Misery sure does love company. Even 30 years later, who wouldn't want to have a dance party with them?
Jologs (2002)
The Philippines' own teen dramedy doesn't really feature a group of friends, but a group of people brought together by fate or coincidence. While the film has its tougher, dramatic moments, there is much to laugh and enjoy, especially when things dip into the absurd. How everything and everyone comes together in the end shows that the world truly is small, and we have to know that all our actions have consequences, and realizing this as soon as possible makes for happier, closer relationships. Besides, being friends with a star-studded cast like Diether Ocampo, Patrick Garcia, Jodi Sta. Maria, Julia Clarete, Assunta de Rossi, Onemig Bondoc and more should be quite fun.
ADVERTISEMENT - CONTINUE READING BELOW
Pitch Perfect (2012 to 2015, so far)
Girl power never sounded so good until Beca (Anna Kendrick), Fat Amy (Rebel Wilson), and the Barden Bellas arrived on the scene with their hip mash-ups and smooth harmonies. Through professional international a cappella competitions, arguments about songs, and many, many riff-offs, the Bellas always end up looking out for each other, making sure everyone has the chance to shine. Plus, as seen in the sequel, the Bellas always have your back, no matter what year they graduated. For the guys, there's always space to join the Treblemakers, right?
CONTINUE READING BELOW
Recommended Videos
Gimik: The Reunion (1999)
Soon after one of the most popular and recognizable teen-oriented shows on Philippine TV ended, a film was made to reunite the beloved characters played by Judy Ann Santos, Rico Yan, Patrick Garcia, Marvin Agustin, Jolina Magdangal and many other huge teen stars of the nineties. Lovable and charming, teens of the time couldn't help but wish they were part of this good-looking group.
The Sisterhood of the Traveling Pants (2005 to 2008)
Carmen (America Ferrera), Lena (Alexis Bledel), Bridget (Blake Lively), and Tibby (Amber Tamblyn) were the best of friends, and they were known for sharing the same pair of pants. Not only did they share magical jeans, they kept in touch (through that ancient thing called "snail mail") and gave each other great advice despite being cities or even countries apart, reminding us to always touch base with those important to us.
ADVERTISEMENT - CONTINUE READING BELOW
Bagets (1984)
That hair! The dance moves! Those totally '80s outfits! The Bagets would be the ultimate squad goal of teens in the eighties, had the term existed back then. The five boys (played by William Martinez, Herbert Bautista, J.C. Bonnin, Raymond Lauchengco, and Aga Muhlach) stuck by each other and helped one another get through all the good and bad times of high school. Despite the troubles in their lives, the bagets found joy and support in each other, and isn't that the best goal for any squad?
The Goonies (1985)
During those uncomfortable pre-teen or teen years, you had to surround yourself with best friends just to survive the awkwardness, and the Goonies did just that. While on the search for a secret treasure in the hopes of saving their town, Goonies Mikey, Mouth, Data, Brand, Chunk, Andy, and Stef have the adventure of their little lives, fighting off a family of criminals and going through a booby-trapped cave because "Goonies never say die!" This tiny squad shows that no matter how young you are, solidarity and togetherness, and a supportive attitude in a friendship can get you through the toughest of times—whether it's the loss of something dear to you, or a knife-wielding Italian criminal. The Goonies' bond is something that even older friend groups should aspire to be.
The Reunion (2012)
Reunions are always an interesting affair. You get to see what everyone else has been doing since high school or college, and you get to see someone doing so great in life, while others have stalled. In The Reunion, four friends (Enrique Gil, Xian Lim, Enchong Dee, and Kean Cipriano) who have been together since high school, see how everyone has grown since they left school while they have struggled through life. It's that friendship that gets them to the next stage of their lives, and who wouldn't want that? The film is also an homage to the legendary band, Eraserheads (the four leads resemble the four members of the band), and the movie is filled with their songs—a huge plus!
ADVERTISEMENT - CONTINUE READING BELOW
Ocean's Eleven (2001 to 2007)
While the Goonies show that kids can form the strongest of bonds, the Ocean's films explore the long-lasting friendship of adults. Yes, it's through committing heists, but let's not dwell on that. These films are a testament to when things just click for a certain group of people: Their minds are synced, and they all work together seamlessly to execute a goal (yes it's still committing a robbery but again, let's not dwell on that). This is a squad that shows how everyone plays an important part, and together, they form a well-oiled machine, no matter how many years it's been since your last get-together. Not only that, when your squad looks as starry as George Clooney, Matt Damon, Brad Pitt, Julia Roberts, and Catherine Zeta-Jones, among many others, you know you've hit the jackpot.
Harry Potter (2001 to 2011)
You can't have a list of squad goals without one of the most famous trios in film history (and book history!): Harry (Daniel Radcliffe), Ron (Rupert Grint), and Hermione (Emma Watson). From their first adventure together to find the Sorcerer's Stone, to the Battle of Hogwarts in an attempt to destroy the Deathly Hallows, and even to their future that still included each other, the trio stand, fight, celebrate, and cheer together. They always end up having each other's back, and together with their allies, show the meaning of true friendship.
Share this story with your friends!
---
Help us make Spot.ph better!
Take the short survey
Load More Stories