10 Most Influential People in Pinoy Showbiz in 2015
Who were the biggest and most influential names behind Pinoy TV and movies in 2015?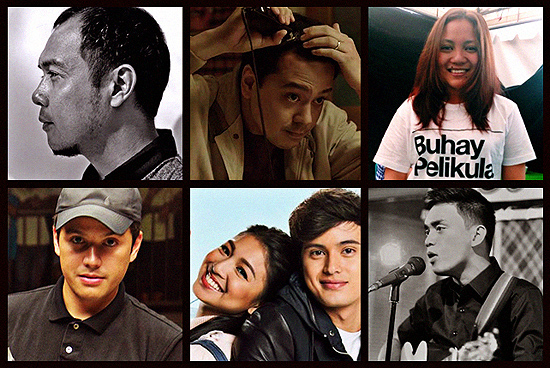 (SPOT.ph) It's been a vibrant and interesting year for Pinoy showbiz, whether it's daily hashtags from your favorite telenovelas to films that had Pinoys lining up in droves outside cinemas. Behind trending topics, quotable quotes, and notable box-office successes are these 10 creative minds who brought your favorite local TV and movies to life in 2015.
Also read:
25 Best Local Movies of 2015
25 Most-Talked About Celebrity Moments of 2015
25 Best Art and Design Moments of 2015
50 Reasons to Love Metro Manila
Antoinette Jadaone
Notable 2015 projects: That Thing Called Tadhana, On the Wings of Love
The concept of love and heartbreak is universal, and no one understands that better than Antoinette Jadaone—the formidable writer-slash-director who kickstarted this year's massive hugot craze. Her success notably started with That Thing Called Tadhana, and later, she went on to work on plenty of other feel-good flicks (including You're My Boss and All You Need is Pag-Ibig). On the TV front, she writes and co-directs the hit, On the Wings of Love, which has gone beyond the typical Pinoy telenovela by throwing in a healthy dose of culture—whether it's a romantic tour around bustling Manila or bringing spoken word poetry to mainstream audiences. This is someone who just knows how to tug at people's heartstrings, no matter the medium.
ADVERTISEMENT - CONTINUE READING BELOW
— Forbes Philippines (@Forbes_PH) September 10, 2015
Jenny Ferre
Notable 2015 project: Eat Bulaga's KalyeSerye
We often associate Eat Bulaga's KalyeSerye to AlDub or the comedic trio of JoWaPao, but Jenny Ferre is the mind behind the noontime show's phenomenal success this year. EB's ratings weren't always as stellar as they are now but since AlDub, the show has given its competition a run for their money by marrying the power of social media with their trademark gags and natural onscreen chemistry between its two leads. TAPE Inc. executive Malou Choa-Fagar credits Ferre's days as a teacher for the segment's positive values, which has won the show praise and recognition. Since its debut back in July, AlDub has racked up over 20 endorsement deals, broken records on Twitter and TV ratings, and crossed over to the MMFF. We hear they may be getting their own show, too!
CONTINUE READING BELOW
Recommended Videos
Paul Soriano
Notable 2015 project: Kid Kulafu
ADVERTISEMENT - CONTINUE READING BELOW
It's been a good year for filmmaker Paul Soriano. His thrilling biopic, Kid Kulafu, was screened in several international film festivals and even took home a Best Actor award for its lead, Buboy Villar. His production company, 1017P, is home to plenty of other award-winning and thought-provoking films, including Thelma in 2011, Transit in 2013, and Dagitab in 2014. 1017P is also producing a new and highly anticipated film by auteur Lav Diaz, Hele sa Hiwagang Hapis, starring Piolo Pascual and John Lloyd Cruz.
Juan Miguel Severo
Notable 2015 project: On the Wings of Love
Spoken word has come a long way in Manila. We now have more establishments that cater to its growing community, as well as groups like Words Anonymous and White Wall Poetry who eloquently pour their hearts out onstage. One of the most notable names in spoken word poetry is Juan Miguel Severo, who rose to fame after his piece, Ang Huling Tula na Isusulat Ko Para Sayo, went viral. For folks who avidly tune into nightly teleseryes, he is better known as Rico, who performs heartwrenching pieces on On the Wings of Love, setting the stage for scenes between the leads, James Reid and Nadine Lustre.
— GMA Network (@gmanetwork) August 8, 2015
Dominic Zapata
Notable 2015 project: The Rich Man's Daughter
He is best known for his directorial work in the 2013 LGBT-themed drama, My Husband's Lover. Since the hit show, Zapata launched another LGBT drama in 2015—The Rich Man's Daughter, which focuses on the relationship between Jade (the youngest daughter of a wealthy and traditional Filipino-Chinese family) and another woman, Althea. Both Zapata and head writer Suzette Doctolero (who also worked on My Husband's Lover) broke barriers by portraying honest and relatable LGBT relationships that aren't just caricatures or tired stereotypes. The success of MHL also paved the way for a transgender-themed show on the network, Destiny Rose.
ADVERTISEMENT - CONTINUE READING BELOW
Joji Alonso
Notable 2015 projects: That Thing Called Tadhana, Heneral Luna
Although she is a lawyer by profession, Joji Alonso's name has appeared in the credits of some of your favorite independent films, from Ang Babae sa Septic Tank in 2011 to English Only, Please in 2014. In 2015, she produced some of the year's biggest and most critically acclaimed movies, including Heneral Luna and That Thing Called Tadhana. She heads her own production company, Quantum Films.
Erik Matti
Notable 2015 project: Honor Thy Father
Back in 2013, Erik Matti made headlines for his gripping crime drama, On the Job, starring Piolo Pascual and Gerald Anderson. His 2015 film, Honor Thy Father, opened to critical acclaim at the Toronto International Film Festival, as well as to plenty of positive reviews among local audiences. Sadly, his new film is at the center of controversy with its sudden disqualification for the Best Picture category at the MMFFs. He and the production team have demanded an investigation over what many have dubbed a scandal. He is also slated to helm an upcoming reboot of Darna on the silver screen, but the lead has yet to be announced.
ADVERTISEMENT - CONTINUE READING BELOW
— Gijon Film Festival (@Gijonfilmfest) November 23, 2015
Brilliante Mendoza
Notable 2015 projects: Sinag Maynila, Taklub
It was back in 2012 when Brilliante Mendoza wowed critics with his Nora Aunor-starrer, Thy Womb. Three years later, he returned to the silverscreen with Taklub, an ensemble drama about survivors of Typhoon Yolanda in Tacloban. (The film was later screened in a number of international film festivals, most notably the Un Certain Regard section of the Cannes Film Festival.) Beyond his films, Mendoza also gave budding filmmakers the chance to showcase their own work by launching Sinag Maynila Film Festival in March. Participating directors were given a P2 million grant each, as well as support from local cinemas.
Cathy Garcia-Molina
Notable 2015 projects: Forevermore, A Second Chance
Her name is synonymous to Star Cinema's box-office hits and this year was no exception. Although she admitted to being nervous about doing a sequel to One More Chance, the film raked in well over P300 million locally and is reportedly also doing well in international theaters. 2015 was also a good year for her in terms of TV: She directed the runaway hit, Forevermore, which starred Enrique Gil and Liza Soberano. She is also set to direct the love-team tandem again in a new series, Dolce Amore, airing next year.
Jerrold Tarog
Notable 2015 project: Heneral Luna
This year marked an epic year for filmmaker Jerrold Tarog, who spectacularly brought the life of General Antonio Luna from the independent film circuit to mainstream audiences pretty much everywhere. Although the film was initially pulled out of theaters due to poor box-office earnings, social media outrage quickly led to its return and a whopping P300 million—enough to guarantee a historical trilogy from the director and Artikulo Uno. Not only did fans celebrate its submission into the Golden Globes and the Oscars, but its relevant social commentary was also the hot topic among viewers online. It's a triumphant return not just for Heneral, but for quality films in the local industry, too.
ADVERTISEMENT - CONTINUE READING BELOW
Also read:
25 Best Local Movies of 2015
25 Most-Talked About Celebrity Moments of 2015
25 Best Art and Design Moments of 2015
50 Reasons to Love Metro Manila
---
Help us make Spot.ph better!
Take the short survey
Load More Stories