10 Fresh Tunes to Listen to This January
New year, new tunes! Listen to Taylor Swift, Coldplay, Armi Millare, and more!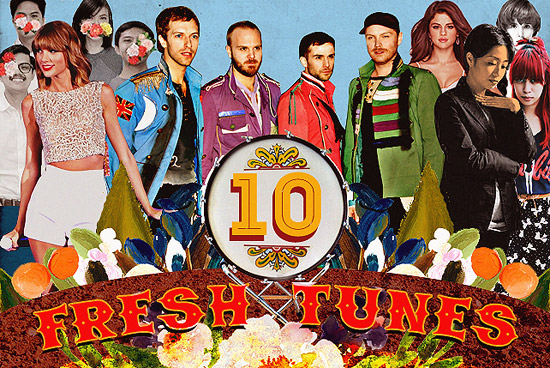 (SPOT.ph) Fill your 2016 with music right from the get-go. We bring you Taylor Swift's latest music video, Coldplay's upbeat single, Selena Gomez's sexy-cutesy track, Purity Ring's electro offering, and Sia's tropical-sounding ditty. Plus, we recommend local aural treats courtesy of Armi Millare, Fools and Foes, Reese Lansangan, Ebe Dancel, and Read Between the Lions.
Song: "Out of the Woods"
Artist: Taylor Swift
Tay-Tay just released the music video for "Out of the Woods." The pop superstar battles nature's forces in the cinematic four-minute vid. Although there's nothing in the vocals to blow you away, the track is catchy enough to get stuck in your head for days.
Fun fact: The song is considered by many to be about Swift's ex-boyfriend, Harry Styles.
Song: "Tao"
Artist: Armi Millare
Armi Millare's rework of the Sampaguita original retains the poignant message of the classic OPM tune while adding her own touch to it. The track does nothing but move the listener. Maybe it's the delicate vocals, or the poetic lyrics, or the stripped down arrangement—whichever it is, we can't deny the emotional impact of this version.
Fun fact: Millare's version of "Tao" is the official soundtrack of Honor Thy Father.
Song: "Birds"
Artist: Coldplay
It looks like British band Coldplay is continuing in their dance-y direction. Following their jungle dance party ditty "Adventure of a Lifetime" is the equally energetic and rather psychedelic "Birds." It sounds like a pretty good anthem for the coming summer.
ADVERTISEMENT - CONTINUE READING BELOW
Fun fact: The grainy yet colorful video was directed by Marcus Haney and was shot at Salvation Mountain in California.
Song: "Withering"
Artist: Fools and Foes
The indie-folk and post-rock quarter is venturing into darker territory with their single, "Withering," off their EP Underneath the Roots. Isabelle Romualdez's vocals take center stage, backed by a beautifully haunting arrangement. At almost six minutes, we still can't get enough of this track.
Fun fact: Fools and Foes is composed of Isabelle Romualdez (vocals and bass), Miguel Querubin (vocals and guitar), Ralph Gonzalez (guitar), and Gabba Santiago (drums).
CONTINUE READING BELOW
Recommended Videos
Song: "Hands to Myself"
Artist: Selena Gomez
The pop songstress' latest single is an LSS-inducing, sexy composition. Gomez knows she's no belter, and this awareness allows her to stick to what she can do best: irresistible melodies with cute-sexy vocals.
Fun fact: "Hands to Myself" is off Gomez's new album, Revival, out now.
Song: "Grammar Nazi"
Artist: Reese Lansangan
Wordsmiths will love all-around artist Reese Lansangan's "Grammar Nazi." The indie-pop, folk single is an adorable ode to good grammar and points out our pet peeves like "stuffs" and "furnitures."
Fun fact: Lansangan has been performing the song for a while now, but it's been formally released in her debut album, Arigato, Internet.
Song: "heartsigh"
Artist: Purity Ring
"heartsigh," for the first few seconds, sounds like staple ad music, but quickly escalates to a hypnotic electro masterpiece. We're addicted to this sonic composition with pulsating synths and ethereal vocals.
ADVERTISEMENT - CONTINUE READING BELOW
Fun fact: Purity Ring is electronic duo Megan James and Corin Roddick.
Song: "Bawat Daan"
Artist: Ebe Dancel
"Bawat Daan," the title track off Dancel's latest album under Star Music, is another delightful serenade. We can always rely on Dancel to deliver heartfelt music with his signature soaring vocals.
Fun fact: "Bawat Daan" is part of the official soundtrack of the MMFF film Walang Forever.
Song: "Cheap Thrills"
Artist: Sia
"Cheap Thrills" was originally written for Rihanna, but we can't be any happier with Sia's delivery. There's a tropical feel to the party song, but the vocals really stand out here. Whether it's an explosive ballad or a chill track, Sia's voice wows.
Fun fact: Sia's new album titled This is Acting drops January 29.
Song: "Parallax"
Artist: Read Between the Lions
The indie rock band's single is so easy to love not just because it's radio friendly, but also because it's evocative and nostalgic of the '90s. The guitars add a lot of energy to the subdued vocals.
Fun fact: The band's influences include Bloc Party, Death Cab for Cutie, Nirvana, and Foo Fighters.
Share this story with your friends!
---
Help us make Spot.ph better!
Take the short survey
Load More Stories