MMFF official allegedly linked to two winning film entries, Erik Matti demands audit
The Congressional hearing on Honor Thy Father revealed some very questionable things about the annual festival.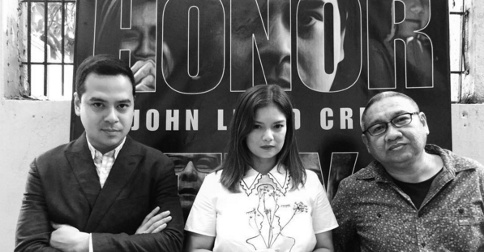 Photo via Erik Matti's Instagram account
(SPOT.ph) An official of the Metro Manila Film Festival (MMFF) has been linked to two winning films in this year's film festival. The news was revealed in a hearing held at the House of Representatives on January 11 regarding the alleged irregularities of the MMFF.
Laguna Rep. Dan Fernandez raised concerns about a "conflict of interest" involving the film festival entries and Dominic Du, who has been a member of the MMFF Executive Committee (ExeCom) for eight years. The latter's film distribution company, Digicinema Inc., reportedly promoted two MMFF entries on its Facebook page, namely Walang Forever and Buy Now, Die Later. Both films won Best Picture and Second Best Picture respectively—the category from which Honor Thy Father was earlier disqualified. Du was also said to be a client of Atty. Joji Alonso, the producer of Walang Forever.
During the hearing, MMFF jurors admitted that Du and MMFF ExeCom member Marichu Maceda told them during deliberations on December 21 that Honor Thy Father was disqualified. "I remember we were asking pa nga, 'Are you telling us or are you asking us if it's gonna be disqualified?' One of them said, 'No, we're telling you it's disqualified,'" said juror Carmen Musngi. "We said pa nga, 'You have to tell them that they're disqualified because it might go back to us [jurors]. They might say we disqualified them [when in fact] we weren't part of it.' They [Maceda and Du] assured us, 'It's okay. It's not anymore your concern [sic]. We'll just write to them. They will know.'"
ADVERTISEMENT - CONTINUE READING BELOW
— Erik Matti (@ErikMatti) January 11, 2016
Lawmakers questioned the lack of due process in disqualifying the film. MMFF rules allow for an appeal within 10 working days, but the decision was only handed down a day before awards night.
Meanwhile, Honor Thy Father director Erik Matti demanded an audit of the ticket sales and finances of the MMFF (the organization was reported to have earned P1 billion at the box-office). He said that the issue was bigger than his film's disqualification, saying, "We would like Congress to trace the flow of money, from the ticket buyers to the theater box office, to the MMFF, to the producers and to its beneficiaries. We want MMFF to produce verifiable bank statements and open themselves to audit—not just for this year alone, but in the past years as well."
CONTINUE READING BELOW
Recommended Videos
He also raised other issues that plagued this year's festival, including the removal of some films from cinemas after just a day. On January 9, the director penned an essay for The Philippine Star, where he talked about about Honor Thy Father being a "tough sell," as well as his wishes for the local film industry. "Films are about so many other things, too, other than just fun and love. I wish that you let films surprise you, and not just give you what you always expect of it," he wrote.
Also read:
Erik Matti wins best director, slams MMFF forHonor Thy Father's disqualification
MOVIE REVIEW: Honor Thy Father
Share this story with your friends!
---
Help us make Spot.ph better!
Take the short survey
Load More Stories