10 Disturbing Films for Daring Movie Buffs
From a last tango in Paris to human centipedes, you'll be watching these films behind your fingers or with your eyes closed.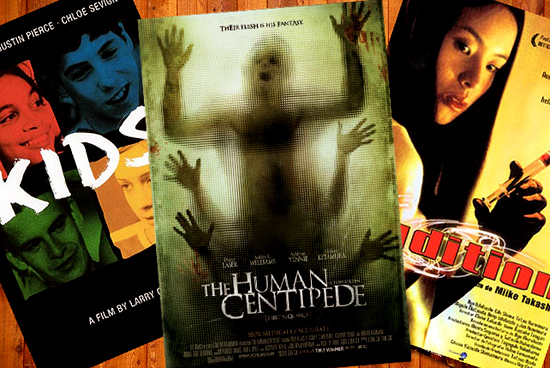 (SPOT.ph) Yoko Ono once said, "Controversy is part of the nature of art and creativity." Artists in all forms of art like pushing boundaries and pressing buttons, and cinema's filmmakers are no strangers to that. There are controversial films from all over the world throughout film history, and many of them are difficult to watch—so difficult that there are reports of people getting sick or fainting during the screening, films being banned, and even public outrage.
Whether through the copious amounts of (sometimes gratuitous) violence and sex, the taboo subject matter, the questionable portrayal of certain figures, or a mixture of the above, the 10 films below are just some of the most controversial, cringe-worthy, and difficult-to-watch movies ever made. Remember that pain you felt while watching The Revenant or 127 Hours? These films will make you experience something else entirely.
The Human Centipede (First Sequence) (2009)
Directed by: Tom Six
As one of the newer entries into the annals of "torture porn" films (which include 2010's A Serbian Film and the Saw franchise), many would know of this Dutch film—we bet you and your friends watched it to see who'd get grossed out the most. Inspired by Nazi medical experiments from World War II, The Human Centipede, at its most cringe-worthy, is a film about a mad scientist who stitches together three tourists, from mouth to, well, where the sun don't shine. It's a nasty film with excessive gore that has spawned two sequels. Seek those out at your own risk.
ADVERTISEMENT - CONTINUE READING BELOW
Kinatay (2009)
Directed by: Brillante Mendoza
Those familiar with Brillante Mendoza's work will know that he is not one to hold back on controversial scenes. From realistic sex scenes to gruesome violence, he's done it all. In this Cannes Film Festival entry (that won Mendoza the Best Director at the festival as well as film critic Roger Ebert's infamous negative review), a student mistakenly joins a crime syndicate paid to kill and dismember a woman. The film is a slow burn, but when it gets to the "katay" part of its title, things get quite gruesome and very difficult to watch, real fast.
CONTINUE READING BELOW
Recommended Videos
The Last House on the Left (1972)
Directed by: Wes Craven
"To avoid fainting, keep repeating, 'It's only a movie.'" This was the tagline used by future-Scream director Wes Craven's exploitation-revenge flick, which should tell you a lot about this film already. The original Last House, about two teenage girls who are tortured by a gang, was inspired by Ingmar Bergman's The Virgin Spring, except Craven ups the amount of blood on screen. Its gruesome and bloody depictions of rape and murder resulted in censorship in many countries. Craven's Last House, along with the likes of (the original) I Spit on Your Grave, and Cannibal Holocaust, is today still a difficult film to watch with its all-too-real depictions of violence.
Live Show (2000)
Directed by: Jose Javier Reyes
Way before he was directing Alden Richards and Maine Mendoza in My Bebe Love, Jose Javier Reyes directed this very controversial film about the difficult lives of sex performers. With a story of people having to do live sex shows on stage just to put food on the table, Reyes does not shy away from the brutal, awful things they go through. Far from being a "sexy" film, it's stark and disturbing, and is a daring critique of Philippine poverty. It was controversially banned by President Gloria Macapagal-Arroyo in 2001.
ADVERTISEMENT - CONTINUE READING BELOW
Kids (1995)
Directed by: Larry Clark
In Kids, Larry Clark shows the world of sexually active and partying teenagers in New York City. It was filmed to look very realistic, and knowing that these "kids" are unknowingly spreading HIV to each other makes it even more difficult to watch. Written by Harmony Korine (who has gone on to write and direct other controversial films like Spring Breakers) and directed by Larry Clark (who also co-directed the equally-controversial film Ken Park), it was clear from the beginning that this film was out to be as daring as it could be about the subject, and they succeeded.
Pink Flamingos (1972)
Directed by: John Waters
Pink Flamingos is possibly unlike any film you will ever see. It was made to push boundaries and to straight up cause outrage. While now a cult favorite, it doesn't change the fact that the film is incredibly hard to get through, and was at a time one of the most controversial movies to come out in theaters. The lead character Divine and her rivals fight for the title of "Filthiest Person Alive," and things get way out of hand, from murders, to fetishes, to eating things you would never believe (the film's most famous scene involves a dog and its bodily functions), it'll make even the strongest of stomachs turn.
Funny Games (1997)
Directed by: Michael Haneke
Michael Haneke loves to make you squirm through the simplest of means. Whether it's the fear of being watched in Caché, or masochistic fantasies in The Piano Teacher, Haneke knows how to make the viewer uncomfortable. Perhaps his most disturbing film is the ironically-titled Funny Games. Off-kilter and weird from the get-go, Funny Games is about a home invasion where the invaders psychologically and physically torture the home-owners, which include a child. It's horrifying and stomach-turning, and plays with audience expectations, inviting the viewer even deeper into the goings-on in the film without ever going too far into explicit gore, which can make it all the more haunting.
ADVERTISEMENT - CONTINUE READING BELOW
Antichrist (2009)
Directed by: Lars von Trier
Von Trier is one the most controversial directors working today, with films like Nymphomaniac and The Idiots in his oeuvre. One of, if not his most cringe-worthy is the 2009 film Antichrist, starring Charlotte Gainsbourg and Willem Dafoe. Filled with scenes of sadomasochism, violent sex, and lots of harm to body parts you want to protect, one would never think this film is about a couple who is mourning the death of their child. Graphic and explicit, this is not for the faint of heart.
Audition (1999)
Directed by: Takashi Miike
While most of the controversial films on this list are here because of their gore and subject matter, the Japanese film Audition is here because of just how disturbingly scary it is. A widower is set up by his casting-producer friend in a series of "mock" auditions to find him a new girlfriend, and he falls for a girl named Asami. Little does he know that this beautiful woman is a psychopath. Scenes with a dog bowl, needles, and piano wire make up some of the most horrifying, almost unbearable images you'll ever see. Kim Ki-Duk's The Isle is another controversial, hard-to-watch film that showcases how brutal Asian directors can be.
Last Tango in Paris (1972)
Directed by: Bernardo Bertolucci
This French-Italian film that stars Marlon Brando was infamously given an X rating by the U.S. ratings board, and was censored by several governments around the world for its explicit sequences, the most famous one involving butter. A middle-aged American (Brando) starts having a sexual relationship with French woman, and their sexual exploits are far from exciting, instead being quite a pain to witness. In spite of that, the film has gone on to become one of the most-recognized erotic dramas in film history.
ADVERTISEMENT - CONTINUE READING BELOW
Share this story with your friends!
---
Help us make Spot.ph better!
Take the short survey
Load More Stories