10 Pinoy Anti-Valentine's Day Films
Celebrate V-Day by watching movies about friendship, moving on, and yes, revenge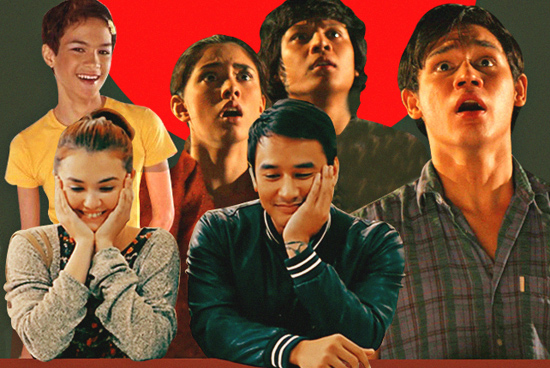 (SPOT.ph) Every February 14, lovebirds and hopeless romantics fill our timelines with sappy, lovey dovey messages, and we're bombarded with flowers, hearts, and chocolates. There are tons of films filled with love teams, new and old, spouting big proclamations of love to join the already-long list of clichéd rom-com movies. What if we don't want to celebrate this made-up, greeting card holiday? If you're the kind of person that this article is speaking to right now, we've compiled 10 very different Filipino films for you—whether you're hoping to move on, you just want to do away with V-Day altogether, or you need some cynicism in your life.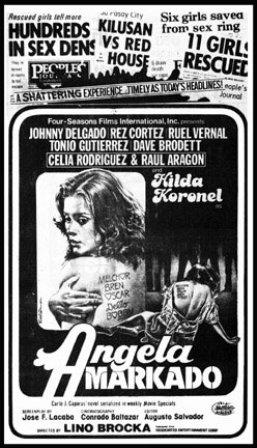 Angela Markado (1980)
Directed by: Lino Brocka
This Lino Brocka film is about a young woman who is attacked by several men, then is branded or marked with the perpetrators' names. She is then sold to a brothel but escapes. When she returns home, she makes it her mission to find the men that destroyed her life in a bloody path of revenge. Akin to The Bride Wore Black and Kill Bill, this classic film portrays a woman taking control of her life and righting wrongs in the most extreme way possible. It's not something one should copy, but it definitely gets those revenge-y, angry feelings out.
ADVERTISEMENT - CONTINUE READING BELOW
Temptation Island (1980)
Directed by: Joey Gosiengfiao
For something completely different from a revenge-seeking murderess, there is Joey Gosiengfiao's "cult-favorite film," the endlessly quotable Temptation Island. The film, which was remade in 2011 with Marian Rivera and several other big-name celebrities, originally starred beauty pageant winners playing beauty pageant contestants who are stranded on a deserted island. The result is a borderline-absurd film filled with dry wit, deadpan humor, classic lines ("Rub a dub dub, two bitches in a tub!"), and surreal scenes that will have you laughing as you eat ice cream while sitting on a couch, away from all the V-Day festivities.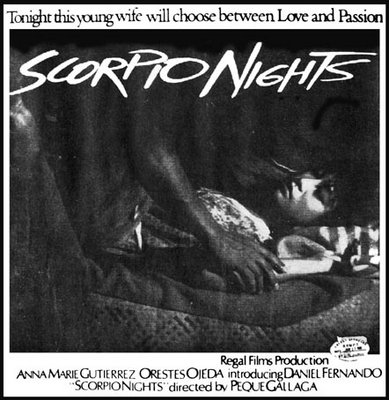 Scorpio Nights (1985)
Directed by: Peque Gallaga
Peque Gallaga's infamous film is about a college student who has an affair with the wife of a security guard. There is a tiny bit of romance in this film, but it's mostly fuelled by sexual desire. It may be intense and dark, but it's also a surprisingly insightful look at a time when the Marcos regime was about to topple and the Philippine economy was a complete mess. If the complicated sexual urges of the film's main characters don't turn off viewers from ever getting into increasingly problematic relationships, the tragic ending will probably do the trick.
CONTINUE READING BELOW
Recommended Videos
Magic Temple (1996)
Directed by: Peque Gallaga and Lore Reyes
Moving from erotic dramas, Peque Gallaga and frequent collaborator Lore Reyes directed this family fantasy hit from the mid-'90s, and it's just silly fun. The Philippines' answer to the hit Hollywood kid-adventure films of the '80s like The Goonies, the mystical, magical, and pretty ridiculous world of Magic Temple is an enjoyable celebration of friendship and camaraderie. Who has time for romantic entanglements when you've got the best of friends and you're saving your world together? Friendship and teamwork win the day!
Babae sa Breakwater (2003)
Directed by: Mario O' Hara
A cruel, brutal look at poverty in the Philippines, Babae sa Breakwater will hit you hard and make you see how there are people far worse off than you, who has no date at the moment. Yes, it's a tough watch, and maybe you won't get through it all, and that's the point: This is a dark exploration of reality. You can expect nothing less from Mario O'Hara, who wrote and directed some of the most memorable social realist Filipino films.
Ang Pagdadalaga ni Maximo Oliveros (2005)
Directed by: Kanakan Balintagos aka Auraeus Solito
Maximo Oliveros is a Filipino film that deserves to be watched at any time. It's a delicate, sympathetic, but unflinching look at a young boy becoming more and more comfortable with his homosexuality. It's also a film that showcases some important points about love: accepting yourself and the kind of person you will love, finding the right person, and finding that person at the right time, and knowing when to look away. These may not be the core values of the film, but they are good bonus questions when discussing this one-of-a-kind film.
ADVERTISEMENT - CONTINUE READING BELOW
Zombadings 1: Patayin sa Shokot si Remington (2011)
Directed by: Jade Castro
Looking for something high on the Temptation Island-scale of absurdity? Jade Castro's over-the-top, silly, and irreverent film about gays and zombies might be the one for you. Remington is "cursed" to become gay after maltreating an older gay man. He then goes through the troubles that homosexuals experience because of small-minded people like him. At its core, the film is about acceptance and respect for all, but at the same time it's a wacky, charming, and silly film that is full of insane gags that become weirder and wilder as the film goes along.
Sana Dati (2013)
Directed by: Jerrold Tarog
Jerrold Tarog's Sana Dati, while about a love triangle, avoids all the trappings of a romantic drama cliché (specifically Filipino romantic films). Instead, it always maintains an air of bittersweet melancholy throughout. A woman is about to get married to a man that she found after she lost her true love. She then meets a mysterious man at her wedding who is connected to the one she moved on from. Everything is treated with grace and sensitivity, and none of the three leads are portrayed as the "villain" or the foil. The story unfolds organically, and the "romance" is shoved under the rug, instead focusing on a much more realistic exploration of love, or what we think love is or should be.
Metro Manila (2013)
Directed by: Sean Ellis
ADVERTISEMENT - CONTINUE READING BELOW
Crime dramas have become more of the rage in Philippine independent cinema, and in this British-Filipino hybrid, we get a flashy take on some of the criminal goings-on in the bustling city of Metro Manila. A man and his family move to "the big city" hoping for a better life but are all swallowed up by the evils of the city. It's downbeat and troubling, but thrilling and beautifully made. Even so, this is a cynical and bleak film, and it allows very little happiness to its characters, so for those that are just kind of pissed at the world during Valentine's Day, this one will totally fit that mood.
That Thing Called Tadhana (2015)
Directed by: Antoinette Jadaone
Yes, we know this film is a romantic comedy, but not in the vein of those we usually get in cinemas. Also, true, this is a story about romance and falling in love. However, it is also a movie about finding the strength to move on from a past love. It shows that sometimes, we need to have time to ourselves, away from whom we think is our true love, to get our heads straight and see what we need to do in terms of our relationships. There is so much more to the love story between Mace and Anthony, as evidenced by how the film ends. Tadhana is a Valentine's Day film that works equally well for those anti-V-Day folks looking to move on from the past or look ahead to the future.
ADVERTISEMENT - CONTINUE READING BELOW
Share this story with your friends!
---
Help us make Spot.ph better!
Take the short survey
Load More Stories