MOVIE REVIEW: The Finest Hours takes you for a thrilling, stormy ride
Chris Pine captains a different kind of ship in this true story about a daring sea rescue.
(SPOT.ph) There have been several disaster films set on the seas throughout history, from the biggest of the big in Titanic, to scary and dramatic like The Perfect Storm, and to less-flashy ones like the nearly dialogue-less All is Lost. What Craig Gillespie's The Finest Hours tries to do differently is to use modern-day technology to really try and put the viewer right in the middle of the action—so close, you could almost feel the water yourself. There is some fancy, admirable camerawork and solid visual effects to create a frightening maritime experience. While technically marvelous, the screenplay leaves a lot to be desired, and its decidedly traditional and old-fashioned style doesn't make it quite stand out as much as it could have. However, if viewers just take in the ride, they could be in for one thrilling experience.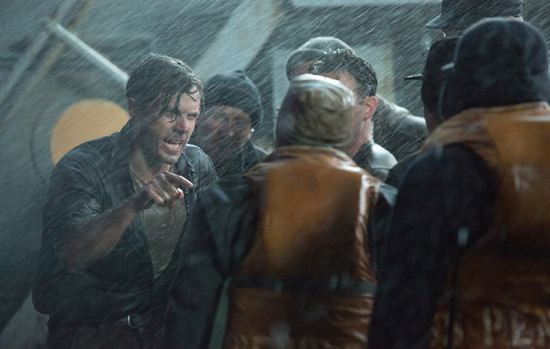 Based on an amazing true story set in 1950s Massachusetts, The Finest Hours' main story focuses on coast guard crewman Bernie Webber (Chris Pine), described as "a good man," a "follower of rules," and not much else, who braves a brutal, destructive winter storm with his crew on a rescue mission to save men on the SS Pendleton, a stranded-at-sea oil tanker that has been split in half because of the storm. The Pendleton is slowly falling apart, and the ship's engineer Ray Sybert (Casey Affleck) is trying to keep everyone from dying or making rash decisions in a time of emergency.
ADVERTISEMENT - CONTINUE READING BELOW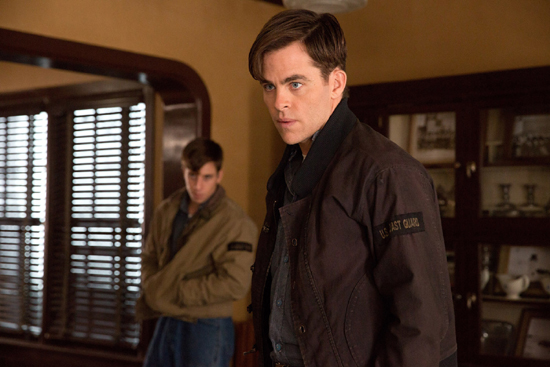 There are three distinct stories intertwined in the film: Webber's four-man crew trying to look for the lost Pendleton tanker in the storm, Sybert and the 32 other men stranded on the slowly-sinking tanker, and those on land waiting for the crews to return home, including Webber's girlfriend Miriam (a captivating Holliday Grainger) and Webber's boss and coast guard commander Daniel Cluff (Eric Bana with a heavy Boston accent). While the sea missions are engaging and visually thrilling, their stories and even the dialogue are very basic and traditional, adding very little depth besides a daring rescue mission and a hope that they all don't die. Being a Disney-produced film, there is a tameness and almost dullness to how everyone talks to each other and how the story unfolds.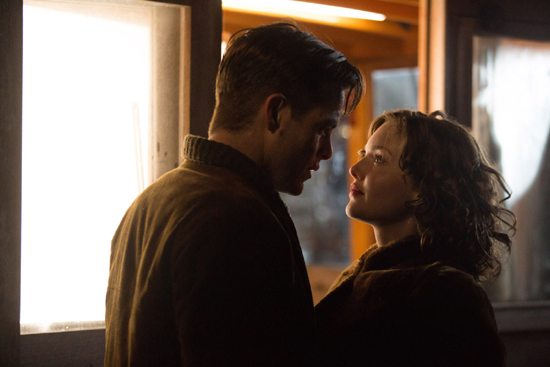 CONTINUE READING BELOW
Recommended Videos
The more interesting story is the dialogue-filled scenes with Grainger, whose Miriam could have easily been just the teary-eyed woman worried for her man. Instead, the film side-steps this by having Miriam go head-to-head with the men, fighting with Cluff and others, which was a no-no in the 1950s community where the movie takes place. Constantly, she is told that "other women don't [barge into offices]" and that she should "go home where she belongs." While Miriam's sequences aren't the most visually exciting, they do have more heft, tackling gender stereotypes, blame, and forgiveness that the other parts of the film don't bother with.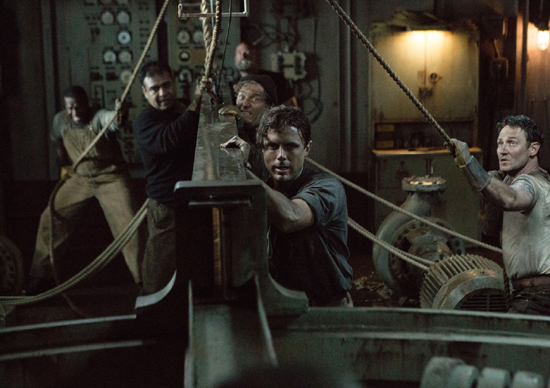 The script could have been heavier, more dramatic, and more intelligent, instead of just relying and coasting on visual flair and "experience cinema." Even so, there is a lot to admire in Disney's production. The rescue sequence that comes late in the film is one of the more powerful scenes one will see in this kind of genre. The cast is solid, with Affleck being the standout, exuding leading-man strength despite not even being the lead. The Finest Hours could have used some fine-tuning for smoother sailing, but despite rocky waters, it still gets the viewers to their desired destination.
ADVERTISEMENT - CONTINUE READING BELOW
RATING: 3.5 out of 5 spots
The Finest Hours opens in theaters on March 2. Photos courtesy of Walt Disney Studios Motion Pictures International and Columbia Pictures.
Share this story with your friends!
---
Help us make Spot.ph better!
Take the short survey
Load More Stories