MOVIE REVIEW: Ang Taba Ko Kasi is a joyful celebration of being big
Funny and energetic, this CineFilipino entry is a good laugh with a charming leading lady.
(SPOT.ph) A lot of hubbub was made about Ang Taba Ko Kasi when the MTRCB gave the film's trailer a ridiculous X rating for having "offensive language" and supposedly being insulting to a person's appearance. This led to star Cai Cortez asking what was wrong with the word "taba," which is just a description of someone, not necessarily an offensive word or an insult (just like "payat." as Cortez noted).
This film, an entry to the 2016 CineFilipino Film Festival, tries its hardest for its plus-size leads to take the word "taba" and make it something more positive. While it does have powerful lines regarding weight or being fat, the film teeters sometimes on the fine line between whether we're laughing with or at the protagonists. Either way, the film has a big heart when it comes to its subject, and while it struggles to do so at times and only scratches the surface of body issues, it tries to be a body-positive celebration of hugeness, which is something we can appreciate.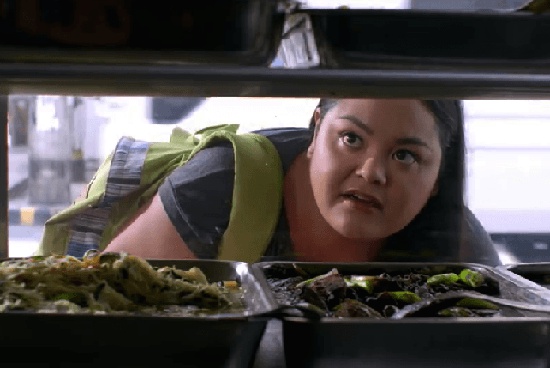 ADVERTISEMENT - CONTINUE READING BELOW
Ang Taba Ko Kasi focuses on Olga (Cortez), an overweight college student who wants to lose weight. She goes jogging around the UP Campus, takes diet pills, and does whatever she can to lose weight, because she can't look at herself naked. She also takes swimming classes, and is lucky to get a good-looking instructor (Mark Neumann), whom she takes a liking to. While jogging, she meets another overweight guy named Benji (Ryan Yllana) who, like her, is trying to lose weight but for different reasons–his ex-girlfriend who moved to the States is coming home soon, and before she had left years ago, he wasn't a "dambuhala" yet. A strange love triangle (strange because the guys never interact) brews, and Olga goes back and forth between her cute, kind instructor whom she thinks would never go for her because she's fat, or the big, sweet guy whom she feels she can be comfortable with and is going through the same body issues that she is.
CONTINUE READING BELOW
Recommended Videos
The film has some really interesting insights on overweight people and how they deal with people around them, but it usually just stays at the tip of the iceberg. When its overweight leads get stressed or hurt, they pig out. While this may be the case sometimes, there are definitely deeper and more psychological reasons for overeating, and health issues as well that the film could have explored if it wanted to, but never quite does. Director Jason Paul Laxamana is more interested in presenting people who are insecure but happy—"I hate my fats, not myself!" Olga declares; and rehashing rom-com stereotypes for its uncommon leads instead. It does the latter quite well: Hugot lines are everywhere, so are silly lines, and funny visual comedy.
ADVERTISEMENT - CONTINUE READING BELOW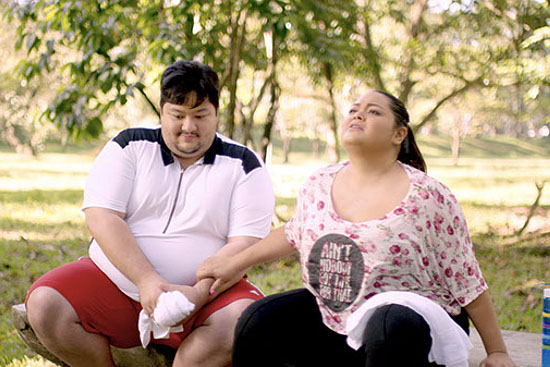 While story-wise, the film could have dug a little deeper, this is a showcase for Cortez, who gets to play the wonderful, quirky, romantic lead. She's feisty, funny, and has great comedic timing. Neumann, a Filipino-Croatian, is cast here for his looks above anything else (he spends 90% of his scenes without a shirt on), and sometimes struggles with the language that it's a wonder why they didn't just let him speak more in English than in stilted Tagalog. Yllana is a charming opposite to Cortez' Olga. When Cortez and Yllana are on screen together and are given good material they can play off of, they are dynamite.
Setting the film in and around the UP campus was a smart decision, giving the film a sense of familiarity for many. Stylistically, the film is very simple in its execution, not counting a couple of more unusual sequences played for comedy (like when Olga is chased by an ice cream vendor). The script is mostly funny, and definitely plays well to Pinoy audiences who are so used to rom-coms and romantic dramas that Ang Taba Ko Kasi references often. You can sense that the film could, and maybe wanted to be raunchier, but it never quite goes there (in spite of its trailer's X rating). The film wraps up way too nicely for everyone involved, but the point it tries to make is love yourself and accept others for who they are. While it's not a full meal, Ang Taba Ko Kasi is a good appetizer for something that could in the future be denser and even more fulfilling.
ADVERTISEMENT - CONTINUE READING BELOW
RATING: 3 out of 5 spots
Ang Taba Ko Kasi is part of the 2016 CineFilipino Film Festival, running from March 16 to 22. Read more about CineFilipino Film Festival.
Share this story with your friends!
---
Help us make Spot.ph better!
Take the short survey
Load More Stories