10 Fresh Tunes to Listen to This April
This month, we're featuring Ariana Grande, Gwen Stefani, Moonstar88, Clara Benin, and more!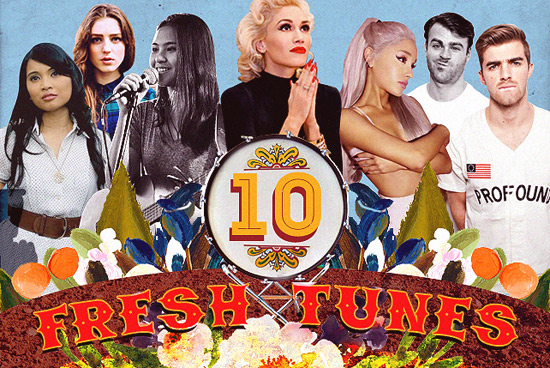 (SPOT.ph) Kick off your new playlist with Ariana Grande's sultry single, and follow it up with Gwen Stefani's feel-good tune, Kiiara's snappy electro-pop ditty, Birdy's new ballad, and The Chainsmokers' mellower anthem. We also recommend the freshest from Moonstar88, Clara Benin, The After-School Special with Curtismith, Skymarines, and Brisom.
Song: "Dangerous Woman"
Artist: Ariana Grande
There's no denying Ariana Grande's singing prowess—and sex appeal. The 22-year-old pop star just released a sultry single and music video, which sounds like it could be a spy movie soundtrack. There's a sweet guitar solo toward the end, too, that lends more excitement to the song.
Fun fact: "Dangerous Woman" is the title track of Grande's upcoming third studio album due for release on May 20.
Song: "Sana Mali"
Artist: Moonstar88
Heartfelt songwriting, superb bass, and cool vocals make "Sana Mali" an instant favorite. It's a relatable track that takes you to the post-honeymoon phase of a relationship, when things either work out or fade out.
Fun fact: Current Moonstar88 lineup includes Maychelle Baay (vocals), Paolo Bernaldo (bass), Herbert Hernandez (guitar), and Bon Sundiang (drums).
Song: "Misery"
Artist: Gwen Stefani
"Misery," the third single off Gwen Stefani's latest album title This Is What the Truth Feels Like, is a feel-good track that celebrates new love. The lyrics capture the excitement of fresh romance, when every moment away from your boo is plain misery.
Fun fact: This Is What the Truth Feels Like is Stefani's first album in 10 years, following her last LP, The Sweet Escape.
ADVERTISEMENT - CONTINUE READING BELOW
Song: "Coming"
Artist: Clara Benin
Clara Benin's vocals are perfect for this folk track that she wrote, arranged, produced, and performed herself. We love the guitars, snaps, and claps that make this one catchy solemn anthem.
Fun fact: This is a song Benin wrote for Lent.
Song: "Tennessee"
Artist: Kiiara
The 20-year-old singer-songwriter from Illinois first wowed music lovers when she released "Gold" last year. Now, she's out with new music that doesn't disappoint. "Tennessee" is a snappy, glitch-infused, electro-pop piece that may not be as addictive as "Gold" but is just as unique and feisty.
CONTINUE READING BELOW
Recommended Videos
Fun fact: Kiiara also just released a new music video for her first hit single, "Gold."
Song: "Harbour City"
Artist: The After-School Special ft. Curtismith
The After-School Special and Curtismith team up for this smooth hip-hop and rap track. The beats are bound to get anyone hooked, while the much-needed verse passes by swift yet strong.
Fun fact: The After-School Special is an electronic music project of Anton Salvador. Curtismith is Mito Fabie.
Song: "Wild Horses"
Artist: Birdy
The British singer-songwriter's second single off her new album, Beautiful Lies, is a radio-friendly and memorable ballad. It's the kind of song that perfectly fits her lush and soulful vocals.
Fun fact: Birdy plays a mermaid in the music video for "Wild Horses."
Song: "Oasis"
Artist: Skymarines
Davao-based artist Skymarinesis out with a rich electro track. The listening experience is almost otherworldly, what with the layers of sounds and the enchanting vocals.
ADVERTISEMENT - CONTINUE READING BELOW
Fun fact: "Oasis" is Skymarines' first official single under Terno Recordings.
Song: "Inside Out"
Artists: The Chainsmokers ft. Charlee
Swedish singer Charlee joins The Chainsmokers in the mellow tune "Inside Out." It opens with soft vocals, delicate guitars and percussion, and then bursts into a synth explosion at the chorus.
Fun fact: The Chainsmokers are American DJs Andrew Taggart and Alex Pall.
Song: "Pride"
Artist: Brisom
Electro-rock band Brisom sends us all good vibes with "Pride." We can easily enjoy and sing along to this one, although we do admit we were waiting for the track to fully take off.
Fun fact: Brisom's new album, Limerence, will be released on April 16 at Route 196.
---
Help us make Spot.ph better!
Take the short survey
Load More Stories