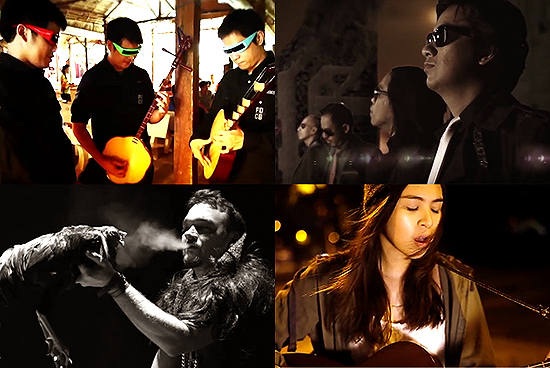 (SPOT.ph) Music is never just a listening experience; it's there to entertain us and to make us think and feel. And while hearing carefully constructed melodies are always a pleasure, the sensation is magnified when a song has some superb visual accompaniment. Music videos, when done right, can wow us and maybe even bring a completely new understanding of our favorite tracks. For this list, we look at a few of the cool local music videos that are so good, they're almost like mini-movies.
Song: "Building Too"
Album: The Neon Hour
Artist: BP Valenzuela
Director and animator: Christine Silva
The music video for "Building Too" makes us see all too familiar situations in a new, animated light. What we may consider routine and dull is given a fresh and colorful take in this visual masterpiece. Plus, director and animator Christine Silva's drawings and selection of colors capture the hipness of everyone's favorite, BP Valenzuela.
ADVERTISEMENT - CONTINUE READING BELOW
Song: "Hari ng Tondo"
Album: Manila Kingpin: The Asiong Salonga Story movie soundtrack
Artist: Gloc 9 feat. Denise
Director: Rico Gutierrez
What can we say; this music video is a cinematic masterpiece. It's a montage of scenes from the award-winning local crime film, Manila Kingpin: The Asiong Salonga Story, featuring local action stars like Jeorge "E.R." Estregan, Phillip Salvador, John Regala, and Ronnie Lazaro. It's a kick-ass visual for an equally kick-ass track.
Song: "Astro"
Album: Urban Gulaman
Artist: Radioactive Sago Project
Director: RA Rivera
You can't really expect anything less than a riot when you get Ramon Bautista, Lourd de Veyra, Jun Sabayton, and director RA Rivera working together. Here is a hilarious music video featuring fashion statements from years past, comedic acting, and some pretty amusing subtitles. Make no mistake, though; there's a clear and entertaining narrative to this production.
Song: "Out of Control"
ADVERTISEMENT - CONTINUE READING BELOW
Recommended Videos
Album: Zilch
Artist: Pupil
Director: Erin Pascual
Pupil's "Out of Control" music video features the gorgeous Ornusa Cadness and lots of CGI. It gives a glimpse of a dystopian future where everything is, you guessed it, out of control. The artfully made moving picture literally ends with a bang.
Song: "Fly"
Album: Virgo
Artist: June Marieezy
Director: Miguel Aragon
Music and nature goddess June Marieezy brings us to a different dimension in her music video for "Fly." She takes us to the waters and into the woods as she croons and raps for the audience. The kaleidoscopic shots add more mystique to the highly creative visual.
Song: "Halik ni Hudas"
Album: Wolfgang and Tiktik: The Aswang Chronicles movie soundtrack
Artist: Wolfgang
Director: Erik Matti (movie)
Featuring scenes from the movie Tiktik: The Aswang Chronicles, the "Halik ni Hudas" music video is a dark production, which with every second brings us to the edge of our seats. It boasts a strong Filipino theme as it sheds light on our rich and fascinating folklore.
ADVERTISEMENT - CONTINUE READING BELOW
Song: "Huling El Bimbo"
Album: Cutterpillow
Artist: Eraserheads
Director: Auraeus Solito
Here's a music video that will have you feeling nostalgic...not just for the well-loved music of the Eraserheads but also for your fondest childhood memories. The bittersweet moving picture by Auraeus Solito perfectly captures the innocence of childhood and the eventual complications of adulthood.
Song: "Otomatik"
Album: Kaya Mo Mag-Sando?
Artist: Pedicab
Director: RA Rivera
Pedicab brings us the different sights and sounds of Vietnam in their music video for "Otomatik." We see them on foot, on bikes, and on boats; we see them chowing down on local delicacies and taking in the nightlife. It's thrilling to witness the guys of Pedicab bring their own brand of fun to a different territory.
Song: "Taxi Taxi"
Album: KaapiN EP
Artist: KaapiN
Animator: Megan Palero
This animated music video for KaapiN's "Taxi Taxi" is a surreal and visually stimulating representation of their music. It showcases hypnotic patterns and bizarre creatures in a world that anyone with a wild imaginations would appreciate.
ADVERTISEMENT - CONTINUE READING BELOW
Song: "Riverchild"
Album: Riverchild EP
Artist: Clara Benin
Video by: Josh Elefan, Kevin Abril, and Mark Mariano
Clara Benin and team prove less is more in this music video. The young indie-folk artist walks the urban streets with her trusty guitar, city lights softly seen in the background. There's a nice contrast between her slow pace and the city that continues to go about its business.
Share this story with your friends!
---
Help us make Spot.ph better!
Take the short survey
Load More Stories