10 Gritty Pinoy Dramas You Can Stream Right Now
From inmates on death row to terrorist captives, here are 10 Pinoy dramas that will get you thinking.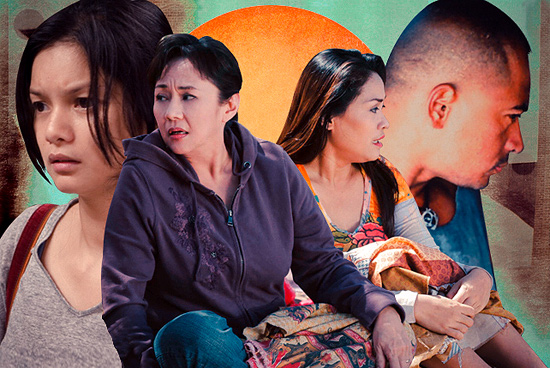 (SPOT.ph) Whether you want to skip the cheesy one-liners or maybe you're just in the mood for something different, how about going for films that are a little more hard-hitting and thought-provoking? Thankfully, Pinoy films are full of gritty dramas that will have you on the edge of your seat and discussing the movie long after the credits roll. We round up 10 films that you can stream right from the comforts of your couch.
ADVERTISEMENT - CONTINUE READING BELOW
CONTINUE READING BELOW
Recommended Videos
Also read:
10 Pinoy Indie Films You Can Stream Now
10 Best Shows to Stream Right Now
10 Classic Pinoy Romance Films You Can Stream Now
10 Must-See Pinoy Indie Romance Movies
Deathrow (2000)
Director: Joel Lamangan
Stream it on: iflix, HOOQ
Like On the Job, Deathrow heavily takes place inside a prison. In Joel Lamangan's hard-hitting tale, a 16-year-old kid (Cogie Domingo) is sent to death row after being caught stealing, as well as found guilty of a murder he did not commit. Here, he meets several inmates that affect his life, including an aging gangster played by Eddie Garcia. While it is largely tragic, Deathrow still has rays of hope in its gritty world.
Muro Ami (1999)
Director: Marilou Diaz-Abaya
Stream it on: iflix, HOOQ
Marilou Diaz-Abaya's depiction of one of the most frightening forms of child labor is considered a classic and a must-watch. Unlike many films you'll see on this list, Muro-Ami's grittiness is not because of its crowded city setting (as it's set along the seas), but because of the intense nature of the work that these children do. Starring Cesar Montano as a captain who prefers illegal fishing and the use of children, there are few films more harrowing than watching it all unfold in Muro-Ami.
ADVERTISEMENT - CONTINUE READING BELOW
Tirador (2007)
Director: Brillante Mendoza
Stream it on: iflix
Brillante Mendoza is one of the most well-known "auteurs" of Philippine cinema in the world, and streaming service iflix has a considerable selection of films from the director. While plenty of his films are fitting for this list, Tirador is one that takes place during an election year, which seems apt for 2016. Set in 2007 along the busy streets and slums of Quiapo, the film is Mendoza's takedown of the political, social, and religious structure that is ever so prevalent and misused during election season.
Captive (2012)
Director: Brillante Mendoza
Stream it on: iflix
Shifting his focus from Manila to the islands and jungles of Palawan, Brillante Mendoza tells the story of the men and women affected by the 2001 Dos Palmas kidnappings. Starring the renowned French actress Isabelle Huppert, we follow the horrific year-long kidnapping of these people and their brutal way of life.
ADVERTISEMENT - CONTINUE READING BELOW
Ekstra (2013)
Director: Jeffrey Jeturian
Stream it on: HOOQ
Jeffrey Jeturian's Ekstra was the runaway hit in Cinemalaya 2013. Starring Vilma Santos as a struggling bit player for Philippine movies and television, we get to experience and see the life of someone who not only lives on the fringes of society but also works in the fringes of her chosen profession. It's not as dark as other films, but it's a unique and still-heartbreaking study of someone so accustomed to being in the background.
Dekada '70 (2002)
Director: Chito S. Roño
Stream it on: iflix
Based on the acclaimed novel by Lualhati Bautista, the modern classic Dekada '70 depicts one family's turbulent life during the height of the Marcos regime and Martial Law. Vilma Santos and Christopher de Leon lead a powerful cast in this bold film that holds little back in its harsh portrayal of life in the '70s.
ADVERTISEMENT - CONTINUE READING BELOW
Bagong Buwan (2001)
Director: Marilou Diaz-Abaya
Stream it on: iflix
After telling the heartbreaking story of child-fishermen, Diaz-Abaya shifts the attention to Muslim rebellions in Mindanao, portrayed in tough and uncompromising ways. Once again starring Cesar Montano, this time as a Muslim doctor, Bagong Buwan revolves around Ahmad (Montano), a reluctant leader of a Muslim rebellion who is just trying to survive and flee their war-torn area.
The Guerilla is a Poet (2013)
Director: Sari Dalena and Kiri Dalena
Stream it on: iflix
An entry from the first CineFilipino Film Festival, The Guerilla is a Poet might not be as well-known as Dekada '70, but it's just as fascinating. Taking place during the Marcos regime, this film shines a light on one of the Marcos administration's greatest foes and one of our more controversial figures, activist and poet Jose Ma. Sison, founder of the Communist Party of the Philippines.
Donor (2010)
Director: Mark Meily
ADVERTISEMENT - CONTINUE READING BELOW
Available on: iflix
While not the most action-packed among the entries on this list, Mark Meily's bleak depiction of black market organ transplants has its own memorable, often not-for-the-faint-hearted moments. A Cinemalaya 2010 alumnus, Donor stars Meryll Soriano as a woman down on her luck and hoping to get out of the country. Looking for a quick way out, she agrees to donate her kidney to foreigner she must marry. Tough but also laced with dark humor, Donor is a different take on gritty drama.
Ang Probinsyano (1997)
Director: Fernando Poe Jr.
Available on: HOOQ
Fernando Poe Jr. is a legend of Philippine cinema, and while his films may not have always been the beacon of realism, their action-packed and fast-paced plots were often worth seeing. While we've already spoken of our admiration of the TV remake, the original film is quite the exciting entry from the FPJ ouevre.
Also read:
10 Pinoy Indie Films You Can Stream Now
10 Best Shows to Stream Right Now
10 Classic Pinoy Romance Films You Can Stream Now
10 Must-See Pinoy Indie Romance Movies
ADVERTISEMENT - CONTINUE READING BELOW
Load More Stories