MOVIE REVIEW: Money Monster is an old-school thrill ride
George Clooney and Julia Roberts star in this surprisingly funny thriller set in the world of finance.
(SPOT.ph) George Clooney has played so much of the same role that you can already expect what he brings to the table at this point of his career. He's often the cool, charming, confident, mouthy, smart-ass character, and he plays this up once again in Money Monster. This isn't to say that he is no good. Clooney is a metaphor for this film, which is likewise nothing new in its tropes. It may be full of Hollywood action-thriller clichés, but that doesn't hinder it from being an entertaining, surprisingly funny, and oftentimes exciting exercise.
Thanks to its 100-minute running time, Money Monster gets moving fairly quickly. Clooney plays Lee Gates, the host of a TV show about finances, where he makes a living telling people what to do with their money. Gates works closely with his longtime producer-director Patty (a solid Julia Roberts), who has not told him that she is leaving for another job. Not long after the show begins, a man named Kyle Budwell (Unbroken's breakout star Jack O'Connell), posing as a delivery boy takes everyone on set hostage live on the air and straps a bomb vest on Gates.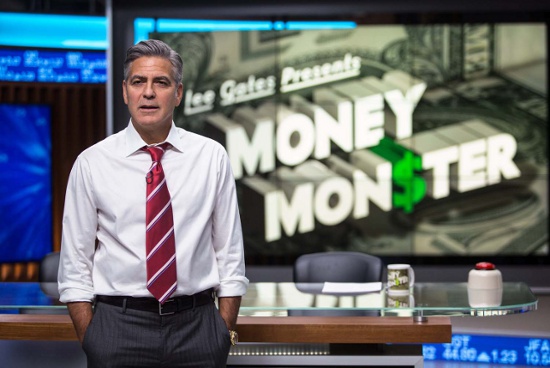 ADVERTISEMENT - CONTINUE READING BELOW
Before the events of the film take place, Budwell had made an investment of U.S. $60,000 (his life savings) on a company called IBIS Global Capital after taking financial advice from Gates' TV show. Unfortunately, a "glitch" in IBIS' system causes a massive U.S. $800 million loss for its investors, and Budwell holds Gates hostage because he wants answers from IBIS CEO Walt Camby (an underused Dominic West) and his right-hand woman Diane Lester (a stunning Caitriona Balfe), and if he doesn't get answers, everyone dies. The police get involved, and the show goes on.
With its real-time setting and high stakes, director Jodie Foster and writers Alan Di Fiore, Jim Kouf, and Jamie Linden are able to set the stage for a real, old-school Hollywood action-thrill ride...just without a John McClane. You've got a bomb, a big evil corporation, an inside man, and a large, mysterious conspiracy. It has all the elements needed to be a classic. Unfortunately, there isn't much else there to make Money Monster really stand out, although it doesn't really need to if it's just banking on entertainment value. The film blends action, drama, and suspense with a wonderful touch of comedy–something that Foster is used to after helming 2011's The Beaver and several Orange is the New Black episodes. If anything, this shows that Foster is a capable director and more of the film's problems fall on the writing and storytelling.
CONTINUE READING BELOW
Recommended Videos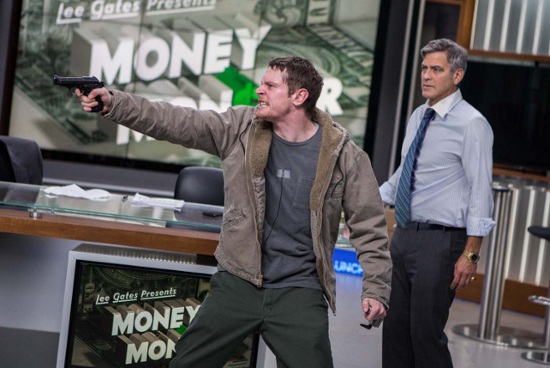 ADVERTISEMENT - CONTINUE READING BELOW
Because the film chooses to do things in real-time, the audience is introduced to characters very quickly with little-to-no build. This structure inhibits connection with the characters. Had it taken the time to develop them, there would've been less confusion on who to root for. A misguided (and predictable) twist late in the film also brings the stakes down a bit. The film also can't quite figure out who they are critiquing because of this. It critiques big banks, corporations, but also TV hosts who tell you what to do and have so much influence on its viewers. The film lacks focus on this regard, but it is enjoyable thanks to other factors.
Clooney and Roberts have electric chemistry despite only communicating via earpiece for most of the film's runtime, and O'Connell continues his terrific acting streak. Balfe is a standout here–although she is best known for her lead role in the series Outlander, she still shines in a modern-day setting. The film is very slick and really well-edited, considering all the plates it is spinning due to its real-time nature. There are tons of cameras and monitors present, so when the action leaves the studio, you still need to see things are moving there, and the film does a great job keeping everything moving. While it's not the most original or new take on this genre, Money Monster still has elements in it worth investing, and one is definitely in for a good return.
RATING: 3.5 out of 5 spots
ADVERTISEMENT - CONTINUE READING BELOW
Money Monster opens in theaters Wednesday, May 25. Photos courtesy of Columbia Pictures.
Share this story with your friends!
---
Help us make Spot.ph better!
Take the short survey
Load More Stories