10 Fresh Tunes to Listen to This June
June's sounding really good, thanks to Adele, Justin Timberlake, RHCP, Silent Sanctuary, Ang Bandang Shirley, and more!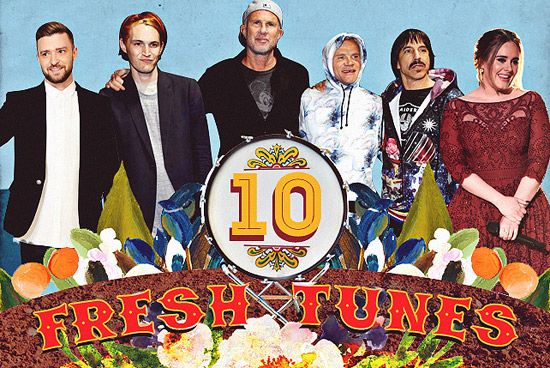 (SPOT.ph) Rain's starting to pour, and as you spend more days indoors, be sure to stock up on fresh tunes that can keep you company. We recommend Adele's upbeat single, Justin Timberlake's feel-good ditty, the Red Hot Chili Peppers' subdued rock track, James Blake and Bon Iver's majestic collaborative work, and Switchfoot's radio-friendly number. Make some room for local tunes too, as we can't get enough of the latest by Silent Sanctuary, Ang Bandang Shirley, Lenses, The Royal, and Lustbass. 
Song: "Send My Love (To Your New Lover)"
Artist: Adele
Adele can do no wrong. The Brit songstress' sassy new single is a moving-on anthem about taking a mature stance and reconciling with things past. It is, to date, Adele's most contemporary pop release.
Fun fact: The kaleidoscopic music video for the single premiered at the 2016 Billboard Music Awards. 
Song: "Di Na Kita Mahal"
Artist: Silent Sanctuary
The five-piece local band is out with its music video for the ballad "Di Na Kita Mahal." The emotional track is made more fragile with dramatic strings and those lullaby vocals.
Fun fact: Silent Sanctuary is made up of Sarkie Sarangay (guitar and vocals), Chino David (violin and backup vocals), Anjo Inacay (cello), Jason Rondero (bass and backup vocals), and Allen Calixto (drums). 
Song: "Can't Stop the Feeling"
Artist: Justin Timberlake
The disco-inspired single, with its catchy hook and that signature JT falsetto, is exactly what you'd expect from an animation movie soundtrack. It's family-friendly, quite formulaic, but can still get stuck in your head whether you like it or not.
Fun fact: "Can't Stop the Feeling" is the official soundtrack for the Dreamworks animated film Trolls. 
Song: "Umaapaw"
Artist: Ang Bandang Shirley
It's a delight to the ears, yes, but it's the realness of the songwriting in "Umaapaw" that truly carries the tune. It's honest and poetic in capturing the overflowing joy of love found in the simplest everyday moments.
Fun fact: "Umaapaw" is new material from the band's forthcoming album under Wide Eyed Records Manila. 
Song: "The Getaway"
Artist: Red Hot Chili Peppers
The title track from the American rock band's forthcoming album features subdued funk that seems fitting for long drives or some indoor introspection. "The Getaway," which also features female backing vocals in the chorus, is a mellower release compared to the band's earlier single "Dark Necessities."
Fun fact: RHCP's 11th studio album, The Getaway, drops June 17. 
ADVERTISEMENT - CONTINUE READING BELOW
Song: "Nasanay"
Artists: Lenses with Radioactive Sago Project and Bras Pas Pas' Roxy, Wowi, and Pards
Listening to Lenses' "Nasanay" online makes us want to hear it live, what with that smooth jazz groove. We just can't get enough of those sick breakbeats and that playful horn section.
Fun fact: Lenses was formerly known as Hidden Nikki. 
Song: "I Need a Forest Fire"
Artists: James Blake feat. Bon Iver
This James Blake and Bon Iver collaboration is the stuff dreams are made of. It's truly otherworldly, with every second so delicate yet gripping. The looping samples, the powerful vocals, and the gospel touch all work to bring you somewhere else divine.
Fun fact: The single is off James Blake's latest album titled The Colour in Anything.
Song: "You Are Coralline"
Artist: The Royal
"You Are Coralline" will take you back to the synth-heavy music of the '80s, and the vocal stylings will remind you too much of The Cure. Though not exactly original, it's a pleasant throwback tune and we're not complaining.
Fun fact: The Royal members include Jonathan Sibulo (vocals), Miguel Dualan (guitars), Alexis Sarmiento (guitars), Jiggers Vergel de Dios (bass), JT Flameno (drums), and Diego Beltran (keyboard and synth).
Song: "Float"
Artist: Switchfoot
Switchfoot is releasing a new album come July 8, but here's a taste of what to expect. "Float" is too feel-good and radio-friendly it's almost like a jingle. The funky guitars stand out, however, and add a bit of character to the track.
Fun fact: The music video for float was filmed on March 28 in Tondo, Manila.  
Song: "Beautiful"
Artist: Lustbass
"Beautiful" is a fitting title for this Lustbass track. The instrumental coming together of jazz, soul, and R&B is rich in this number, lovingly held together by lush synths and cool lounge piano.
Fun fact: "Beautiful" is off Lustbass' recently released album titled The Warmth of Your Sun. 
Load More Stories