15 Minutes With Paul Abadilla, Artist for Pixar Animation Studios
The Fil-Am artist chats about Finding Dory, working at Pixar, his Pinoy roots, and more.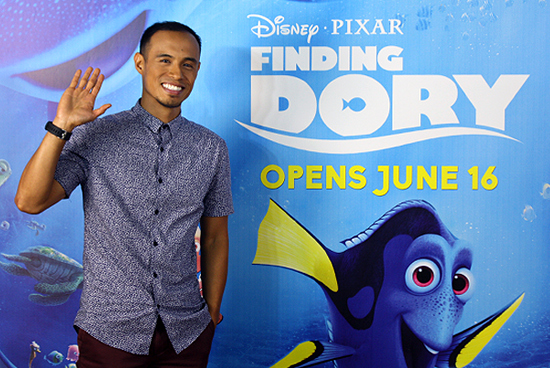 (SPOT.ph) Those who grew up in the early 2000s will always have a special place in their hearts for Finding Nemo, thanks to its heartwarming and relatable tale of family, unlikely friendships, and learning to seek out new adventures. Thirteen years later, and the spotlight is now on the lovable yet forgetful sidekick, Dory, and her quest to reunite with her long-lost parents.
ADVERTISEMENT - CONTINUE READING BELOW
Fil-Am artist Paul Abadilla is one of the many hard-working folks who helped Finding Dory come to life on the silver screen. For this film, he worked on set and lighting design; you'll also see his work in other Pixar films such as 2012's Brave, 2013's Monsters University, and 2015's Inside Out. He also worked on the adorable short films played before the main feature film, such as last year's tearjerker, Lava.
Paul is currently in Manila for a visit and took some time to chat with the press about his Pinoy roots, his experience working in Pixar and Finding Dory, and why he can relate to the adorable blue tang fish we all love.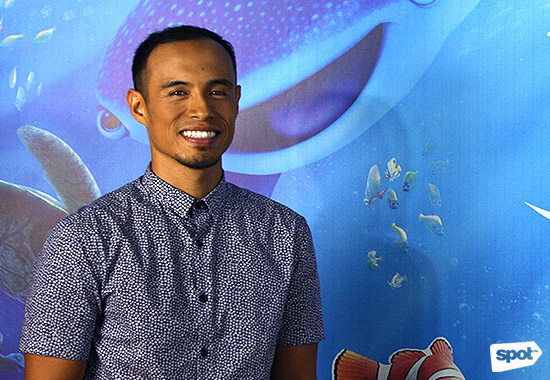 ADVERTISEMENT - CONTINUE READING BELOW
How did you develop your passion for art and animation? Was it a huge part of your childhood?
It was, yes. My dad...I've always known him as the artist in the family. And he got his inspiration from his uncle. I was largely inspired by [my dad] so growing up, I'd always copy his drawings or I'd ask him how to draw this or that. I'm just lucky to have parents who enabled and supported me to draw and become an artist.
At some point in my life, people asked me, "What do you want to be when you grow up?" and I always was like, "Uh, I don't know. Is being an artist a thing? Can I draw for a living?" It wasn't until high school that I realized all these cartoons that I watched as a kid [had] a team of artists [behind them]. So I saw that as a possible career path, and pursued it.
ADVERTISEMENT - CONTINUE READING BELOW
What was it like breaking into the industry?
It's getting the training that you need when you're pursuing that career, whether it be animation or being an illustrator or designer like myself. I took a lot of drawing classes, I painted...and even until now as a professional, I still do. The most important thing is to continue practicing what you do and getting feedback from people. When you apply for such a position, make sure you get all that feedback and you translate that into your portfolio to make it the best it can be.
I think feedback is very important because, if you don't know what can be improved upon, I don't think you have the opportunity to be better.
What is it like working at Pixar Animation Studios?
It's really great to be working with all these talented people. Just having the opportunity to pick their brain and learn from them...I feel like I'm always learning when I go to work. It's like school for me. [laughs]
ADVERTISEMENT - CONTINUE READING BELOW
What's it like at Pixar when you finish a film? Do you all watch it together?
Yes, we have a biiig party where we all dress up nicely and watch the movie at a theater in the studio. Everyone just hugs and congratulates each other for their hard work. It's a way for us to really see our work on the screen for the very first time. And after that, we have a huge party.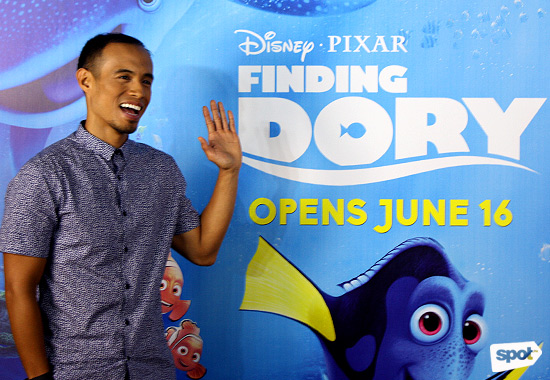 ADVERTISEMENT - CONTINUE READING BELOW
In which part of Finding Dory can we see most of your work?
It would be the Kid Zone touch pool scene. If you remember that scene where the kids are poking their hands [into a pool] to touch the fish? I was able to oversee its production, from designing it--which I love to deal with--and also carrying it over to the technical departments where they model or digitally scupt the set. [They] also apply the shading design that I had spec'd out for them, as well as the lighting design that I painted.
It was a wide range of things that were put into that sequence but the funny thing was that it was only onscreen for a few minutes. But a lot of work was put into it, and I'm really glad it was in the movie.
How closely do you work with the voice talents and animators?
ADVERTISEMENT - CONTINUE READING BELOW
My role as a set director doesn't really let me work with the voice talents. But I do work closely with [Finding Nemo writer and Finding Dory writer/director] Andrew Stanton. I seek out his notes and feedback to see what I'm presenting to him is appropriate to his vision.
The first film, Finding Nemo, came out in 2003. How far do you think animation has come in the past 13 years?
The tools and technology that we have in Pixar have advanced in so many ways where they're able to simulate certain effects like water and how things reflect in it. The animators have more control and finesse [when it comes to] different facial expressions and animating their characters. Even the lighting technology has advanced so much that I feel like the looks of our films have gotten so much richer over the years.
What's the difference between designing for a non-3D film and a 3D film?
ADVERTISEMENT - CONTINUE READING BELOW
When designing for a 2D film, it's still as challenging. I think the main difference is that in a 2D film, you're dealing with a flat layout, meaning if I'm going to design a background, I only have to deal with it in one perspective. The camera isn't moving around. In a 3D film, you have to really understand all of the environments, the dimensions, every angle because when I'm doing my work, I have to provide blueprints to our set modelers.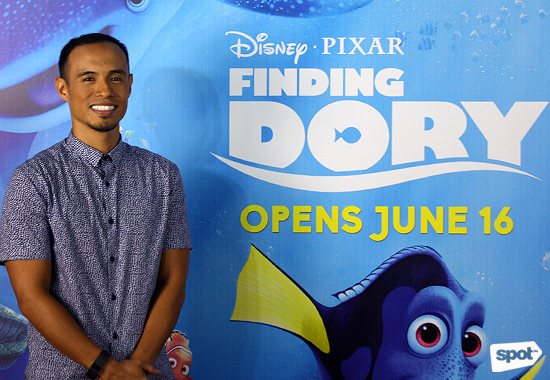 ADVERTISEMENT - CONTINUE READING BELOW
What's your favorite project among all the work you've done in Pixar?
I love working on our short [films]. As you know, we have these little shorts that play before the movie starts. The last short that I worked on was Sanjay's Super Team [in 2015], where I worked on set design, color and shading design, and lighting design. But I think as time passes, whatever project I'm on, I can't help but say it's my favorite because it's new. 
What do you think makes characters in Finding Dory and other Pixar films so popular with audiences?
The story is something that we at Pixar always try to get right. It's why it takes us a long time to make these films because crafting a really good story is very challenging. That's where everything comes from; that's the soul of the movie. If we don't have that from the get-go, then all the stuff I do like designing environments doesn't mean anything.
ADVERTISEMENT - CONTINUE READING BELOW
I think that's why characters like Dory are so effective because she lives in the moment, and her unique quirks are interesting to follow.
You've mentioned before that you can relate to Dory. How so, especially in terms of coming home to the Philippines and finding your roots?
Dory is in search of her family and her roots, and for me, coming back home here [in Manila] and rediscovering things about my hometown that I really miss—like food or even just seeing family—is really a good feeling.
What's your favorite theme from the film?
Dory's motto is "just keep swimming," so her persistence is something that I always find inspiring. She lives in the moment due to her short-term memory, but it's a very positive thing to remind ourselves...to just live in the moment, not to be bogged down by challenges in life, and appreciate what's already in front of us.
ADVERTISEMENT - CONTINUE READING BELOW
If you weren't an animator, what would you be doing?
Surfing. [laughs] I love the ocean.
Also read: 15 Minutes with Pete Docter and Ronnie Del Carmen, directors of Inside Out
Photos by Criselda Carreon. Finding Dory is in theaters June 16.
Recommended Videos
Load More Stories