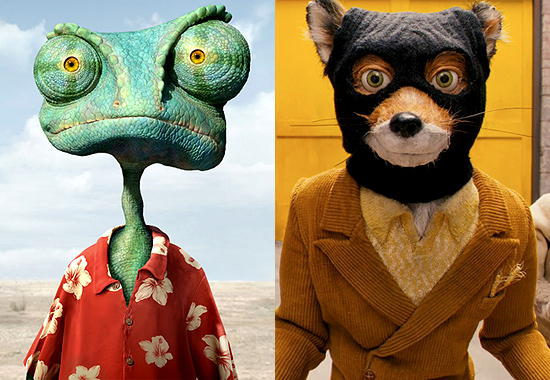 (SPOT.ph) While we all love our fierce princesses and onion-like ogres, let's be honest: Disney, Dreamworks, and Blue Sky have dominated the animation world. Many of the popular animated films have spawned multiple sequels, franchised theme parks, dolls, and video games. Still, there are plenty of underrated gems that deserve as much praise...maybe even more. Here are just a few of the many underrated and overlooked animated films of the last decade.
Song of the Sea (2014)
Directed by: Tomm Moore
Released only two years ago, Song of the Sea is one of those rare gems that prompts us to ask ourselves: How did humans create such a stunning work of art? Breathtakingly beautiful and remarkably touching, the film weaves Celtic legend and mythology into the story of Ben and Saoirse, siblings who must find a way to reconcile with one another as they journey home to the sea. With haunting music and truly exquisite animation, this film is an absolute wonder to behold.
ADVERTISEMENT - CONTINUE READING BELOW
Fantastic Mr. Fox (2009)
Directed by: Wes Anderson
Quirky, playful, and whimsical, Wes Anderson's animated masterpiece is often underappreciated, forgotten in favor of his live-action works. Attentively meticulous and thoughtfully self-aware, the movie is a perfect blend of Anderson's offbeat humor and unique aesthetic, complemented by an excellent voice cast (including George Clooney, Meryl Streep, Bill Murray, and Willem Dafoe), and eccentric stop-motion.
Waltz with Bashir (2007)
Directed by: Ari Folman
Waltz with Bashir, as an animated documentary, stands out from the rest of this list, as it follows director Ari Folman's quest to unearth memories from his time as a soldier in the Lebanon War. Powerful, creative, and especially relevant, Waltz with Bashir is an unforgettable work of art that transforms a genre and proves its significance in both the real and the cinematic world.
Coraline (2009)
Directed by: Henry Selick
Director Henry Selick (Nightmare Before Christmas, James and the Giant Peach) wowed audiences everywhere with Coraline when it was released in 2009. Adapted from Neil Gaiman's novel of the same name, Coraline is bizarre, creepy, and at times frightening—yet somehow still manages to retain a sweet, childish charm. With elaborate stop-motion sets, beautiful swirling colors, and unforgettable characters, it's is an adventure that sparkles with vibrant energy.
ADVERTISEMENT - CONTINUE READING BELOW
Recommended Videos
Mary and Max (2009)
Directed by: One of the more unconventional films on this list, Mary and Max tells the hilarious and touching story of Mary Dinkle, a lonely Australian girl, and Max Horowitz, an obese middle-aged New Yorker, who become pen pals and grow close over the course of many years. While its themes of depression, anxiety, and suicide are far too mature for young children, Mary and Max's ability to touch on very real issues is sweetly complemented by the outrageous situations that occur in the film—and the thoughtful humor will have you moved to tears, at times from laughter and at times from heartache.
The Secret of Kells (2009)
Directed by: Tomm Moore and Nora Twomey
The second Tomm Moore film on this list, The Secret of Kells features a haunting story of mystical spirits and spectacular visuals that embody the beauty of the natural world. Unlike Song of the Sea, however, this movie is darker, scarier, and much more unnerving, with monstrous deities, mysterious spirits, and bloodthirsty Vikings. Somehow, even in its moments of chaos, the film remains eerily tranquil; and with its otherworldly melodies and brilliant animation, The Secret of Kells is sure to give you chills.
ADVERTISEMENT - CONTINUE READING BELOW
The Wind Rises (2013)
Directed by: Hayao Miyazaki
We all know Hayao Miyazaki for his many contributions to cinema over the course of his illustrious career. The Wind Rises, while perhaps less well-known than classics such as Spirited Away and Howl's Moving Castle, is his most recent work, and also his last. The film perfectly illustrates Miyazaki's extraordinary genius, with incredible animation, inspiring characters, and a moving story that will leave you overwhelmed with feeling. While we are sad that Miyazaki has retired from filmmaking, The Wind Rises is a perfect way to say good-bye.
L'Illusionniste (2010)
Directed by: Sylvain Chomet
Based on a script by French actor and mime Jacques Tati, Sylvain Chomet's L'Illusionniste tells the story of an illusionist, who meets a girl who believes that his magic tricks are real. With very little dialogue, the film relies on its charming visuals in order to convey its story. Poignant and lovely, this film is perfect proof that, sometimes, a picture is worth a thousand words.
ADVERTISEMENT - CONTINUE READING BELOW
Rango (2011)
Directed by: Gore Verbinski
Rango's got the desert, the sheriffs, and the outlaws. It's your typical Western, but with an unusual spin: all the characters are animals. In this excellent Gore Verbinski movie, the town is called Dirt, the mayor is a tortoise, the outlaw is Rattlesnake Jake, and our hero is an ex-pet-turned-sheriff chameleon voiced by Johnny Depp. Ridiculously clever—and certainly very original—Rango is interesting, entertaining, and too much fun to pass up. If this doesn't convince you, then its win for Best Animated Picture at the Oscars in 2012 should.
Paprika (2006)
Directed by: Satoshi Kon
Satoshi Kon's last feature-length film before he passed away in 2010, Paprika is almost like the original Inception. Based on Yasutaka Tsutsui's novel of the same name, the characters in Paprika are able to enter each other's dreams—and gradually, as people are driven insane by their dreams, the line between reality and the subconscious is blurred. With a convoluted plot enhanced by phenomenal animation, Kon demonstrates his ability to create films that truly make you think. Trippy, vivid, and fascinating, this film is a psychedelic masterpiece.


ADVERTISEMENT - CONTINUE READING BELOW
Share this story with your friends!
---
Help us make Spot.ph better!
Take the short survey
Load More Stories