(SPOT.ph) It was in 2009 when the first Star Trek reboot enthralled audiences with its youthful and spirited take on the beloved sci-fi franchise. Unfortunately for the second installment, the so-so Star Trek Into Darkness didn't quite live up to the hype. Now, it's third times the charm for Star Trek Beyond, regaining some much-needed momentum while injecting the same humor and emotion that has always drawn fans to the franchise.
The Enterprise crew is now three years into their five-year mission. Captain Kirk (Chris Pine) has reached a juncture in his career as he reflects on the life of his late father. Meanwhile, Spock (Zachary Quinto) is also in the midst of an existential crisis, torn between his relationship with Uhura (Zoe Saldana) and his duty to the Vulcan people.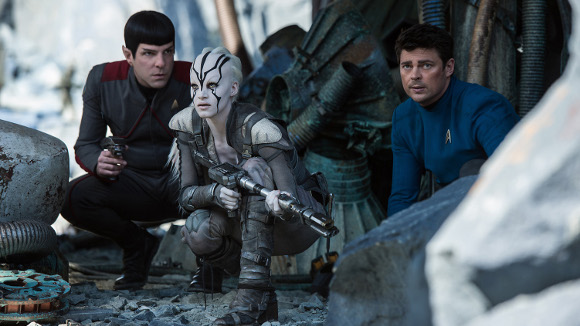 ADVERTISEMENT - CONTINUE READING BELOW
However, their internal conflicts must be pushed aside when the Enterprise is viciously attacked by an alien race led by the mysterious Krall (a magnetic Idris Elba), stranding the central characters on an uncharted planet while the majority of the crew are captured. This allows for the core characters to split up in unlikely combinations, and audiences get to watch them interact outside of their usual dynamic as a team. 
It almost feels like a familiar episode of the beloved Trek series from decades ago, thanks to co-writers Simon Pegg (who also plays Scotty) and Doug Jung who explore simple yet resounding themes of family, loyalty, and friendship through the eyes of their colorful characters. Each person is given ample screen time, whether it's the hilarious banter between Spock and Bones (Karl Urban) or the (much-debated) gay backstory of Sulu (John Cho), which plays out beautifully in its simplicity. They simply get these characters, and it's a joy to watch the cast's effortless chemistry come to life. It's rare to see a roster of young actors that fully embody and embrace roles that many have cherished and grown up with; it's even rarer to see said roles written in a thoughtful and fully realized way.
ADVERTISEMENT - CONTINUE READING BELOW
Recommended Videos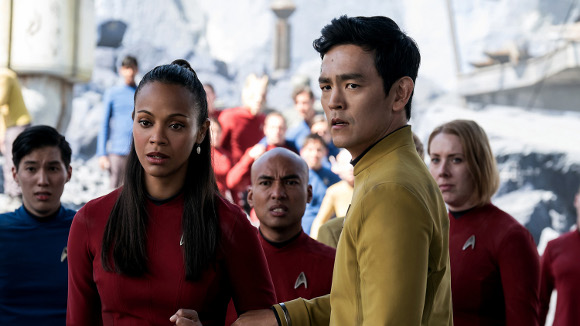 Gone are the overused lens flares of former director J.J. Abrams (who now sits as producer) and instead, we are treated to sweeping camerawork by four-time Fast & Furious director, Justin Lin. He is no stranger to the action genre, and he deftly careens from one breathtaking action setpiece to the next. The centerpiece to his frenetic choreography is when the Enterprise is ripped to shreds by a swarm of bee-like ships.
ADVERTISEMENT - CONTINUE READING BELOW
A lot has been said about the tragic death of Anton Yelchin, but the film handles it with grace and he still shines as the earnest Chekov. There is also a touching tribute to the late Leonard Nimoy (the original Spock) that may leave even the toughest Trekkie in tears. Ultimately, Star Trek Beyond is a much-needed return to fun, while carrying the franchise with genuine affection and a touch of nostalgia.
RATING: 4 out of 5 spots
Star Trek Beyond is now showing in theaters. Photos courtesy of United International Pictures.
Share this story with your friends!
---
Help us make Spot.ph better!
Take the short survey
Load More Stories