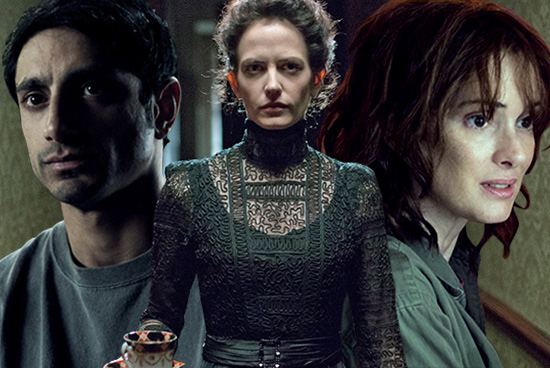 (SPOT.ph) There's nothing quite like curling up in bed with the lights off and watching a horror movie. It doesn't matter if you end up being paranoid or sleeping with the lights on for the next few days, as long as you get that momentary thrill that comes with watching something scary. From the paranormal to crime thrillers, we round up 10 creepy TV shows that you should marathon this weekend.
Stranger Things
Watch it on: Netflix
There's a very good reason why Stranger Things is all over your Facebook feed. It stars Winona Ryder as Joyce, a single mother who launches an investigation after her son mysteriously goes missing. As she and the police search for answers, they unravel a series of paranormal events that begin to affect their small Indiana town. Set in 1983, Stranger Things is a sci-fi horror that's also peppered with clever, nostalgic nods to the decade, including Goonies, Nightmare on Elm Street, and John Hughes' teen movies.
The Night Of
Watch it on: HBO Go
Murder-mystery stories may not have ghosts or zombies, but they have something even more terrifying than the supernatural—they could happen to anyone, including you. This is exactly why HBO's new mini-series is so unnerving. This eight-part production from the geniuses behind The Wire revolves around the complex murder case of a Pakistani-American college student named Nasir Khan (Riz Ahmed). What begins as a night of partying with a woman turns horrific when he finds her brutally stabbed to death the next morning with no recollection of what happened. 
ADVERTISEMENT - CONTINUE READING BELOW
The X-Files
Watch it on: iflix
Got a whole weekend to yourself? It's the perfect excuse to binge-watch a '90s TV classic. (Yes, all nine seasons!) The X-Files revolves around two FBI agents (David Duchovny and Gillian Anderson) who investigate unsolved cases that involve the paranormal. Think ghosts, extraterrestrials, and unsettling murders. Plus, there's always that will-they-or-won't-they dynamic between Mulder and Scully that will have you hooked.
Bates Motel
Watch it on: Netflix
This horror series is a prequel to the 1960 Alfred Hitchcock classic, Psycho, depicting the lives of Norman Bates (Freddie Highmore) and his mother, Norma (Vera Farmiga). Audiences get to watch Norman's disturbing descent into madness while Norma struggles with her intense paranoia and jealousy over her son.
American Horror Story
Watch it on: iflix
Yes, there are already six seasons to American Horror Story, but you don't need to watch every single season to understand the story. Instead, this show is an anthology series with seasons that cover a single storyline and a different set of characters (played by the same cast). For instance, one season would focus on the staff and guests of a haunted hotel. Another season would revolve around the patients and staff of an asylum for the criminally insane. Either way, you're in for a creepy and sinister ride.
Penny Dreadful
Watch it on: Netflix and iflix
This series puts a twist on familiar literary characters like Dracula and Dorian Gray by exploring their intriguing origin stories. Set in Victorian London, this psychological thriller also features a set of original characters played by Eva Green, Josh Hartnett, Helen McCrory, and Timothy Dalton. If you love your classic literature and Victorian Era frights, this show is right up your alley.
CONTINUE READING BELOW
Recommended Videos
The Strain
Watch it on: iflix
From horror master Guillermo del Toro comes The Strain, a TV series based on the novel trilogy that he co-wrote with Chuck Hogan. This gory thriller tells the story of Dr. Ephraim Goodweather who is called to investigate a mysterious plane crash that killed everyone on board. It turns out to be linked to a viral outbreak that has similarities to an ancient strain of vampirism.
Black Mirror
Watch it on: Netflix
Don't be fooled by its satirical themes; Black Mirror can and does get very dark and chilling as it explores our modern-day gadget addiction. The anthology series originally aired in the U.K. with episodes that featured names like Jon Hamm, Domhnall Gleeson, Hayley Atwell, and Rupert Everett. Netflix eventually picked up the series for a third season with 12 episodes, set to air later this year. For now, you can check out the seven episodes uploaded on the streaming site.
The Fall
Watch it on: Netflix
If you've never seen The Fall, then you've never seen the usually charming Jamie Dornan this creepy and macabre. In this psychological thriller, Dornan plays Paul, a family man leading a double life—a serial killer terrorizing women living in Belfast. Gillian Anderson plays police superintendent Stella Gibson, who will do anything to stop a cold-blooded killer.
The Leftovers
Watch it on: HBO Go
A global cataclysm called the "Sudden Departure" inexplicably and simultaneously makes 140 million people around the globe disappear without a trace. Intense grief has turned many away from religion, with creepy and rather disturbing cults emerging in its place. And although the story primarily revolves around a family and the residents of a fictional New York town, this unpredictable drama is deeply unsettling, with themes that touch on faith, loss, and mortality.
ADVERTISEMENT - CONTINUE READING BELOW
Share this story with your friends!
---
Help us make Spot.ph better!
Take the short survey
Load More Stories