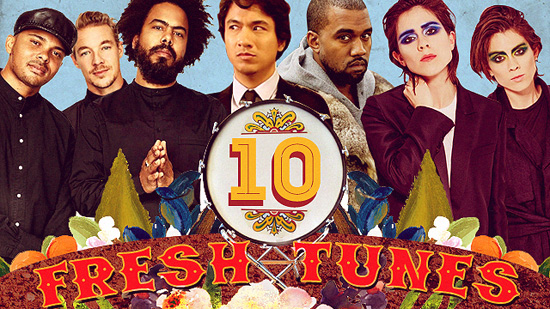 (SPOT.ph) August is for listening to a bit of pop, a bit of indie, some electronic, and loads of local music goodness. Check out Kanye's latest music video, Major Lazer's radio-friendly hit featuring Justin Bieber and MØ, Tegan and Sara's '80s-inspired single celebrating LGBTQ pride, Fickle Friends' refreshing indie-pop number, and The Chainsmokers' latest electro music offering. Don't forget to press play on the newest from our very own Apartel, Autotelic, We Are Imaginary, sleepypasta, and June Marieezy.
Song: "Wolves"
Artist: Kanye West
Kanye West just released a black-and-white, high-fashion, slow-motion music video for his Life of Pablo single, "Wolves." It's directed by Steven Klein and shows a teary-eyed Kanye. The aesthetics match the haunting and melancholic feel of the track.
Fun fact: The music video, also featuring sisters Kim Kardashian and Kylie Jenner as well as artists Vic Mensa and Sia, is for the publicity campaign of the French fashion house, Balmain.
Song: "Is It Hip?"
Artist: Apartel
And the answer is a resounding yes. Apartel's first official single is an irresistible ditty full of soul, funk, and jazz. Be wowed by the throaty vocals of Jay Ortega, and be pleased with the playful yet sophisticated arrangement.
Fun fact: Apartel band members include music heavyweights Ely Buendia (vocals and bass), Jay Ortega (vocals), Coco Coo (guitar), RJ Pineda (piano), Pat Sarabia (percussion), and Redge Concepcion (guitar).
Song: "Cold Water"
Artists: Major Lazer featuring Justin Bieber and MØ
American electro music group Major Lazer is following up their hit "Lean On" with this infectious anthem featuring pop star Justin Bieber and Danish singer-songwriter MØ. "Cold Water" merges vocals fit for the banging, synth-heavy piece. Play it on your way to the beach or dance to it at a club; the song just works in so many ways.
ADVERTISEMENT - CONTINUE READING BELOW
Fun fact: "Cold Water" was written with Benny Blanco and Ed Sheeran.
Song: "Gising"
Artist: Autotelic
Wake up and daydream to the refreshing tune of Autotelic's "Gising." The track maintains a bright, indie-rock vibe throughout, with Kai Honasan's vocals adding a cooling touch.
Fun fact: Autotelic is a local pop band formed in 2012, with members Josh Villena (guitars and vocals), Kai Honasan (keyboards and vocals), Neil Tin (guitars), EJ Edralin (synth), Timothy "Pabs" Vargas (bass guitar), and Gep Macadaeg (drums).
Song: "Faint of Heart" 
Artist: Tegan and Sara
The Quin sisters are out with another danceable, electro-pop single, and it will give you so much '80s feels. The "Faint of Heart" music video also celebrates LGBTQ pride and was reportedly filmed a day after the Pulse Nightclub shooting in Orlando.
Fun fact: Tegan and Sara enlisted the help of young LGBTQ artists to portray pop icons like David Bowie (Cooper Treibel), Prince (Tyler Ford), and Madonna (Ella Giselle).
Song: "Press Play"
Artist: We Are Imaginary
We Are Imaginary is out with a new single, which leans more toward noise pop than their usual jangly pop melody. On vocals, Ahmad Tanji is helped by Mary Whitney, who provides a certain element of sweetness amidst the explosive sounds.
Fun fact: We Are Imaginary's latest album is titled Death to Romanticism.

Song: "Cry Baby"
Artist: Fickle Friends
English indie-pop band Fickle Friends is out with "Cry Baby" a catchy and upbeat marriage of indie coolness and pop goodness. It's another '80s-inspired track with fun synths, snappy percussion, groovy bass, and cutesy female vocals.
CONTINUE READING BELOW
Recommended Videos
Fun fact: Fickle Friends, formed in 2013, is made up of Natti Shiner (vocals and keyboard), Chris Hall (lead guitar), Sam Morris (drums), Harry Herrington (bass and backing vocals), and Jack Wilson (keyboards).
Song: "LMK"
Artist: sleepypasta
The experimental and unmixed creation of sleepypasta doesn't just sound good but feels good, too. The groovy electro composition features confessional lyrics that make you want to just contemplate life in general.
Fun fact: sleepypasta is another music project of electronic artist BP Valenzuela.
Song: "Closer"
Artists: The Chainsmokers featuring Halsey
DJ duo The Chainsmokers collaborates with singer-songwriter Halsey for "Closer." The track is catchy as catchy can be and it grows on you, which somehow makes up for the below average lyricism.
Fun fact: Halsey is American artist Ashley Nicolette Frangipane, while The Chainsmokers are American DJs Andrew Taggart and Alex Pall.
Song: "Yuyu"
Artist: June Marieezy
"Yuyu" is trippy, sexy, and soulful—all you'd expect from bohemian songstress and nature goddess June Marieezy. Her flawless raps, the chill beats, and smooth trumpets are out of this world they'll take you to a new dimension.
Fun fact: June Marieezy is also collaborating with Parisian electronic artist FKJ.
Share this story with your friends!
---
Help us make Spot.ph better!
Take the short survey
Load More Stories