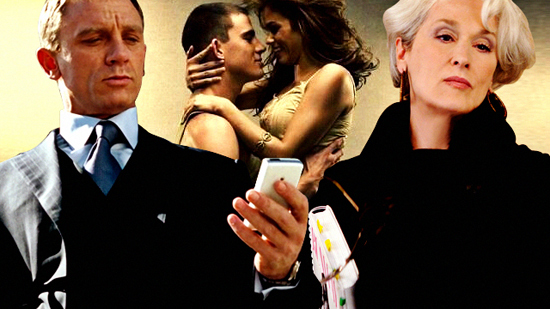 (SPOT.ph) Admit it: When someone says "10 years ago," you probably still think of 1996 and not 2006. Looking back, it's almost hard to believe 2006 was so long ago, considering the milestones that happened that year. We were introduced to Miley Cyrus on the Disney Channel, Taylor Swift released her first album, Facebook first launched to the public, and everyone was talking about High School Musical. And then there are these 10 movies, which will probably make you feel really old. (We know we do.)
She's The Man
Original release date: March 2006
Do you remember when Amanda Bynes was one of the biggest stars of her generation? Let She's the Man remind you. This film introduced Shakespeare's Twelfth Night to a new teen crowd with Viola, a girl who dresses up as her twin brother so she can continue playing on her school's soccer team. The ex-Nickelodeon star showcased her comedic timing and effortless charm that made her such a star then. Add in a pre-Magic Mike Channing Tatum, and you've got a little reminder of how everyone just looks so, so young.
V for Vendetta
Original release date: March 2006
Remember, remember, the fifth of November. This dystopian thriller that featured civil unrest, Guy Fawkes masks, and a bald Natalie Portman could work as an allegory for our world today, with fear, violence, racism, borders, and the like becoming more and more common in the news. Set in the late 2020s (it's really not that far away now), V for Vendetta's themes may just be more important today than 10 years ago.
ADVERTISEMENT - CONTINUE READING BELOW
The Da Vinci Code
Original release date: May 2006
Author Dan Brown caused quite a stir in the early 2000s with The Da Vinci Code, a worldwide sensation that had scholars debating its historical accuracy and the Church debunking its controversial claims. It was in 2006 when director Ron Howard brought the adventures of Tom Hanks' Robert Langdon to life. Ten years later and we're now on our fifth Robert Langdon story, Inferno, with a movie adaptation slated for a late 2016 release.
Cars
Original release date: June 2006
By 2006, Pixar was on an incredible run, with two Toy Story films, Monsters Inc., Finding Nemo, and The Incredibles under its belt. While its animated talking cars film doesn't quite stand the test of time, it's still another benchmark for Pixar, and looking back at the story of Lightning McQueen and the gang is still a treat. This also marked the beginning of the dozens of Cars-themed kid birthday parties you had to attend, and all the Cars merchandise that still lives on today in every kid's bedroom.
Click
Original release date: June 2006
These days, it's kind of difficult to imagine that Adam Sandler movies could make you cry, but Click definitely did. When given a remote control to pause, rewind, and fast-forward his life, Sandler's Michael learns to love and do right by his family, to take care of himself, and to cherish every moment. Ten years on, the most obscure thing here might be the film's cumbersome remote control that in today's world might as well be a smartphone.
CONTINUE READING BELOW
Recommended Videos
Borat: Cultural Learnings of America for Make Benefit Glorious Nation of Kazakhstan
Original release date: November 2006
Ten years ago, the world was first introduced to "Very nice!" in a thick and (what we assume to be) a very bad Kazakhstan accent. Sacha Baron Cohen unveiled his new character Borat Sagdiyev, an unfiltered and ignorant reporter from Kazakhstan trying to learn more about the U.S. With the problems facing the U.S. right now, this irreverent film (which makes Americans look just as ignorant) is both a hilarious portrait of 2006, and a still-relevant piece of critique in 2016. Plus, it was the beginning of a thousand Borat-centric memes!
Step Up
Original release date: August 2006
Before Channing Tatum donned (and removed) leather pants as Magic Mike, the acting newbie was showcasing his impressive dance skills in the first installment out of five Step Up movies. The first film remains one of, if not the most enduring of the series for the reel-to-real love story of Tatum and his co-star (and now wife), Jenna Dewan. It's always worth seeing their sizzling onscreen chemistry again, but for fans of dance movies, it's the smooth choreography that makes Step Up a must-watch 10 years later.
The Departed
Original release date: September 2006
The Departed is known in pop culture as the film that finally won director Martin Scorsese his long-awaited Academy Award. This violent, twist-filled, and action-packed crime thriller has all the makings of a classic Scorsese film: Gangsters, gunfights, and undercover cops. It also stars Hollywood icons Leonardo DiCaprio (a decade before he won his own long-awaited Oscar!), Matt Damon, Jack Nicholson, and Mark Wahlberg among others, all 10 years younger. We will never forget Wahlberg's quotable quote: "I'm the guy who does his job. You must be the other guy."
ADVERTISEMENT - CONTINUE READING BELOW
The Devil Wears Prada
Original release date: June 2006
They say that in fashion, one day you're in and the next day you're out, but The Devil Wears Prada is an example of something that never goes out of style. The film not only made big stars out of Anne Hathaway and Emily Blunt, and introduced Meryl Streep to a new, younger audience, it also made the world of high-fashion look cool (and especially vicious). The dialogue, the drama, and most especially the clothes remain memorable 10 years later. That is all!
Casino Royale
Original release date: November 2006
Yes, it's been 10 years since Daniel Craig took up the mantle of the British super-spy James Bond. In 2006, the first film of four under the Craig banner premiered, and though it was initially met with skepticism, the refreshing take on the iconic espionage franchise was welcomed with open arms by critics and audiences alike. Casino Royale marked a real evolution in the Bond series, leaving the campy Brosnan-era for a more human, serious, and darker look into the world of Bond. 
Share this story with your friends!
---
Help us make Spot.ph better!
Take the short survey
Load More Stories