(SPOT.ph) One controversial belief about our culture is that sometimes, the whiter, the better. Being a white foreigner in this country is seen as an easy step to becoming successful or famous—that is, if you also happen to be good-looking. This whole idea is explored in several funny, sometimes ridiculously dark ways in the Cinemalaya entry Mercury is Mine, a crowdpleaser with a sharp screenplay and a great performance from comedienne Pokwang.
After tackling issues of fatness and embracing your body in Ang Taba Ko Kasi, writer-director Jason Paul Laxamana tries to critique, with mixed results, the idea that white foreigners have it easier, and how the dark-skinned aspire to be whiter. The film doesn't revolve completely around this idea, as it sometimes dips into motherhood as well as May-December romance, but by the last chunk of the film, it goes back to foreigners in the Philippines.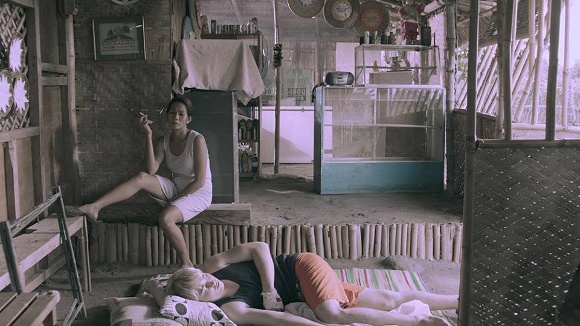 Fifty-year-old Carmen (Pokwang) lives alone and owns an eatery at the base of Mt. Arayat. She once aspired to have her own cooking show, but because business isn't really booming, she plans to close her carinderia permanently. One stormy night, a bleached-blond American boy (Bret Jackson) named Mercury ("Like the drugstore?" Carmen observes) stumbles in and asks for a place to stay and some food. The next day, he asks for a job in order to continue staying at her house-slash-eatery. Carmen, seemingly enamored by this new, myserious thing in her life, agrees.
ADVERTISEMENT - CONTINUE READING BELOW
Soon, the tourists heading to Arayat populate her store mainly because they are taken by the mysterious white teenager serving there. Customers ask for his name, take his picture, and soon, a television producer approaches Mercury for an offer to join a reality show because a white American would boost ratings. Carmen herself is enamored by Mercury. There is some sexual attraction, but there is also a maternal instinct that kicks in as she tries to keep Mercury away from prying eyes. What follows is a twisted, funny, and sometimes-dark relationship that evolves through cooking. However, Mercury is hiding a secret that could cause trouble for both of them.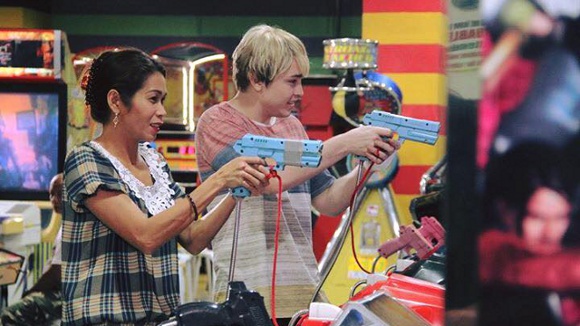 Laxamana's script is witty and sharp, as it makes keen observations about our country (although occasionally getting too on-the-nose). The audience will eat up Carmen's self-deprecating but wonderfully confident self. Given a role like this with some hilarious lines, Pokwang is engaging and hilarious, making use of her pitch-perfect comedic timing to deliver her Taglish lines. Jackson, on the other hand, is given a lot of darker, more dramatic, and even crazier sequences that fall too heavily on his shoulders, so that Pokwang has to do everything to save the scene. He plays the charming white teen fine, but when given more of the "acting," it's hit or miss.
CONTINUE READING BELOW
Recommended Videos
While the film is generally funny and definitely grabs its audience through its frisky screenplay, there are times when it gets too ridiculous that it doesn't quite work. It struggles to capture the right tone when it heads to overly serious dramatic sequences (and there are many instances), which is unfortunate because the film does have a lot of dark humor that works well within certain scenes.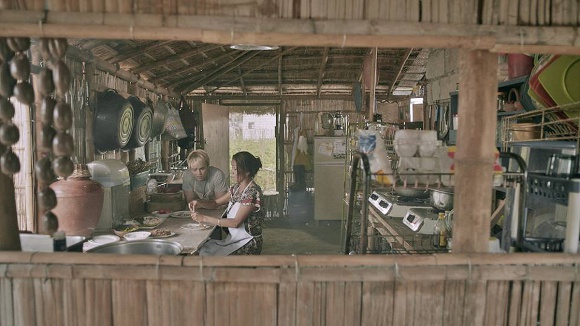 Laxamana's work continues to grow deeper and more fulfilling as he plays around with different styles, tones, and genres. His work continues to be one to watch. His writing is smarter, but this film's tonal shifts could be smoother. His directing, Pokwang's acting, and all this paired with Topel Lee's lovely cinematography, makes for one of Cinemalaya's must-see entries this year.
RATING: 3.5 out of 5 spots
Mercury is Mine is part of the 2016 Cinemalaya Film Festival, running from August 5 to 14. Photos courtesy of Mercury is Mine's Facebook page.
ADVERTISEMENT - CONTINUE READING BELOW
Share this story with your friends!
---
Help us make Spot.ph better!
Take the short survey
Load More Stories