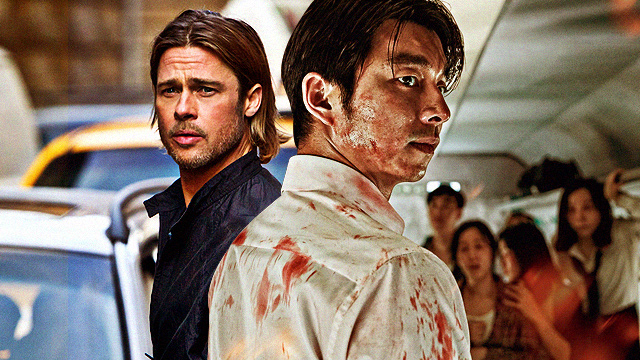 (SPOT.ph) It's safe to say that we have an obsession with gnarly, flesh-eating, decaying creatures that have risen from the dead to feast on the living. And why not? A sudden, viral breakout could happen and let's face it; a lot of us have probably spent time daydreaming about how we'd fare in a zombie apocalypse.
There have been many iterations of the "zombie" over the years, from its voodoo origins in 1932 to undead killers back from the dead (like Wes Craven's 1988 film The Serpent and the Rainbow), and blood-thirsty genetic anomalies as seen in the Resident Evil franchise. For this list, we zero in on the mindless, terrifying, cannibalistic monsters we know and love.
10. World War Z (2013)
Directed by: Marc Foster
It's a scene embedded in people's minds ever since the trailer came out: Hordes of fast-moving monsters climbing on top of each other as they try to enter a walled city. Currently holding the title of highest-grossing—and most expensive—zombie film of all time, Marc Foster's adaptation of Max Brooks' bestselling novel may not be the direct adaptation fans expect, but what we get is a film that places zombies in an epic action-blockbuster starring Brad Pitt, and there's little wrong with that.
9. Zombieland (2009)
Directed by: Ruben Fleischer
It may not be the scariest entry on this list, but Zombieland proves that even horror can be funnier than any comedy out there. Jesse Eisenberg, Emma Stone, and Woody Harrelson play a group of survivors traveling cross-country to what they believe is a zombie-free zone. The film births essential survival rules for the apocalypse, makes theme parks even more fun, and throws in a lot of clever, tongue-in-cheek editing along the way. Zombieland shows us that films in this genre can also be gut-busting in a funny way, paving the way for future flicks like Warm Bodies.
ADVERTISEMENT - CONTINUE READING BELOW
8. REC (2007)
Directed by: Jaume Balagueró and Paco Plaza
America isn't the only one dishing out tales of the undead. France's They Came Back, Spain and Cuba's Juan of the Dead, and Norway's Dead Snow are just some of the must-watch zombie flicks from around the globe, but it's Spain's REC that might be the straight-up scariest. It blends two of horror's most popular sub-genres: Zombies and found-footage. When a reporter and her cameraman get caught in a zombie outbreak inside an apartment building, the cameras keep rolling, capturing the frighteningly aggressive monsters attacking the residents. Trust us; it's not for the faint of heart.
7. ParaNorman (2012)
Directed by: Chris Butler and Sam Fell
Who says zombie films can't be for kids, too? In this movie by stop-motion animation studio LAIKA, a young boy named Norman—who has the power to speak with the dead—must save his town from an oncoming zombie onslaught. Full of twists and some actually scary moments despite being labeled as a "kids movie" (it's really not), ParaNorman takes the zombie genre and adds something new. While not the goriest, it carries a message of embracing things we do not understand, something we can all learn from.
6. Train to Busan (2016)
Directed by: Yeon Sang-ho
Asia has also been cashing in on the zombie action. South Korean filmmaker Yeon Sang-ho's Train to Busan has recently taken the world by storm, and chances are all your friends are talking about it. It's unique in that it blends bloody, edge-of-your-seat zombie action with trademark Korean character development and melodrama. Mostly confined within the space of a moving train, characters must fight off the infected to stay alive. The almost non-stop action and the gut-wrenching character moments make this South Korean import frighteningly memorable.
CONTINUE READING BELOW
Recommended Videos
5. Dawn of the Dead (1978)
Directed by: George A. Romero
George A. Romero is considered the father of the modern zombie film, as it was his "Living Dead" film series that really popularized the flesh-eating, groaning creatures we know today. In the second film of Romero's long-running series (currently at six, spanning from 1968 to 2009), a group of survivors must fight to stay alive within the confines of a shopping mall. Unlike most low-level zombie films, Dawn of the Dead focuses on its survivors, while making a sharp observation about consumerism. The actual zombie make-up might be dated, but the special effects including exploding heads and bullet-ridden skulls still hold up, and the tense, twisted sequences will fill you with dread.
4. Shaun of the Dead (2004)
Directed by: Edgar Wright
Cleverly referencing the many zombie-centric movies that came before it, Edgar Wright and Simon Pegg create this equally funny and scary film about an ordinary man struggling with his personal life, as well as the apocalypse of undead happening around him. Shaun of the Dead is an instant classic for the horror-comedy genre, with sharply written observations and incredibly creative actions sequences and gore.
3. Night of the Living Dead (1968)
Directed by: George A. Romero
George A. Romero changed the genre forever with this 1968 cult classic, now considered one of the most important horror films in history. It was in Night of the Living Dead that zombies were first depicted as how we know them today. Admittedly by today's standards, Night of the Living Dead (and its brand of hungry flesh-eaters) moves slower than most. Still, its slow burn and intricate pacing is what leads to some of the most terrifying moments later in the film.
ADVERTISEMENT - CONTINUE READING BELOW
2. 28 Days Later (2002)
Directed by: Danny Boyle
Many consider Danny Boyle's frantic 28 Days Later as the film that reintroduced and reinvigorated the zombie film for modern audiences. While the "infected" aren't exactly "undead" here, they are the same rabid, mindless, cannibalistic monsters, except much, much faster. When a man (Cillian Murphy) wakes up from a coma, he finds the world in chaos. Eerie scenes of an abandoned London are spine-chilling, and then comes the infected. Made with such high energy and a realistic tone, Boyle's version of the zombie apocalypse paved the way for faster monsters and the use of zombie films as political and social commentary.
1. Dawn of the Dead (2004)
Directed by: Zack Snyder
Before Zack Snyder took over the DC cinematic universe, he made his feature-film debut with arguably the best movie he's ever made: a remake of George A. Romero's Dawn of the Dead. The film opens with a terrifying and nightmare-inducing sequence with a child zombie and an attack inside the safety of the lead character's (Sarah Polley) own home. She joins fellow survivors inside a shopping mall, and this team of unlikely allies must fend off aggressive and hair-raising undead monsters, zombie babies, as well as each other. Dawn of the Dead (2004) ranks above the rest because it blends the best of both worlds in the zombie genre: The classic films' focus on characters and relationships, and the more modern heart-pounding thriller with bloodcurling terror and action-packed gore. In today's world, this is what zombie films are made of.
ADVERTISEMENT - CONTINUE READING BELOW
Share this story with your friends!
---
Help us make Spot.ph better!
Take the short survey
Load More Stories