MOVIE REVIEW: Bridget Jones's Baby is a feel-good sequel worthy of the original
It's an immensely satisfying return to Bridget's misadventures.
(SPOT.ph) Twelve years after Bridget Jones: Edge of Reason, Bridget Jones (Renee Zellweger) returns to the silver screen with a new misadventure that's bound to elicit laughs from fans, new or old.
She's now a successful TV producer but unlike her group of friends, she has no boyfriend and no baby. Instead, she's singing "All by Myself" (again) during her 43rd birthday. Two different hookups and a pregnancy test later, Bridget—no thanks to expired condoms—is now pregnant and caught in a situation that could rival Meryl Streep's in Mamma Mia! Patrick Dempsey plays the mathematician-slash-Baby Daddy No. 1 Jack Quant, who charms his way to Bridget's (and the audience's) heart with such ease. Meanwhile, Colin Firth reprises his role as the ever-stoic yet appealing Mark Darcy, who is Baby Daddy No. 2.
ADVERTISEMENT - CONTINUE READING BELOW
Gemma Jones and Jim Broadbent are back as Bridget's conservative and endearing parents with heartfelt performances. Daniel Cleaver's (Hugh Grant) absence is explained, but not without a few digs about his troublesome playboy nature. James Callis, Shirley Henderson, and Sally Phillips also reprise their roles as Bridget's old group of friends, but sadly, they are underused in favor of several new faces who, to their credit, have spot-on comedic timing. These include Bridget's new friend Miranda (Sarah Solemani), her obstetrician Dr. Rawlings (Emma Thompson), and her new and much-younger boss, Alice (Kate O'Flynn)—the latter of which exemplifying a rapidly changing millennial work culture.
Directed by Sharon Maguire, who also helmed Bridget Jones's Diary 15 years ago, this third installment never has a dull or quiet moment despite its lengthy running time. The plot (written by Helen Fielding, Dan Mazer, and Emma Thompson) is simple, but not without its inconsistencies. It could have easily treaded into overly nostalgic territory but thankfully, it doesn't. Unlike the first two films, it's quite refreshing to see a script that doesn't target Bridget's weight as a punchline. Instead, it borrows an element or two from the memorably funny scenes from the first two movies (like Bridget landing face-flat in mud, for example) and reinvents them. It's worth noting, however, that some jokes are inappropriately made at the expense of Indians and women's rights activists.
ADVERTISEMENT - CONTINUE READING BELOW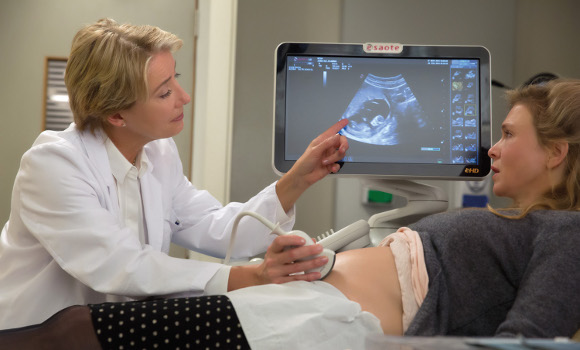 The handful of plot reveals are surprisingly unpredictable, mostly at inopportune moments that will have moviegoers cringing with secondhand embarrassment. The chemistry between Zellweger and Dempsey is so irresistible that even the most #TeamMarkDarcy of audiences would be conflicted over whom Bridget should end up with—that is, if she does end up with someone. The tension between the triangle is effectively drawn out throughout the film, keeping its viewers on their toes up until the final, big reveal at the very last few minutes.
ADVERTISEMENT - CONTINUE READING BELOW
Bridget Jones isn't hard to root for. Her character grows—literally and figuratively—from a single career woman or a SPILF (the SP means spinster) to a woman whose careless mistakes result in two baby daddies and finally, to a mother who fully embraces her independence. At the end of the day, all she needs is to be her strong-willed and unapologetic self to bring a baby into the world. On its own, Bridget Jones's Baby is a satisfying sequel worthy of the 2001 original, bursting with the same infectious energy and heart that has endeared Bridget Jones's Diary to audiences for years.
RATING: 4 out of 5 spots
Bridget Jones's Baby is in theaters Thursday, September 14. Photos courtesy of United International Pictures.
Recommended Videos
Load More Stories