10 Indie Films That Will Take You Around the Philippines
Jet off to some of the most scenic locations around the country!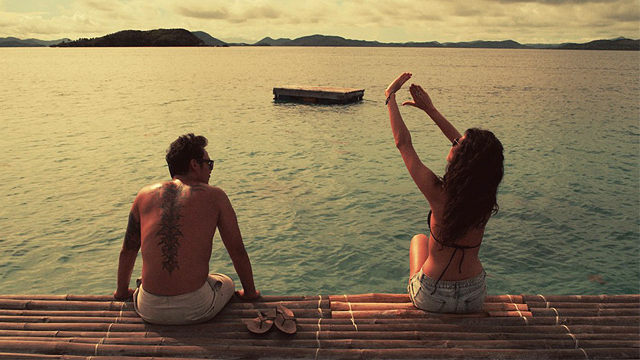 (SPOT.ph) The upcoming holiday season is the perfect excuse to dust off your travel bags and explore the many gorgeous sights that the Philippines has to offer. Before you jet off on your next adventure, get inspired by these 10 Pinoy indie films that put a spotlight on some of our most picturesque provinces. 
ADVERTISEMENT - CONTINUE READING BELOW
Apocalypse Child (2015)
Jet off to: Baler, Aurora
Mario Cornejo and Monster Jimenez's award-winning film revolves around Ford (Sid Lucero), a free-spirited young man who may or may not be the illegitimate son of illustrious director Francis Ford Coppola. Shot on location in Baler, the film doesn't just delve into the province's laidback surfing culture; it also gives you a glimpse at fantastic views of Canili Dam, Secret Spot, Aniao, and Lindy's Point.
Sakaling Hindi Makarating (2016)
Jet off to: Marinduque, Batanes, Ilocos, Zamboanga, and Siquijor
Alessandra de Rossi plays Cielo, whose life falls apart after her long-term boyfriend breaks off their engagement just two months before their wedding. When she starts receiving a mysterious series of hand-painted postcards, she journeys across the country in search of the anonymous writer. Cielo's adventures take her to wanderlust-inducing locations, from Ilocos to Siquijor to Zamboanga and Batanes, and encounters all sorts of colorful locals along the way.
ADVERTISEMENT - CONTINUE READING BELOW
Above The Clouds (2015)
Jet off to: Mount Pulag in Benguet
Have you always wanted to try your hand at hiking but were too scared to give it a shot? This 2015 film from Pepe Diokno might just change your mind. After tragically losing his parents, Andy (Ruru Madrid) is forced to live in the Mountain Province with his estranged grandfather (Pepe Smith). The two embark on a hike up Mount Pulag, where they both confront their loss and guilt. Get ready to be blown away by all the breathtaking scenery.
Lakbay2Love (2016)
Jet off to: La Mesa Dam, Timberland Heights, and Benguet
This coming-of-age drama revolves around a filmmaker named Lianne (Solenn Heussaff), who delves into the adventurous world of biking with the help of Jay-R (Dennis Trillo). You might as well consider this as a Biking 101 guide because it takes you through everything from vintage bike shops in the Metro to awe-inducing terrains across Luzon. Think spectacular shots of La Mesa's reservoir, biking trails overlooking the Sierra Madre mountain range, and a rocky ridge at Mount Ulap in Benguet.
ADVERTISEMENT - CONTINUE READING BELOW
Waves (2015)
Jet off to: Oslob in Cebu and Mangenguey Island in Palawan
Waves is all about the tangled love affair of Ross (Baron Geisler) and Sofia (Ilona Struzik), who decide to rekindle their romance despite their troubled history. The movie is almost entirely filmed on the untouched island of Mangenguey in Palawan, which is surrounded by pristine, crystal blue waters. You can also catch a glimpse of Oslob's famous whale sharks!
K'Na, the Dreamweaver (2014)
Jet off to: Lake Sebu, South Cotabato
This film sheds light on the customs of the T'boli people through the eyes of K'na. She is chosen to be a dreamweaver, which gives her a chance to bring peace to her village's warring clans, but she may have to give up true love in order to do it. The film doesn't just show off the captivating scenery; it's also a detailed and intimate look into the tribe's customs, weaving, costumes, and way of life.
ADVERTISEMENT - CONTINUE READING BELOW
Flotsam (2015)
Jet off to: San Juan, La Union
This 2015 film by Jay Abello uses the serene and carefree La Union backdrop to tell eight interweaving love stories in a quaint beach hostel called Flotsam and Jetsam. Get ready to immerse yourself in the local surfing lifestyle, punctuated with sun-kissed cinematography and plenty of original music. You'll want to hit the beach in no time, we promise.
Honor Thy Father (2015)
Jet off to: Baguio City
Honor Thy Father tells the story of Edgar (John Lloyd Cruz), a mild-mannered father who is driven to desperation when he and his family are caught in a Ponzi scheme. Erik Matti's gripping crime drama may mostly be bleak and sobering, but there's no denying the lush greenery and misty peaks that Baguio City (and its surrounding locales) has to offer.
Water Lemon (2015)
Jet off to: Mauban, Quezon
This poignant drama by Lem Lorca centers on Filemon (Jun-Jun Quintana), who struggles to fit in with the folks in his small town because of his Asperger's. The film delves into the lives and characters of the close-knit community, while also setting the spotlight on the breathtaking coastal horizon.
ADVERTISEMENT - CONTINUE READING BELOW
Donsol (2006)
Jet off to: Donsol, Sorsogon
Written and directed by Adolfo Alix Jr., the movie tells the bittersweet love story of a local tour guide (Sid Lucero) and a mysterious tourist (Angel Aquino). Every year, tourists flock to the sleepy town of Donsol to watch gentle whale sharks migrate to its shores. This gives viewers a view of the town's beautiful scenery, from gasp-inducing underwater shots of whale sharks to its untouched shoreline.
Recommended Videos
Load More Stories