MOVIE REVIEW: Storks delivers adorable bundles of laughs and sweetness
Delivering a baby is not often this cute and funny.
(SPOT.ph) If you've ever asked your parents where babies came from, chances are, you heard the story about how storks delivered you to your mom and dad's doorstep. Storks takes its premise from this popular myth, then multiplies it by a hundred, and crosses it with ridiculously adorable baby animation. The result is an adorable little film that, just like a baby, can be a bit loud and messy, but also manages to be utterly cute, charming, and unexpectedly funny.
In this film, storks were once part of the baby-delivering business. When a mishap occurs between a stork and a baby—plus sensing a better opportunity elsewhere—head stork Hunter (terrifically voiced by Kelsey Grammer) ventures into package-delivering (kind of like Amazon). After delivering his millionth package, Junior (Andy Samberg), a confident and funny company man, is told by Hunter that he is in line to become the next big boss. To prove himself, Junior's first job is to fire the sole human working for the storks, Tulip (newcomer Katie Crown).
ADVERTISEMENT - CONTINUE READING BELOW
CONTINUE READING BELOW
Recommended Videos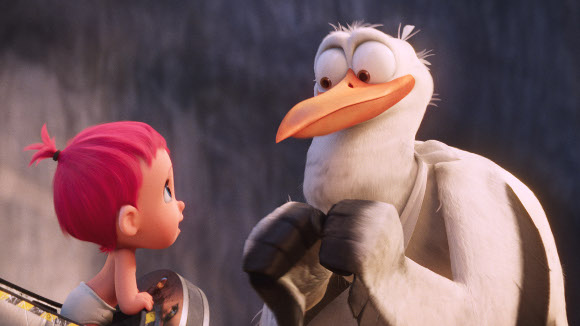 Tulip was a baby that wasn't delivered because a stork got too attached to her and destroyed the delivery address. When Junior strugges to fire her, he puts her in charge of letter sorting—a system no longer in use. In a twist of fate, a young boy with neglectful parents (Ty Burrell and Jennifer Aniston) sends a hopeful letter to the storks in the hopes of getting a younger brother. Tulip accidentally creates a baby with this letter, forcing her and Junior to deliver this baby before their boss finds out.
ADVERTISEMENT - CONTINUE READING BELOW
Storks' major themes are family and parenthood, illustrated with Junior's attempts to calm the baby down or when they finally figure out how to make it laugh. Moments like these are sweet and touching, even if everything else tends to feel unnecessarily scattered. There is a superfluous need for productions to make their animated movies as noisy, colorful, and as adventure-filled as possible for the kids, but often it's the tender moments that stick. Thankfully, Storks has a few of the latter.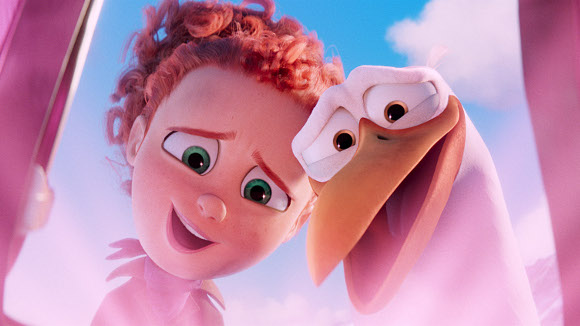 ADVERTISEMENT - CONTINUE READING BELOW
The film also delivers quite a good amount of laughs, with most of them coming from the most unexpected places. Two of the executive producers are The Lego Movie directors Phil Lord and Chris Miller, and as seen in their most popular work, a lot of the humor is unpredictable. In the case of Storks, it's from sequences that need to be seen to be understood: A pack of wolves creating various shapes, a musical interlude set to The Heavy's "How You Like Me Now," or a clever fight scene between Junior, Tulip, and a colony of penguins.
As for the voice talents, Samberg toes a tough line with Junior, who isn't presented as the most likable or lovable lead. He can be a bit cocky and hard-headed, but Samberg pushes the charm as much as he can. Crown's Tulip has a much stronger personality, as she's always on the go, yet somehow finding the balance between adorable and annoying. Aniston and Burrell are given little to do, though, which seems like a bit of a waste for two great comedic talents. Fortunately, they make the most of Grammer, as well as comedy duo Keegan-Michael Key and Jordan Peele, who play two wolves.
ADVERTISEMENT - CONTINUE READING BELOW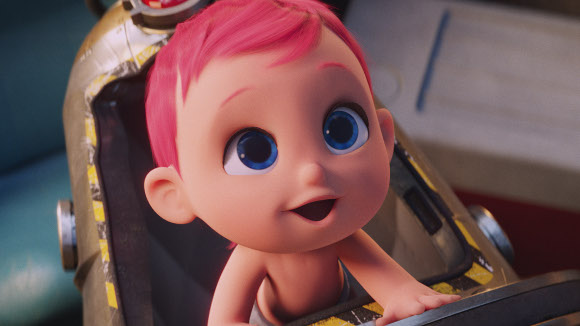 The film isn't without its hiccups. The progression of the story isn't smooth and a lot of scenes feel like moments to stretch a thin plot that's basically an odd-couple road trip. It's also unclear why certain plot details even happened in the first place, and some characterizations may come off as one-note. Luckily, Storks has enough moments of joy and sweetness to keep the momentum going.
ADVERTISEMENT - CONTINUE READING BELOW
RATING: 3.5 out of 5 spots
Storks is now showing in theaters. Photos courtesy of Warner Bros. Pictures.
Are you sure you want to delete this list?

Load More Stories