10 Albums You Should Have Listened to in 2016
Something to help you with your year-end playlist.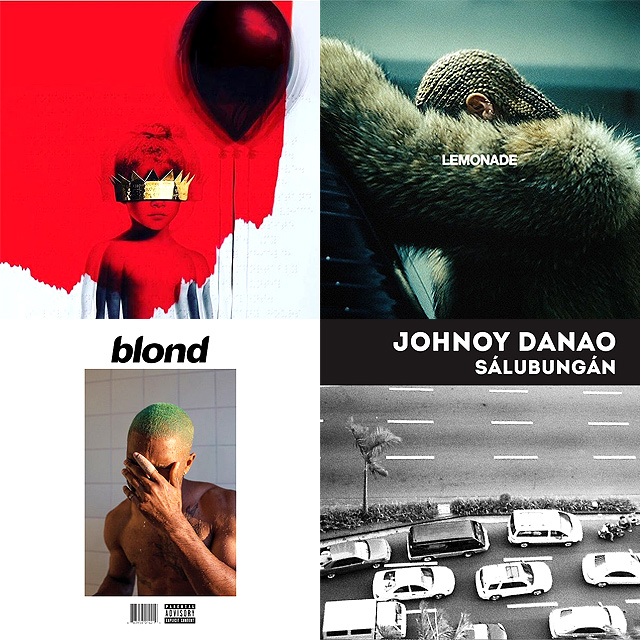 (SPOT.ph) This year saw an exciting mix of anticipated album drops and surprise releases. From the latest records of queens Beyoncé and Rihanna, geniuses Kanye West and Frank Ocean, and our very own Parokya Ni Edgar and We Are Imaginary, we all found a tune (or two) to love. As we come close to bidding 2016 adieu, we thought it fitting to look back at this year's musical highlights. Here, we feature studio albums, local and foreign, that are worth a listen.
Lemonade by Beyoncé
Queen Bey's visual album had everyone freaking out—in a good way. Lemonade makes an empowering statement for women of color and captures the emotional discord of women scorned. The 12-track album with an experimental flavor features top-notch collaborators across varied genres like James Blake, Kendrick Lamar, Ezra Koenig, and The Weeknd.
Must-listen tracks: "Sorry," "Hold Up," and "Freedom"
Anti by Rihanna
Anti is everything we ever wanted from RiRi, and more. Her much-awaited seventh studio album, which came after years of releasing singles, showcases her skills in several departments, like pop, R&B, hip-hop, and ballad—all while retaining her sexy, bad girl image with a healthy selection of sultry numbers.
Must-listen tracks: "Work," "Yeah, I Said It," and "Kiss It Better"
Salubungan by Johnoy Danao
If love songs are what you're looking for, take a listen to Johnoy Danao's third studio album. We can count on the crooner to deliver heartfelt messages of love in both slow and uptempo tracks. Those who have grown fond of his acoustic magic will not be disappointed, and the hints of indie-folk are not a bad addition, too.
ADVERTISEMENT - CONTINUE READING BELOW
Must-listen tracks: "Right Time," "Ang Pagtatapat," and "Walang Hanggan"
The Life Of Pablo by Kanye West
Kanye's latest masterpiece is by no means perfect. In fact, it's messy and confusing. But that's the charm of the record; it doesn't aim to be polished. Instead, it does a fine job of interpreting the artist's psyche. While "Famous" sure got the attention of everybody (Taylor Swift included), there are other introspective highlights in this hip-hop/rap album.
Must-listen tracks: "Real Friends," "Ultralight Beam," and "Waves"
Death to Romanticism by We Are Imaginary
We Are Imaginary's latest release is a local, indie-pop must-listen. Pair thoughtful lyricism with catchy arrangements and you have a solid soundtrack to get you through the rest of 2016. The album combines jangly and noisy elements, bringing you something familiar and something new at the same time.
CONTINUE READING BELOW
Recommended Videos
Must-listen tracks: "A Good Kind of Sad," "Press Play," and "Pencil Me In"
Frank Ocean - 'Nikes' from DoBeDo Productions on Vimeo
Blonde by Frank Ocean
In Blonde, Ocean's follow-up to his stellar first album, Channel Orange, the artist enlists the help of several music heavyweights, including Beyoncé, Kendrick Lamar, André 3000, and Pharrell Williams. Combine that with Ocean's superb storytelling, sharp commentaries, and unique sensibilities, and you have a winning R&B/psychedelic pop record.
Must-listen tracks: "Nikes," "Ivy," and "Solo"
Flight by Skymarines
The Terno artist's electronic album will take you to new heights and transport you to otherworldly dimensions. The tracks are entrancing, with Isa Añiga's ethereal vocals putting you under a spell and making you wish the album won't ever end. There are mellow moments and more upbeat minutes, effective in keeping you hooked and utterly interested.
ADVERTISEMENT - CONTINUE READING BELOW
Must-listen tracks: "Oasis," "Glasshouse," and "Dreamer"
The Colour In Anything by James Blake
James Blake's 17-song album is a musical compilation of relatable heartaches. It's a lush electronic production with varying textures, R&B and gospels influences, mixed with chilly vocals. The emotional and technical production add to its emotional depth, making us ache for more.
Must-listen tracks: "I Need a Forest Fire," "The Colour in Anything," and "Radio Silence"
Pogi Years Old by Parokya Ni Edgar
Parokya's newest album in six years is making us all sorts of nostalgic. They're bringing back the noisy rock of the '90s, their straightforward lyricism that never fails to resonate with us, and their funny album fillers. They touch on familiar themes such as love, friendship, and life in general.
Must-listen tracks: "Lagi Mong Tatandaan," Friendzone Mo Mukha Mo," and "Wala Lang 'Yon"
Skin by Flume
The Australian producer and DJ's sophomore album features famous names like Beck, Little Dragon, AlunaGeorge, and Vince Staples. In Skin, Flume strikes a good balance between radio-friendly and experimental factors, and it's this variety that brings listeners the best of both worlds.
Must-listen tracks: "Say It," "Never Be Like You," and "Numb & Getting Colder"
Share this story with your friends!
---
Help us make Spot.ph better!
Take the short survey
Load More Stories