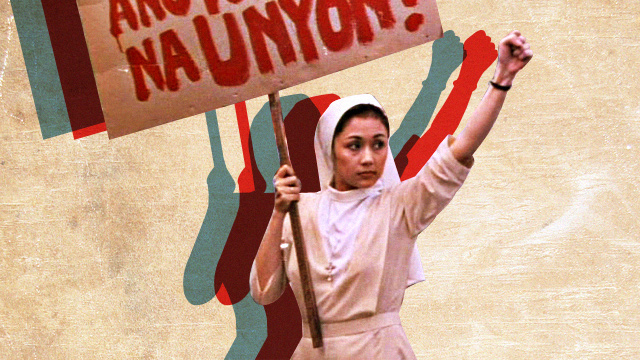 (SPOT.ph) Politics has always been messy, complicated, and overwhelming. It's hard to escape the political talk these days, especially with all the recent and controversial change locally and internationally. Below, we've compiled a list of political films that will hopefully take your mind off the current political landscape. Whatever your beliefs are and whichever side of the coin you fall on, these 10 films aren't just entertaining; they'll fill you with a sense of hope and positivity, too.
Lincoln (2012)
Directed by: Steven Spielberg 
While it may be on the serious side, Steven Spielberg's award-winning drama on the life of U.S. President Abraham Lincoln is a beautiful, affecting biopic that will give many hope that a government can give importance to all its citizens. In Spielberg's film, Lincoln (played by Daniel Day-Lewis, who won an Oscar for his intense performance) fights to end the Civil War and abolish slavery, showing true courage of a man in power hoping to change the world for the betterment of all.
ADVERTISEMENT - CONTINUE READING BELOW
Dr. Strangelove or: How I Learned to Stop Worrying and Love the Bomb (1964)
Directed by: Stanley Kubrick
There is currently a lot of talk about unfit people having the power to launch nuclear attacks—a topic that Stanley Kubrick tackled in the most entertaining way over 50 years ago. A U.S. general launches a nuclear attack, and the bumbling president and his cabinet try their best to stop the bomb from landing. Dr. Strangelove's biting and hilarious social commentary might be the classic film we all need to revisit right now.
Sister Stella L. (1984)
Directed by: Mike de Leon 
Sister Stella L. might not be the lighthearted, escapist fare you need these days, but it is an inspiring political film that will give you that little bit of a push to make you feel like you can do something for your country. The film reflected the political climate of the Philippines so soon after the assassination of Ninoy Aquino. A nun (Vilma Santos in one of her most memorable roles) joins the fight against injustices for workers, and soon awakens to bigger injustices and oppression happening in her country.
Heneral Luna (2015)
Directed by: Jerrold Tarog
Although Heneral Luna was released over two decades after Sister Stella L., this historical biopic reflects the same familiar themes of patriotism and state of political affairs. Led by a stellar cast and a powerful performance by John Arcilla, the film is a rousing portrayal of a flawed yet brilliant strategist as he commands his troops during the Philippine-American war. It's just the kind of sharp commentary many need in a shaky political landscape.
In the Loop (2009)
Directed by: Armando Iannucci
A spin-off of a popular British comedy, In the Loop is a frenetic, foul-mouthed inside look at the goings-on inside government offices, especially during crises. A curse word or two (or 10) aren't out of place when government officials start yelling at each other about whether or not they oppose a coming war. In the Loop is filled with one-liners and stars a ton of great British talent like Tom Hollander and Peter Capaldi. Writer-director Armando Iannucci also went on to create the TV series Veep, which is very much cut from the same cloth.
ADVERTISEMENT - CONTINUE READING BELOW
Wag the Dog (1997)
Directed by: Barry Levinson 
Before Olivia Pope was fixing White House scandals, there was Wag the Dog, a film about a spin doctor (Robert de Niro) who creates a fake war with a Hollywood film producer (Dustin Hoffman) in an attempt to put off people from an ongoing sex scandal regarding the President. The film is also famous for being released right before the Clinton-Lewinsky scandal, almost predicting the global shocker. This fun and ridiculous take on Washington DC (and government in general) is the silliness you need to take your mind off the current scandals rocking the country.
Milk (2008)
Directed by: Gus Van Sant 
In Gus Van Sant's 2008 biopic, Sean Penn plays celebrated activist and politician Harvey Milk, who was the first openly gay person to be elected in public office in California. While Milk's life came to a tragic end, his life's work and influence inspired a generation and a change in America that can still be felt today. Milk tells the story of a politician who fought hard against oppression and limited rights, a shining example of the people who continue to fight for their rights today.
ADVERTISEMENT - CONTINUE READING BELOW
Election (1999)
Directed by: Alexander Payne
Politics, even in the most minor of sectors like high school, can push power-hungry people to their limits. In Election, Reese Witherspoon plays a spirited and determined student who will do anything to become class president. Meanwhile, a teacher (Matthew Broderick) doesn't believe she is fit for the role and will do anything to stop her. It's an absolutely witty film that, despite its small setting, speaks volumes about politics and government as a whole.
No (2012)
Directed by: Pablo Larrain 
Even if you may not be familiar with Chilean politics, history, and dictator Augusto Pinochet, Pablo Larrain's No reflects the people's rise to fight against a dictatorship. It depicts when all Chileans were asked to vote "yes" or "no" on whether or not their President at the time, Pinochet, would stay in power. Pinochet had been President for over 16 years at that point, and the opposition was hoping for a major change. Chile's tumultuous history has similarities with our own, and this film is a hopeful reminder of the power that people hold on their government.
ADVERTISEMENT - CONTINUE READING BELOW
All the President's Men (1976)
Directed by: Alan J. Pakula 
A film that showcases the strength and victory of free press and journalism, All the President's Men stars Robert Redford and Dustin Hoffman as reporters who investigate the Richard Nixon Watergate scandal in 1974. The press and the media have continued to be one of the more controversial areas of the current political landscape both locally and abroad, so it is fulfilling to watch a film where good old journalism triumphs.
Share this story with your friends!
---
Help us make Spot.ph better!
Take the short survey
More Videos You Can Watch
Load More Stories