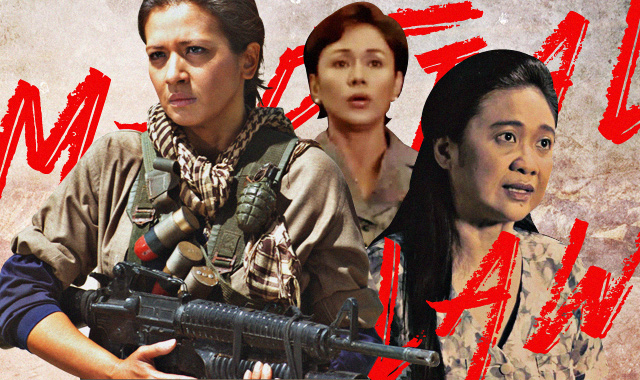 (SPOT.ph) Thanks to a certain (and now-viral) statement, Filipino films tackling Martial Law are all the rage. Some notable, socio-political films such as Maynila sa Mga Kuko ng Liwanag, Bayan Ko: Kapit Sa Patalim, and Batch '81 are set in the era and serve as sharp societal commentary. Others, such as Eddie Romero's Ganito Kami Noon Paano Kayo Ngayon? and Lav Diaz's Batang West Side or Norte, Hangganan ng Kasaysayan, pose the all-important question of what it means to be a Filipino in a time of political uncertainty.
In these trying times, it's valuable—more than ever—to revisit and remember some of the darkest days of Filipino history. We round up everything from hard-hitting documentaries to fictional depictions of Martial Law, and even films banned by the Marcoses.
Mula Sa Kung Ano Ang Noon (2014)
Directed by: Lav Diaz
It is 1972 and a small, Maguindanao barrio struggles to accept the declaration of Martial Law. Slowly, their lives begin to change: houses are being burned down, dead bodies appear out of nowhere, and domineering soldiers set up camp. The film took home the Golden Leopard for Best Film at the prestigious Locarno Film Festival.
ADVERTISEMENT - CONTINUE READING BELOW
Sister Stella L. (1984)
Directed by: Mike De Leon
Mike De Leon's Batch '81 is a painfully disturbing allegory to the horrors of Martial Law, but his other notable film, Sister Stella L., also deserves a mention. A politically indifferent nun (Vilma Santos) is pushed to join labor strikes after learning about the government's oppression. She soon bears witness to the torture of her journalist friend, and the kidnapping and murder of a union leader. Dealing with themes of human rights and the power of revolution, Sister Stella L. is a gripping portrayal of militant nuns during the era.
Dekada '70 (2002)
Directed by: Chito S. Roño
Based on the Palanca-winning novel by Lualhati Bautista, this film (with a script also written by Bautista) follows an everyday Filipino couple (Christopher De Leon and Vilma Santos) as they raise their children during the tumultuous '70s. As political unrest heightens under the Marcos dictatorship, their older sons quickly turn to activism.
Sigwa (2010)
Directed by: Joel Lamangan
This 2010 Cinemalaya entry sheds light on the rise of the student movement during Martial Law, told through the eyes of six young students (including Pauleen Luna, Lovi Poe, and Allen Dizon), particularly Dolly (Megan Young). While the script focuses on the plight of student activists, it also shifts to the future as the much-older Dolly (Dawn Zulueta) returns to the Philippines in search of the daughter she was once forced to leave behind.
Manila By Night (1980)
Directed by: Ishmael Bernal
Released at the height of the Marcos dictatorship, Ishmael Bernal's daring film is unafraid to portray Manila at its darkest, grittiest, and ugliest. Revolving around a cast who are all somewhat involved in prostitution, the film depicts the seedy and hidden nightlife of Manila. Majority of the film was censored and the title was renamed to City After Dark because First Lady and then-Metro Manila governor Imelda Marcos reportedly felt it portrayed a Manila that was against her vision of the city.
ADVERTISEMENT - CONTINUE READING BELOW
Eskapo (1995)
Directed by: Chito Roño
Eskapo depicts the true story of when Marcos ordered the arrest of his biggest critics and their families, including the Osmeña and Lopez clans. The film covers the arrest of Geny Lopez and Sergio Osmeña, and the many attempts of negotiating their release over five years. In their desperation, Geny and Sergio hatch their biggest plan yet: to escape from the Fort Bonifacio maximum-security prison.
Forbidden Memory (2016)
Directed by: Teng Mangansakan
In September 1974, at least 1,500 Moro residents from Malisbong, Sultan Kudarat were massacred under the Marcos regime. Three thousand women and children were forcibly taken by the military to undergo unspeakable horror. This documentary unflinchingly gives a voice to the survivors of what is now known as the Malisbong Massacre. The film won Best Documentary at the recently concluded Cinema One Originals Film Festival.
Barber's Tales (2013)
Directed by: Jun Robles Lana
ADVERTISEMENT - CONTINUE READING BELOW
Malou (Eugene Domingo) mostly lives a life under the thumb of her imposing husband but when he passes away, she inherits his business—the only barber shop in their small town. Her struggles to earn the respect of the community are set upon a bigger and more unsettling backdrop. The threat of Martial Law looms in the horizon, affecting everyone in the rural town.
Ka Oryang (2011)
Directed by: Sari Lluch Dalena
Alessandra de Rossi plays Gregoria de la Cruz, a politically apathetic student from UP who eventually becomes a doctor in medical missions at the height of Martial Law. The gripping drama follows her arrest and later detainment, as she and other female prisoners suffer horrifying abuses and torture. Ka Oryang, which won Best Picture at the Cinema One Originals festival, is a powerful tribute to the young women who fought for freedom and justice.
Batas Militar (1997)
Directed by: Kara Magsanoc-Alikpala 
ADVERTISEMENT - CONTINUE READING BELOW
Batas Militar was a documentary that many of us grew up watching in history class. Almost 20 years later, its still a valuable piece of real-life cinema that is worth a watch to old and new audiences alike. Kara Magsanoc-Alikpala and her team painstakingly piece together rare photos, video footage, interviews, and re-enactments to chronicle the early years of Marcos, the subsequent propaganda and riots, the bombing of Plaza Miranda, and more.
Share this story with your friends!
---
Help us make Spot.ph better!
Take the short survey
More Videos You Can Watch
Load More Stories