10 Fresh Tunes to Listen to This December
End the year with a smash playlist featuring Britney Spears, Childish Gambino, The xx, Oh, Flamingo!, Cheats, and more!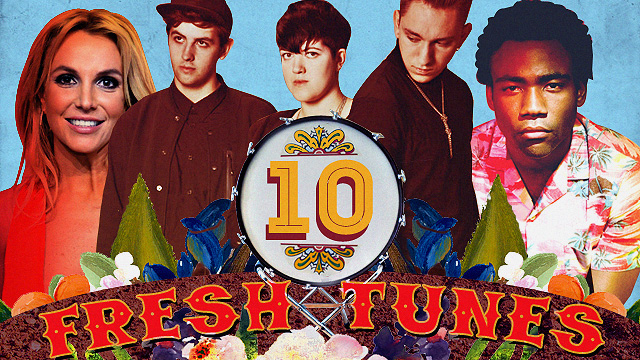 (SPOT.ph) Another month, another playlist update. We've got the latest from feisty collaborators Britney Spears and Tinashe, the multi-talented Childish Gambino aka Donald Glover, indie act The xx, pop star Bruno Mars, and R&B wonder The Weeknd. Locally, we bring you good stuff from It band Oh, Flamingo!, electro genius CRWN, indie rockers Cheats, promising young acts Asch and Reneé Dominique, and four-piece band Olympia Maru. Happy listening!
Song: "Slumber Party"
Artists: Britney Spears feat. Tinashe
Britney and Tinashe are looking mighty fine in their steamy new music video. The sultry, reggae-infused number may not be the kind of explosive pop ditty we've come to expect from Brit, but "Slumber Party" demands repeated listening for its infectious chorus.
Fun fact: This collab version can be found in the deluxe edition of Glory. The Britney-only version first appeared in the original Glory record released in September.
Song: "Inconsistencies"
Artist: Oh, Flamingo!
Oh, Flamingo! recently launched a new music video to celebrate the first anniversary of their successful self-titled EP. "Inconsistencies" is a crowd-favorite during their gigs, and to see the contemplative, indie-rock track beautifully interpreted through moving pictures makes us proud of this young bunch.
Fun fact: The music video, shot in Bataan, was produced by Ophelia & Co. and directed by Kit De Silva.
Song: "Me and Your Mama"
Artist: Childish Gambino
"Me and Your Mama" opens like a delicate lullaby, shape-shifts into a gospel-inspired track, turns into a blues-y rock number, and finishes as a slowly fading sonic creation. The six-minute, multi-section single shows Gambino trading smooth crooning for some stretched-out rock star belting.
ADVERTISEMENT - CONTINUE READING BELOW
Fun fact: The song is off his latest album titled Awaken, My Love!, which drops on December 2.
Song: "you, me, and our tommy guns" 
Artist: CRWN
Here's an instrumental piece that's cuss-worthy—in a good way. Everything goes together perfectly, from the smooth flow and gradual build-up of the beats and synths to the groovy addition of sax, and the ambient chimes that add an otherworldly charm. There's a level of restraint that whets the musical appetite and leaves the listener wanting more.
Fun fact: CRWN is Manila-based producer King Puentespina. His EP is available starting December 4.
CONTINUE READING BELOW
Recommended Videos
Song: "On Hold"
Artist: The xx
Romy Madley-Croft opens the track with her mellow singing and is followed by Oliver Sim's signature brooding vocals. The first few seconds can make any fan, who's been waiting to hear something new from the English trio, lose it. The early section features The xx's chill, well-loved sound. As the song approaches its first minute, "On Hold" becomes an indie dance floor anthem. Listen and decide if it's a musical progression you dig.
Fun fact: I See You, the upcoming third studio album of The xx, drops January 13, 2017.
Song: "Ringer"
Artist: Cheats
There's a blend of grittiness, sweetness, and mystery in "Ringer." It sounds sugary yet somber, noisy yet calm at the same time. It doesn't give everything away and isn't formulaic, and you're left to make sense of its engrossing haziness. Listening to "Ringer" isn't just an aural experience; it's an emotional exploration, too.
ADVERTISEMENT - CONTINUE READING BELOW
Fun fact: The music video was shot in Osaka, Japan and was directed by Kyle Quismundo.
Song: "That's What I Like"
Artist: Bruno Mars
Bruno Mars is the master of marrying pop, funk, and soul to deliver groovy ditties. Take "That's What I Like," for example. It's a sexy, radio-friendly release that commands listeners to get their hips moving. The mid-tempo song lets Bruno show off both his songwriting and singing talents. 
Fun fact: 24K Magic, where "That's What I Like" is taken, is Mars' third studio album (and first album in four years).
Song: "Idk"
Artists: Asch feat. Reneé Dominique
We can't wait to hear what else Asch has in store for us. His team-up with Reneé Dominique is a chill and dreamy success. The former took care of the arrangement and production, while the latter wrote and composed the song. The electronic and jazz influences shine through, and we guarantee a head-bobbing time while listening to the track.
Fun fact: Promising producer Asch is only 19 years old.
Song: "Starboy"
Artists: The Weeknd feat. Daft Punk
Here's an exciting collaboration between two fan-favorites. The single brings listeners smooth (albeit auto-tuned vocals) and some Daft Punk-assisted instrumentation. The futuristic element is just enough to still give us a feel of The Weeknd's R&B identity.
Fun fact: The Weeknd is Canadian singer, songwriter, and producer Abél Makkonen Tesfaye.
Song: "Sky Falling"
Artist: Olympia Maru
The guys of Olympia Maru take us back to the '80s with "Sky Falling." It's an energized rock track that will make you want to get up and get moving even on the most frantic of days. The music video gets a retro treatment, too, with various footage timestamped and varying images sewn together.
ADVERTISEMENT - CONTINUE READING BELOW
Fun fact: Olympia Maru band members include local music scene veterans Siops Chua (bass), Bryan Kong (guitar), Shinji Tanaka (drums), and Ahmad Tanji (vocals).
---
Help us make Spot.ph better!
Take the short survey
Load More Stories