25 Best Filipino Films of 2016
It's been a good year for Filipino cinema.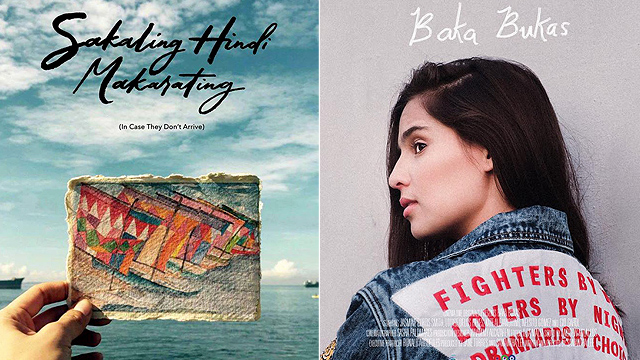 (SPOT.ph) Even if 2016 has been a mostly stressful year, at least we had some excellent films that offered a momentary escape or a new perspective on the complicated world we live in. We witnessed the recognition of indie filmmaking with the MMFF's return to its critically acclaimed roots, the rise of local film festivals and alternative cinema venues, and the multiple international awards won by our filmmakers. There were standout commercial gems, too—films that eloquently spoke to our heartbreak, and our life experiences.
No matter the genre, these 25 Pinoy films are the best of the year, whether it's due to their unique storytelling, powerful acting, or simply their ability to make a lasting impact on audiences.
This list is unranked and focuses on films released commercially in cinemas or local film festivals within 2016. As of writing, MMFF 2016 entries have not been released in theaters.
Laut
Directed by: Louie Ignacio
Release date: February (Singkuwento International Film Festival)
Louie Ignacio's heavy and heart-wrenching look at the displaced people of Zamboanga is one of the director's best efforts. He sets his camera lens on the Laut people, who are forced to leave their seaside residence to live and beg in the poor fringes of society, and kept away from the livelihoods they once thrived on. Led by a career-best performance by Barbie Forteza (a role for which she's won international film festival awards for Best Actress), Laut is a powerful study of a struggling people.
Always Be My Maybe
ADVERTISEMENT - CONTINUE READING BELOW
Directed by: Dan Villegas
Release date: February (commercial release)
The usual hugot formula is there: Heartbroken man meets sawi woman, and somehow, they fall in love. And yet, director Dan Villegas manages to create an audience-friendly rom-com that hits all the right notes of chemistry and wit. Credit must be given to its star, Arci Muñoz, whose impeccable comedic timing is once again, on-point. She shifts between comedy and drama with surprising ease, and carries the film well into the end.
Hele Sa Hiwagang Hapis
Directed by: Lav Diaz
Release date: March (commercial release)
Lav Diaz rarely goes halfway, and his epic that blends the historical and the imagined symbols of the Philippines is definitely no exception. Running an astounding 485 minutes, Hele was intimidating from the get-go. Not only was it four times your regular film, but it was also in black-and-white and had a couple of different narratives. For those that braved the film's eight-hour runtime, they were rewarded with Diaz at what could arguably be his most experimental and ambitious, bringing along A-list talents like John Lloyd Cruz and Piolo Pascual.
CONTINUE READING BELOW
Recommended Videos
Sakaling Hindi Makarating
Directed by: Ice Idanan
Release date: March (CineFilipino Film Festival)
As much a story about self-discovery as it is a love letter to the beauty of the Philippines, the gorgeously filmed Sakaling Hindi Makarating was a huge success at the CineFilipino Film Festival, winning seven awards including Best Director and 2nd Best Picture. The film follows Cielo (Alessandra de Rossi), who after being laid-off from work and split from her fiance, feels completely lost...that is, until she receives postcards from all over the Philippines from an anonymous writer. With little to lose, Cielo travels around the country using the postcards as a guide.
ADVERTISEMENT - CONTINUE READING BELOW
Star na Si Van Damme Stallone
Directed by: Randolph Longjas
Release date: March (CineFilipino Film Festival)
Films about disabilities are always tricky, as they can easily go into exploitative territory. Thankfully, Randolph Longjas manages to find the right balance of sweet, touching, funny, and heartbreaking in Star na Si Van Damme Stallone, a film about a boy with Down syndrome who aspires to be an actor like the ones he idolizes (as the title notes, Jean Claude Van Damme and Sylvester Stallone). Meanwhile, his family tries their very best to support this dream. Van Damme Stallone features witty humor, touching moments, and some fine acting by Paolo Pingol and Candy Pangilinan.
Ned's Project
Directed by: Lemuel Lorca
Release date: March (CineFilipino Film Festival)
Although the Pinoy movie landscape is not new to LGBT representation, very rarely do we see a film that isn't rife with stereotypes or ridiculous melodrama. Instead, we see the plight of Ned (a remarkable Angeli Bayani) as she longs to have a baby. In desperation, she joins a reality show so she can use the prize money for artificial insemination. The film hinges on Bayani's performance, while portraying the rare normalcy of an LGBT couple rather than overly dramatizing it.
Ringgo: The Dog Shooter
Directed by: Rahyan Carlos
Release date: June (World Premieres Film Festival)
Unconventional, unorthodox, and all sorts of daring, this peculiar little film is about Ringgo (Sandino Martin), a 16-year-old who assists in making domestic dogs mate. Everything changes when he is hired as a caretaker for a lesbian dog breeder (a scene-stealing Janice de Belen). The film smoothly pulls off its odd subject matter with a solid and impressive script by Ricky Lee, who manages to tackle relatable themes in a surprisingly profound way.
ADVERTISEMENT - CONTINUE READING BELOW
Anino Sa Likod ng Buwan
Directed by: Jun Lana
Release date: July (commercial release)
This critically acclaimed gem was first released in 2015 for the QCinema Film Festival; after nabbing awards left and right internationally, it had a short commercial re-release this year. Set in the '90s and taking place in one night, it revolves around a refugee couple who shelter a soldier amid a tense political climate. Expertly shot in one seemingly continuous take, this taut drama deserves all its praise, whether it's LJ Reyes' stirring performance or the expertly drawn out narrative that explodes at just the right moment.
Ma' Rosa
Directed by: Brillante Mendoza
Release date: July (commercial release)
Brillante Mendoza is no stranger to international accolade. His latest, a timely story about a drug-dealing mother and her family, is no exception. Making waves at the Cannes Film Festival, Ma' Rosa has everything you'd expect in a Brillante film: gritty street scenes, raw acting, and some heavy social commentary. It also features a powerful and stunning performance by Jaclyn Jose, who won the prestigious Best Actress award at Cannes.
Pamilya Ordinaryo
Directed by: Eduardo Roy Jr.
Release date: August (Cinemalaya Film Festival)
After its Cinemalaya premiere, Eduardo Roy Jr.'s Pamilya Ordinaryo made its mark internationally, screening in festivals all over the world, including Venice and Chicago. This social realist film is about a poor, young couple living on the streets and picking pockets to make ends meet. When their baby is kidnapped, they go to even further lengths to get the child back. Emotional, surprising, well-acted, and poignant, Pamilya Ordinaryo is a gritty, realist drama that really leaves an impact.
ADVERTISEMENT - CONTINUE READING BELOW
Hiblang Abo
Directed by: Ralston Javier
Release date: August (Cinemalaya Film Festival)
Originally a three-act play in 1980, this cinematic version stars four theater actors (Lou Veloso, Leo Rialp, Jun Urbano, and Nanding Jose) who all bring their theatrical skills to the table in this drama. Revolving around four men in their twilight years and confined in a home for the aged, the film is as heart-wrenchingly relatable (you'll likely see your older relatives in them) as it is deeply emotional and profound.
Tuos
Directed by: Derick Cabrido
Release date: August (Cinemalaya Film Festival)
Tuos has a mixture of many things. It has culture (and generational) clashes, beautiful costumes, deep mythology, and family trials. The film is set in a village in the mountains of Antique, and centers on its women and the traditions they uphold. Pinailog (played by the incomparable Nora Aunor) is the village's "Binukot," a woman who preserves the culture of her people. She grooms the young Dowokan (a terrific Barbie Forteza) to replace her, but Dowokan is in love and wants to be set free from her village's old binds. The two butt heads, and beliefs are tested in this beautifully shot arthouse piece.
Mercury is Mine
Directed by: Jason Paul Laxamana
Release date: August (Cinemalaya Film Festival)
This Cinemalaya winner (Best Screenplay and a Special Jury Prize) might be a little on the weird side, but it's one of the most entertaining local films this year, mostly thanks to a fantastic performance from Pokwang. She is a tour de force in this film, playing a small-time carinderia cook who dreams of something bigger and better for herself. She absolutely nails the already-funny dialogue and makes it even better. The witty film has some interesting things to say about how we treat foreigners in our country, but it really shines because of its lead star.
ADVERTISEMENT - CONTINUE READING BELOW
Camp Sawi
Directed by: Irene Villamor
Release date: August (commercial release)
In a local movie landscape filled with quotable hugot lines, Camp Sawi is a compelling and genuinely funny standout. We watch the painful dissolutions of relationships, and the many, many attempts to get back on one's feet. What's truly refreshing about Camp Sawi is not in its premise of an island where the heartbroken go. Instead, it doesn't offer the neat and convenient solution we so often see; in the end, it embraces four women's personal journeys—and all the ridiculousness that comes with it.
Ang Babaeng Humayo
Directed by: Lav Diaz
Release date: September (commercial release)
It bears repeating that Lav Diaz always goes all out and this year, he did double duty, releasing two films in theaters. Ang Babaeng Humayo, is much shorter (clocking in at a modest 226 minutes) but its just as, if not more powerful. Told through the eyes of Horacia (a welcome return to acting for Charo Santos-Concio), who is released after being wrongfully imprisoned, Ang Babaeng Humayo is one of Diaz' most relatable films. With its delicate storytelling and engaging character study, it's no wonder this film won the highest honor at the Venice International Film Festival.
Apocalypse Child
Directed by: Mario Cornejo
Release date: October (commercial release)
Initially a 2015 entry in the QCinema Film Festival, Apocalypse Child was screened in nationwide cinemas only this year. Beneath stunning, sun-kissed cinematography by Ike Avellano is a painfully poignant portrait of the tangled lives of residents in Baler. At the center of it all is Ford (an excellent Sid Lucero), who grapples with the long shadow of the famed film director who may or may not be his father. The script by Monster Jimenez leaves plenty to the imagination, and this is where Apocalypse Child gets its strength—allowing its audience to fill in the blanks and letting its talented cast speak volumes in subtlety.
ADVERTISEMENT - CONTINUE READING BELOW
Women of the Weeping River
Directed by: Sheron Dayoc
Release date: October (QCinema: Quezon City International Film Festival)
Women of the Weeping River, the QCinema award winner for Best Picture, is steeped in history, culture, and tragedy, inspired by tales of families in Mindanao. In Sheron Dayoc's feature, we find Satra, a widow caught in a blood feud between two warring families that has lasted generations. She's lost her husband to it, and stands to lose more, including her child. As a woman in this society, she doesn't have much of a voice, despite wanting the feud to end. Women of the Weeping River is an important film, as it explores in subtle but compelling detail the lives of women in Mindanao.
Ang Manananggal Sa Unit 23B
Directed by: Prime Cruz
Release date: October (QCinema: Quezon City International Film Festival)
Horror and romance blend well in Prime Cruz's tale about a manananggal who falls in love with her neighbor. Jewel (an incredible Ryza Cenon) seems like your everyday quiet girl, but she harbors a deep, horrifying secret—she's a monster who feeds on unsuspecting men that she lures from bars. When she meets the kind-hearted Nico (Martin del Rosario), she tries her hardest to curb her hunger, but she can only do so much. Horrifying and clever, with some brilliant cinematography, Manananggal is a terrific film that raises the bar for both the romance and horror genre.
Purgatoryo
Directed by: Roderick Cabrido
Release date: October (QCinema: Quezon City International Film Festival)
ADVERTISEMENT - CONTINUE READING BELOW
Brazenly disturbing yet somehow fascinating to watch, Purgartoryo's bone-chilling events play out like a scene straight from its titular namesake. At the center of its depraved world is Ilyong, whose death opens us to the dark side of a small town's funeral home. Its excellent cinematography, coupled with commendable ensemble performances, leave a lasting impression long after the credits roll.
Singing in Graveyards
Directed by: Bradley Liew
Release date: October (QCinema: Quezon City International Film Festival)
First screened at the 2016 Berlin International Film Festival and Venice Film Festival, Singing in Graveyards is an engaging character study about a washed-up musician desperate for a big comeback. Pinoy rock icon Pepe Smith plays the musician, who also happened to spend most of his career impersonating—wait for it—Pepe Smith. It's all very meta with plenty of tongue-in-cheek humor, but it really hits home once his grandiose delusions crumble around him.
ADVERTISEMENT - CONTINUE READING BELOW
Patay Na Si Hesus
Directed by: Victor Villanueva
Release date: October (QCinema: Quezon City International Film Festival)
Cannes winner Jaclyn Jose flaunts her comedic chops as Iyay, a single mother who learns that her estranged husband has passed away. She drags her three children—Hubert, who has Down's syndrome; Jude, a lovesick transman; and Jay, a carefree teenager—into a cramped van for an epic road trip to the funeral. Charming, relatable, and an all-around feel-good time, this film is for anyone who has ever spent a road trip or holiday bickering with their family.
Baka Bukas
Directed by: Samantha Lee
Release date: November (Cinema One Originals Film Festival)
A film very much of the millenial generation, Baka Bukas is about Alex (a wonderful Jasmine Curtis, who continues to show how good she is as an actress), a lesbian who has come out to everyone but her best friend Jess (Louise delos Reyes, also great in this). Funny, endearing, romantic, but also meaningful and touching, Samantha Lee's work is personal but also deeply felt on a more universal level. Baka Bukas is more than just an LGBT representation film; it's also one of the year's best films about love, period.
2 Cool 2 Be 4gotten
Directed by: Petersen Vargas
Release date: November (Cinema One Originals Film Festival)
This Best Picture winner is about Felix (Khalil Ramos), a friendless overachiever in high school. His life changes when he befriends two half-American transfer students; he soon finds out that their glamorous life isn't what it seems. Veering away from the usual coming-of-age formula, 2 Cool 2 Be 4gotten is a dark and sobering venture into adolescence. The quintessential '90s nods are a plus, too.
ADVERTISEMENT - CONTINUE READING BELOW
Ang Kwento Nating Dalawa
Directed by: Nestor Abrogena
Release date: November (commercial release)
Slow films, with its long takes and even longer moments of silence, aren't for everyone. But as with everything good in life, patience breeds reward. The same is true for this sincere little film, which depicts the doomed love story between Sam (Nicco Manalo) and Isa (Emmanuelle Vera). Director Nestor Abrogena takes a very understated approach, allowing his audience to bask in their constantly transitioning relationship: Are they or aren't they? It's a message that speaks to many, resonating loud and clear even in its quiet moments.
Forbidden Memory
Directed by: Teng Mangansakan
Release date: November (Cinema One Originals Film Festival)
In September 1974, at least 1,500 Moro residents from Malisbong, Sultan Kudarat were massacred under the Marcos regime, undergoing unspeakable horror. It's no surprise this eye-opening filmwent home with the Best Documentary trophy, as it unflinchingly gives a voice to the survivors of what is now known as the Malisbong Massacre. In this day and age, it's a must-see reminder of the history we must never sweep under the rug.
Share this story with your friends!
---
Help us make Spot.ph better!
Take the short survey
Load More Stories