10 Fresh Tunes to Listen to This March
We share tracks by Katy Perry, Lana Del Rey, UDD, 3D, and more!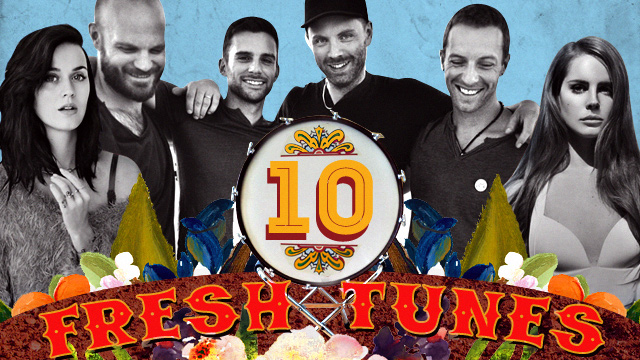 (SPOT.ph) This March, we invite you to listen to Katy Perry's futuristic-pop single, Coldplay and The Chainsmokers' surprise collab, Lana Del Rey's lush love song, Maggie Rogers' folk-pop number, and Khalid's summer anthem. Our homegrown artists UDD, 3D, Flying Ipis, Clara Benin, and TheSunManager have quality tunes for you, too. Happy listening!
Song: "Chained to the Rhythm"
Artists: Katy Perry feat. Skip Marley 
Katy Perry just released her music video for "Chained to the Rhythm," where she takes us on a tour of the pastel-colored, Jetsons-inspired theme park called Oblivia. We later find out the seemingly perfect place isn't what it appears to be. The song and visuals perfectly match, thanks to the colorful pop sound and the social commentary.
Fun fact: The single was first released in early February, and she performed it live days later at the Grammy Awards.
Song: "Unti-Unti"
Artist: UDD
UDD never fails to tug at our heartstrings. Everyone's favorite local band recently released a groovy yet touching love song, which opens with UDD's familiar, head-bopping sound. Vocalist Armi Millare speaks for all the heartbroken when she croons, "Ang pait at ang sakit na dati'y wala naman, ngayon ay hindi na mailagan."
Fun fact: The song was used for Globe's Valentine's Day campaign.
Song: "Something Just Like This"
Artists: Coldplay and The Chainsmokers
The collaboration is a hit or miss; it's either you love it or hate it. But hey, have a listen and decide for yourself. The difference between the two acts' styles are well defined in the song, with Chris Martin showcasing his low-to-high vocals and the electronic duo adding their recognizable EDM grooves.
ADVERTISEMENT - CONTINUE READING BELOW
Fun fact: The song was debuted live at the BRIT Awards.
Song: "Burnout"
Artist: 3D (Danao, Dancel, Dumas)
Revive your love for this Sugarfree original with 3D's stripped-down version. Johnoy Danao, Ebe Dancel, and Bullet Dumas have been performing the song in their sold-out gigs, but we're happy to finally hear an official recording. Each artist brings something superb to the table and showcases his signature style.
Fun fact: The song is part of the official soundtrack of the film I'm Drunk, I Love You.
Song: "Love"
Artist: Lana Del Rey
American singer Lana Del Rey is back with a new tune. "Love," the lead single from her forthcoming fifth studio album, features the same rich sound we've come to love. The slow and dreamy number is made more enchanting with Lana's elegant vocal styling.
CONTINUE READING BELOW
Recommended Videos
Fun fact: The song was originally titled "Young & In Love."
Song: "Walust"
Artist: Flying Ipis
Flying Ipis kicks ass in their new single, "Walust." The screeching guitars and angry vocals stand out in this garage-punk rock track. The song perfectly captures the dangerous yet playful energy of this all-girl band.
Fun fact: The band will launch its new album, The Roach Motel, on March 3.
Song: "On + Off"
Artist: Maggie Rogers
Music newcomer Maggie Rogers is taking advantage of her momentum. Her latest single features her unique take on folk-pop music but with more a electronic touch. In "On + Off," Maggie also shows off her cool vocals and songwriting prowess.
Fun fact: Maggie caught everyone's attention with her original song "Alaska," which wowed musician and producer Pharrell Williams. 
ADVERTISEMENT - CONTINUE READING BELOW
Song: "Wine"
Artist: Clara Benin
Clara Benin recently shared a video of a song she never officially released. The acoustic track, which proves how clean and fresh her singing voice is, tackles dangerous love—the kind that leaves you lost when it's gone.
Fun fact: Clara is reportedly taking a break from performing live and is focusing on promoting her music online, plus other endeavors.
Song: "American Teen"
Artist: Khalid
This artist to watch just released your next summer anthem. "American Teen," his follow-up to his hit single "Location," features some '80s pop sensibilities and is enhanced by Khalid's warm warbles. The relaxed yet danceable single nicely ends with an acoustic section.
Fun fact: The song is from his debut album of the same title, which drops March 3.
Song: "Secrets"
Artist: TheSunManager
You know indie-folk artist TheSunManager's lead single from her debut album is something special when it makes you daydream all things beautiful. "Secrets" features a full-band accompaniment, making the sound as lush as its lyricism.
Fun fact: TheSunManager is musician April Hernandez. Her influences include The Civil Wars, Sara Bareilles, Bon Iver, and Fleetwood Mac.
Share this story with your friends!
---
Help us make Spot.ph better!
Take the short survey
Load More Stories