10 Shows to Watch After Riverdale
Waiting for Season 2? Pass the time with these picks.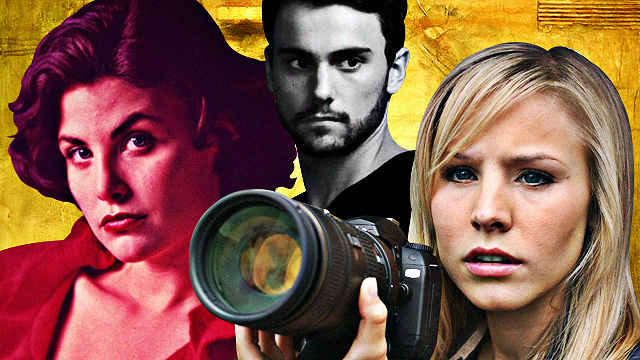 (SPOT.ph) Eleven weeks fly by so fast when you're watching a show as addictive as Riverdale. With Netflix's breakout show coming to a close very soon, you're probably already on the lookout for your next binge-worthy series. Here, we list 10 series that are similar to Riverdale in some way, whether it's the teen drama, the juicy murder case, or just the overall dark, gloomy, and aesthetically pleasing tone.
Veronica Mars
This early 2000s TV classic isn't as dark or sinister as Riverdale, but it features a similar small-town murder-mystery that will have you hooked. It stars a much-younger Kristen Bell as the titular teenager who moonlights as a private investigator. Don't worry, there's still plenty of teenage drama to go around and you'll enjoy the cameos of some very familiar faces, too.
Twin Peaks
When Riverdale's trailer was first unveiled, many drew comparisons to this '90s cult favorite, and it's easy to see why. Much like Riverdale and its residents, nothing in the fictional Twin Peaks town is quite like it seems and everyone is harboring a dark secret. And again, much like Netflix's show, Twin Peaks has a healthy mix of crime and the bizarre. You'll be eagerly following FBI agent Dale Cooper's (Kyle MacLachlan) murder investigation in no time.
ADVERTISEMENT - CONTINUE READING BELOW
How to Get Away With Murder
This thrilling gem from Shonda Rhimes has everything a Riverdale fan could want: badass female characters, a whodunit mystery, and good old-fashioned hookups and breakups. Oscar winner Viola Davis plays Annalise Keating, a brilliant criminal defense attorney who hires the best and most ambitious members of her class to help solve real-life cases.
Gossip Girl
Okay, the swanky Upper East Side is nowhere like the quaint Riverdale town, but its characters may have more in common than you think. For instance, many have likened the onscreen friendship of Betty and Veronica (Lili Reinhart and Camila Mendes) to that of Serena and Blair (Blake Lively and Leighton Meester). Come to think of it, you can also draw parallels to resident rich mean girl, Cheryl Blossom (Madelaine Petsch). Then there's Jughead (Cole Sprouse), whose brooding outsider status is similar to Dan (Penn Badgley), or Archie (KJ Apa) who is also comparable to Nate (Chace Crawford)...the list goes on.
ADVERTISEMENT - CONTINUE READING BELOW
Scream
This TV adaptation of the hit horror franchise hits all the right notes of intrigue, high school drama, and small-town murder. After a cyber-bullying incident results in a grisly death, a group of students suddenly become the target of a serial killer. Suddenly, the dark secrets of their tiny community resurfaces.
Marvel's Jessica Jones
If you love and can't help but root for Riverdale's awesome female characters, you'll probably fall in love with Jessica Jones, too. Mirroring the former's crime-show elements, this Marvel adaptation has Krysten Ritter playing a former superhero-turned-private investigator. Jessica Jones is unafraid to tread into darker territory, dealing with mature themes such as PTSD and abuse.
Scream Queens
On paper, Scream Queens seems interesting enough, as it centers on a college campus being terrorized by a mysterious serial killer. What sets it apart, however, is its biting, self-aware satire while still offering enough intrigue to keep its audience interested. Its sharp pop culture-laden script is very Riverdale too, if you ask us.
ADVERTISEMENT - CONTINUE READING BELOW
Pretty Little Liars
A foreboding murder, a town full of secrets, amazing female friendships, and an illicit teacher-student affair—there are plenty of PLL elements that fit the Riverdale mold. And like the casting of Luke Perry in the latter, PLL also has its own roster of '90s stars playing parents: Laura Leighton and Chad Lowe of Melrose Place fame.
Bates Motel
Inspired by the 1960 Alfred Hitchcock classic, Bates Motel takes a look at the harrowing relationship of a young Norman Bates (Freddie Highmore) and his infamous mother (Vera Farmiga). This psychological horror takes place in an idyllic fictional town—but with a more modern setting—delving into the secretive lives of its residents.
Dawson's Creek
Both Riverdale and Dawson's Creek are executive produced by Greg Berlanti, which means you're going to see a good handful of similarities...yes, even if they're decades apart. You can liken Dawson and Joey's friendship to that of Archie and Betty's, but you also have a teacher-student romance, a small-town setting with small-town drama, teenaged angst, and that incredibly eloquent dialogue between high school students.
ADVERTISEMENT - CONTINUE READING BELOW
CONTINUE READING BELOW
Recommended Videos
Share this story with your friends!
---
Help us make Spot.ph better!
Take the short survey
Load More Stories