10 Awesome Netflix Original Movies You Might Have Missed
There's more to Netflix than just TV shows.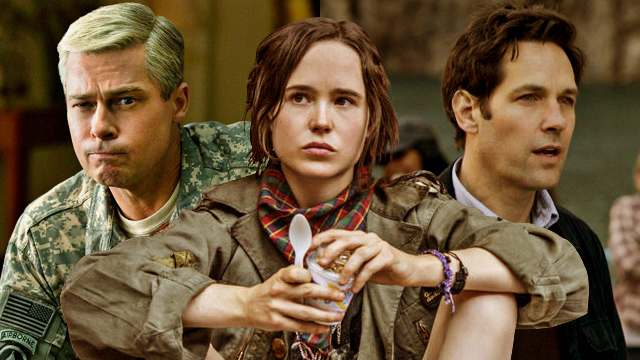 (SPOT.ph) If—like us—you've spent countless weekends on the couch and binge-watching every Netflix Original Series that piques your interest, then you're probably at the point where you've just run out of things to watch. (Or you're just eagerly waiting for Riverdale to come back.) Thankfully, there's more to Netflix than just their TV shows!
ADVERTISEMENT - CONTINUE READING BELOW
Over the years, they've been steadily expanding their Original Movie lineup, filling it with films that span across different genres—sci-fi, romance, quirky dramas, you name it. In fact, plenty of their movies have already earned critical acclaim, such as Bong Joon Ho's Okja (which is currently in the Cannes Film Festival) or Martin Scorsese's exciting The Irishman (an onscreen gangster-themed reunion of Al Pacino and Robert De Niro).
We handpicked 10 underrated Netflix movies that are worth a watch. You might just be surprised at the star power alone.
The Fundamentals of Caring (2016)
Stars: Paul Rudd, Selena Gomez, and Craig Roberts
Paul Rudd is no stranger to the dark comedy genre, so he's a perfect fit for this poignant movie. He plays Ben, a novelist-turned-caregiver who is assigned to Trevor (Craig Roberts), a shy kid with a rare disorder. Ben manages to convince Trevor to take a cross-country road trip so the latter can reconnect with his estranged father. Along the way, they (naturally) find hope, friendship, and even love.
ADVERTISEMENT - CONTINUE READING BELOW
Beasts of No Nation (2015)
Stars: Idris Elba, Abraham Attah, and Kurt Egyiawan
Written and helmed by True Detective director Cary Fukunaga, this horrific war drama is about a young boy who becomes a child soldier to fight in his country's civil war. The film first garnered acclaim at the 72nd Venice Film Festival (where it won Abraham Attah an acting trophy) and later, screened at the Toronto International Film Festival. It also made its rounds in the awards season circuit, including the Screen Actors Guild Awards, the BAFTAs, and the Golden Globes.
Tallulah (2016)
Stars: Ellen Page, Allison Janney, Uzo Aduba, and Zachary Quinto
Former Juno co-stars Ellen Page and Allison Janney reunite in this engaging family drama, though they aren't exactly a mother-daughter duo. Instead, Page plays Tallulah, a young and homeless petty thief whose path crosses with her boyfriend's mother, Margo (Janney). They form an unlikely bond when they try to raise an abandoned child together.
ADVERTISEMENT - CONTINUE READING BELOW
Tramps (2016)
Stars: Callum Turner, Grace Van Patten, and Mike Birbiglia
A heist, mistaken identity, and even romance? It's possible in this gem from the Toronto International Film Festival. Two strangers from different walks of life team up to carry out a simple deal: exchange a suitcase with another. When they accidentally swap the wrong bag, the two unlikely criminals are thrown in an epic misadventure throughout New York.
XOXO (2016)
Stars: Sarah Hyland, Graham Phillips, and Chris D'Elia
In the mood for something less dramatic? XOXO takes you in the vibrant and colorful world of music festivals through the eyes of six strangers whose lives collide in one fast-paced night. The movie was shot on location in various concerts, raves, and festivals across the U.S. Come for the eye-popping visuals and romantic story, but you'll be staying for the amazing music.
The Discovery (2017)
Stars: Rooney Mara, Jason Segel, and Robert Redford
ADVERTISEMENT - CONTINUE READING BELOW
Featuring an all-star cast, this provocative sci-fi delves into the concept of an after-life—which is discovered by Robert Redford's character, Dr. Harbor. The scientific breakthrough triggers a pandemic of suicides, which leads Dr. Harbor's skeptical son, Will (Jason Segel), to investigate.
Burning Sands (2017)
Stars: Trevor Jackson, Alfre Woodward, and Trevante Rhodes
Trevante Rhodes first impressed critics in the 2016 Best Picture winner Moonlight. He shows the same acting prowess in this brutal and gripping indie film about a college fraternity's violent hazing rituals. A promising student and favored pledgee (Trevor Jackson) must choose between honoring the fraternity's code of silence or standing up to the abusive violence.
Win It All (2017)
Stars: Jake Johnson, Keegan-Michael Key, and Joe Lo Truglio
New Girl star Jake Johnson plays Eddie, a small-time gambler who agrees to watch an acquaintance's duffel bag while the latter is in prison. Naturally, he peeks inside, sees the money, and winds up in debt. Things get hilariously complicated when the prison sentence is suddenly reduced, and Eddie must find a way to earn back all the money.
ADVERTISEMENT - CONTINUE READING BELOW
Divines (2016)
Stars: Oulaya Amamra, Jisca Kalvanda, and Kevin Mishel
Initially screened in the Directors' Fortnight section of the 2016 Cannes Film Festival (as well as a number of other prestigious festivals), the movie was eventually released worldwide by Netflix. It revolves around Dounia (Oulaya Amamra), an ambitious Muslim teenager who drops out of vocational school to become a drug dealer in order to give herself a better life—and fast. Her dangerous life is turned upside down when she meets a young dancer, who opens a new window of opportunity for her.
War Machine (2017)
Stars: Brad Pitt, Topher Grace, Ben Kingsley, and Anthony Michael Hall
Brad Pitt returns to acting with a war film that is part-reality and part-harsh satirical comedy. Pitt plays General McMahon, a proud and charismatic four-star general who is sent to Afghanistan to end the war. Everything goes well until a journalist's no-holds-barred expose threatens his success. The movie is slated to start streaming on May 26.
ADVERTISEMENT - CONTINUE READING BELOW
Load More Stories