10 New Songs to Add to Your Playlist This July
Find out what's new from The xx, The Killers, Haim, and more!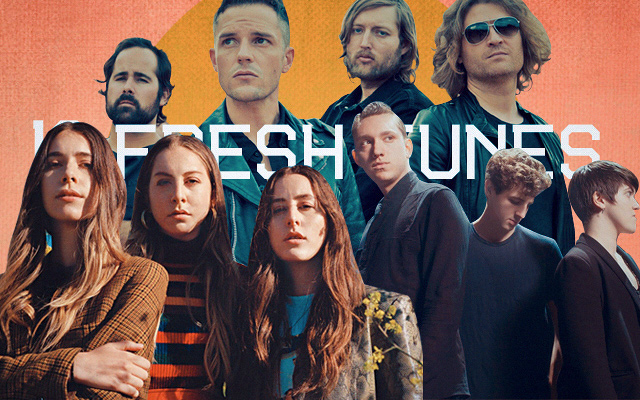 (SPOT.ph) Time to take a break from your crazy social media feed because we've got tunes that can put you in a good mood. Hear The xx's pop-laced single, The Killers' funky creation, Haim's newest ballad, Jordan's Rakei's bewitching track, and Calvin Harris' groovy ditty featuring Katy Perry, Pharrell Williams, and Big Sean. Our every own CRWN, Clara Benin, Hansom, Keiko Necesario, BP Valenzuela, Nick Lazaro, and Cheats won't fail you, either.
Song: "I Dare You"
Artist: The xx
The xx's latest offering is both a visual and aural delight. The six-minute music video doubles as a short film, scored by the English indie-electronic trio. The mid-tempo "I Dare You" has a strong pop vibe, signaling the band's move to appeal to a larger audience. Don't worry, it's still very much an xx tune.
Fun fact: The music video for "I Dare You" features Paris Jackson and Stranger Things actress Millie Bobby Brown, among other young stars.
Song: "Sailing"
Artists: CRWN feat. Clara Benin
We can't decide which we like more: Benin's vocals on acoustic folk numbers or on electronic pieces like this one. CRWN and Benin get together to produce "Sailing," a chill track with subtle beats that are satisfying from start to finish.
Fun fact: "Sailing" is the two artists' first collaboration.
Song: "The Man"  
Artist: The Killers
The Killers are getting groovy in their new song. "The Man" is a rock-disco tune that conjures images of glitter, dancefloors, and cheesy dance moves. There's a lot going on in the bass-driven single, but a listen or two will let it grow on you.
ADVERTISEMENT - CONTINUE READING BELOW
Fun fact: "The Man," the band's first song in five years, comes from their fifth album, Wonderful Wonderful.
CONTINUE READING BELOW
Recommended Videos
Song: "Stretching"  
Artist: Hansom
Local act Hansom, composed of the four Vergel de Dios brothers, get rowdy in their latest single, "Stretching." The sound is reminiscent of Green Day, thanks its punk-rock goodness and the siblings' unrelenting energy.
Fun fact: The band is currently working on a new EP with producer Nick Lazaro.
Song: "Want You Back"
Artist: Haim
The Haim sisters are out with a new tune that retains their '80s- and '90s-inspired sound, albeit with a more radio-friendly digital touch. The latter part of the song could either be refreshing or unsettling for fans, but the honesty in their songwriting remains intact.
Fun fact: Haim's new album, Something To Tell You, comes out this month.
Song: "Forever Alive"
Artist: Keiko Necesario
"Forever Alive," the final single from Keiko Necesario's self-titled first album, is a soothing romantic composition. The mellow, guitar-led love song featuring Necesario's jazzy vocals will make you want to slow dance with your person for no special reason.
ADVERTISEMENT - CONTINUE READING BELOW
Fun fact: Necesario's recently launched new ep, [escape], will be available online this month.
Song: "Sorceress"
Artist: Jordan Rakei
Multi-instrumentalist Jordan Rakei's latest offering boasts a rich electronic soundscape that's easy to get lost in. Aptly titled "Sorceress," the track is sure to cast a spell on you.
Fun fact: Rakei was born in New Zealand and is currently based in London.
Song: "Minimize"
Artists: BP Valenzuela feat. Nick Lazaro
BP Valenzuela and producer Nick Lazaro's latest collaboration is a lovable indie-electronic release. Valenzuela starts the track singing a cappella, and the arrangement gradually becomes lusher and lusher thanks to her friend and creative partner, Lazaro.
Fun fact: "Minimize" is off Valenzuela's new album titled Crydancer.
Song: "Feels"
Artists: Calvin Harris feat. Pharrell Williams, Katy Perry, and Big Sean
Big names contribute to Calvin Harris' latest single. "Feels" has Katy Perry, Pharrell Williams, and Big Sean lending their vocals to the groovy and psychedelic '70s-influenced track. Is anyone else reminded of Earth, Wind & Fire here?
Fun fact: Harris' new album, Funk Wav Bounces Vol. 1, also features Frank Ocean, Migos, Ariana Grande, Future, Khalid, and John Legend, among others.
Song: "Crumble"
Artist: Cheats
"Crumble," the first track from the band's forthcoming album, Before the Babies, mixes dreamy and angsty elements. We especially love the guitars, but probably not as much as we love vocalist Candy Gamos' dance moves in the music video.
Fun fact: The music video was shot on a Sunday on the MRT, with real passengers around.
ADVERTISEMENT - CONTINUE READING BELOW
Share this story with your friends!
---
Help us make Spot.ph better!
Take the short survey
Load More Stories