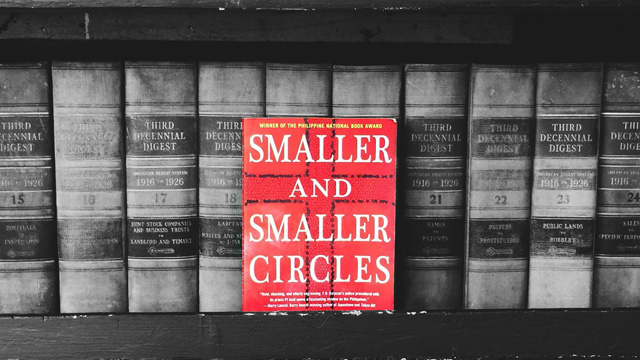 (SPOT.ph) Manila—with all its grimy streets and dark alleys—would make a great (and perhaps all too familiar) setting for a crime novel. So when a story like Smaller and Smaller Circles hit shelves, it didn't just hit close to home: it gave readers a look into a complex and frustratingly broken system and the handful of good people who still strive to make a difference despite the odds.
Smaller and Smaller Circles follows two Jesuit priests, Father Gus and Father Jerome, who are called by the NBI to track down a serial killer that leaves the mutilated bodies of young boys in Payatas. The film is helmed by Raya Martin (2009's Independencia and 2013's How to Disappear Completely).
The internationally published novel by F.H. Batacan struck a chord across the globe, so it was only fitting that it gets the onscreen adaptation it deserves. And perhaps no one was up to the daunting task more than Artikulo Uno Productions, who previously mounted another ambitious yet immensely successful film in 2015—Heneral Luna.
ADVERTISEMENT - CONTINUE READING BELOW
SPOT.ph chatted with co-producer and co-writer Ria Limjap about the highly anticipated crime noir-thriller, and discussed everything from the perils of adapting a book to shooting on location and whether the film will be joining the MMFF.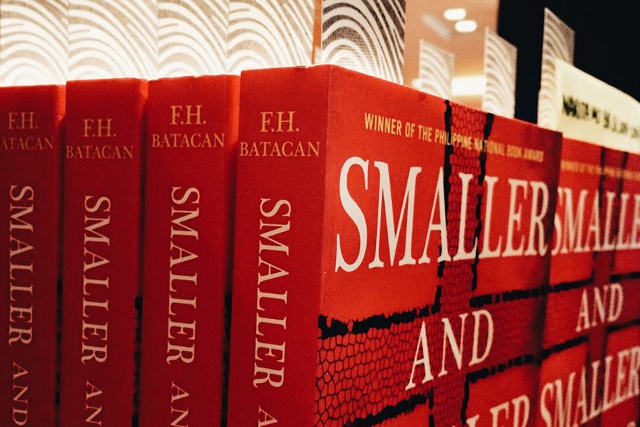 How did you first come across Smaller and Smaller Circles?
In 2015, I was working on the marketing campaign of Heneral Luna—I was associate producer for the film. In the course of that, I was at the Philippine Literary Festival where Anvil Publishing invited us to screen [the movie] for teachers. So while they were watching, I was browsing the retail section and I saw a red book with a very interesting title. I picked it up and I read the synopsis at the back—you know, Payatas, the '90s, serial killer, Jesuit priests...I picked it up and when I went home, I read it cover to cover and I didn't stop.
Literally, the first that came to my mind after reading it was, "Wow, this would make a really good movie." The way she wrote it was very cinematic. The director of this film, Raya Martin, is a dear friend of mine. We're constantly talking about projects we could do together so I told him about it, and he said that he read the UP Press edition [first published in 2000]. Immediately, Raya also liked the idea of adapting it.
We talked to [co-writer] Moira Lang and sure enough, she knew the author from way back in the '90s. And she said, "Actually, matagal ko na gustong i-adapt." It just all came together and it flowed really well.
Were you in touch with F.H. Batacan throughout the whole process?
Yes, she's amazing! It really, really helped that Moira and Ichi [the author's nickname] knew each other. Raya and I were in New York in 2015 and we had a meeting with the book's publisher in their office. To have a face-to-face with these people...I think it showed that we were dead serious about doing this project. So they were very encouraging and they asked us to draw up a proposal. So Raya and I went up to Baguio and I worked on a proposal, and then we acquired the rights to the film. It happened very quickly. By January 2016, we already knew we were going to do it and by April, we officially had the rights.
ADVERTISEMENT - CONTINUE READING BELOW
We were in touch with Ichi throughout the [script] writing process. Raya created an outline based on the book and we had several meetings to see which parts needed tweaking—not because it's unsuitable, but because it's tricky going from literature to cinema. We were always discussing what details to change or if we would need to alter the plot a little.
Ichi, who is based in Singapore, wasn't involved in the creative decisions, but every time we had a question, we could run to her. She provided us with so many good details, like backstories for characters in the book. She even gave us a list of songs that Father Gus would listen to. But at the same time, hindi siya nakialam. Ichi is really wonderful. It was so nice to know that she trusted us with her book. There was no clash, nothing. She has seen a rough cut and she liked it.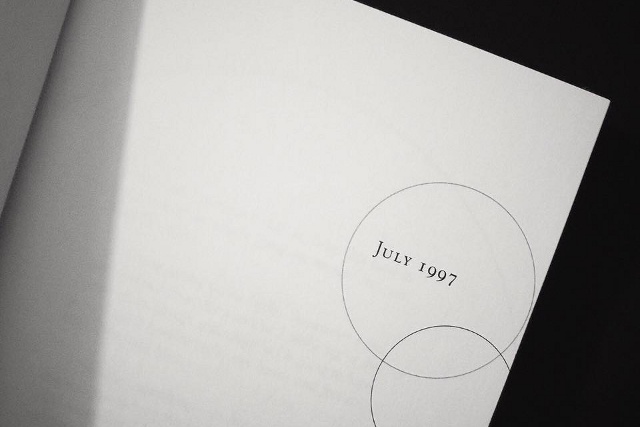 How do you reconcile staying true to the source material and tweaking it to fit a film's different constraints?
It really matters that Raya, Moira, and I all love the source material. We didn't really want to stray too far, but you have to understand that a book is a book and a film is a film. There are things that work for a literary work but won't work for cinema. For instance, a book has 400+ pages. You have so much space to describe. A film has a script that's probably about 120 pages long and usually, each page is about a minute. So 120 pages is 120 minutes—two hours. It's super condensed and [film] a visual language.
There were some things that we really had to tweak para you can see it onscreen. We were also more free with the characters: We changed the gender of two characters. In the book, it's a man but in the film, it's a woman because we thought it would be more interesting and relevant for today. But really, I think we're close to the source material.
How long did it take to work on the script? What was the adaptation process like? 
We wrote the script for about two to three months. Raya did the outline, then it moved to me. Guided by the book and Raya's outline, I put it into screenplay format. As I was going along, I would talk to Raya and Moira about it. Then we had a shooting script, which is your basis for pre-production. It's very rare—at least in my experience—that you stick to the shooting script word-for-word. As a writer, you can't get attached to what you write because it will change 90% of the time. First of all, your actors are artists with their own creative process and will say, "Parang this line is weird because I don't think the character would say it that way" so you have to take that into consideration.
ADVERTISEMENT - CONTINUE READING BELOW
Moira, who really has an ear for dialogue, did that part. The novel is in English and the screenplay is in English, but we wanted the film to be organic. So if the two priests are talking, maybe it'll be English or Taglish. If they're talking to the parents of the kid from Payatas, siyempre Tagalog. Kung kausap nila si Director Lastimosa, may lengwahe rin sila. As we were shooting, [the script] really changed. A couple days after a shoot, we'd revisit it again. Sometimes it sounds weird, sometimes it's too wordy...so it was always changing. But the blueprint—the book—is really good, and we didn't want to change that. There are direct quotes from the book.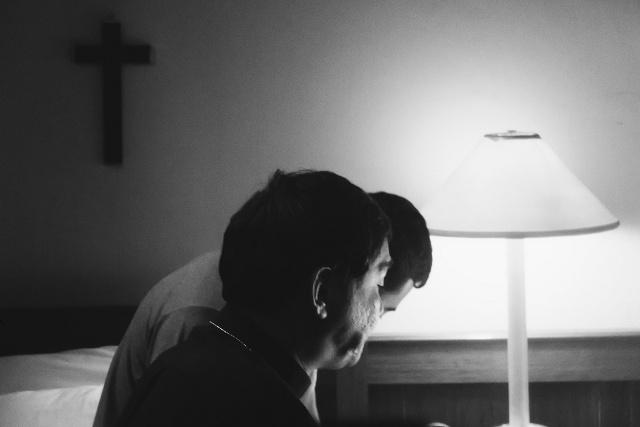 There are fans of the book and there are audiences who are going into the cinema not knowing what it's about at all. Who does the adaptation cater to more?
I understand that maybe not all fans of the book will like the adaptation and there's always going to be someone who says, "Oh, the book is better." That's fine, and I understand that some people really prefer the book. I think even if you haven't read the book, it'll stand on its own. We just try to do the best that we could and you know, we're happy with it.
This is set in the '90s, but were there certain topics that you and the team decided to tweak to fit the current political or social climate?
There's a passage in the novel—and we posted it as a deleted scene on Facebook—with TJ Trinidad in the NBI office. There's this [conversation that goes], "Talaga bang may serial killer sa Pilipinas?" Jake Valdez, an NBI investigator [played by TJ], replies that they've had cases with bodies na nakagapos 'yong kamay, naka-tape 'yong ulo, may karatola. We got a lot of [Facebook] hits for that post. In the final cut of the movie, we had to trim that scene a bit kasi ang haba ng usapan, pero nasa Facebook 'yong buong scene. And it's so eerie that F.H. Batacan wrote this decades ago and it's set in 1997—so it's been happening. The scariest part is that nothing has changed, but we're almost becoming desensitized with it.
ADVERTISEMENT - CONTINUE READING BELOW
It's not like we were trying to make a political statement because we were just following the book, but yes, it's significant.
It's a very graphic—even brutally honest—book. Was there any point where you may have wanted to tone down the graphic or sensitive nature for the audience?
No, we didn't want to tone down anything, but we had an awareness of what we didn't want to do. For instance, while we were writing the screenplay, the film Spotlight came out. It was about the alleged abuse in the Church and it's based on a real team that investigated this entire conspiracy of silence. It's a story about abuse but they never show the abused. So I felt that was a very sensitive and subtle portrayal of what happened to these people. They don't sensationalize it. So of course, we wanted to avoid sensationalizing this. But otherwise, why tone down a story that's supposed to show how dirty and terrible things really are?
What's your target MTRCB rating? R-18? R-16?
I don't think it merits an R-18 kasi compared to a lot of other stuff out there, it's super mild. I think we're gunning for an R-13. We feel that it's a fair rating, and we're prepared to defend it. [Are you going to be as graphic with the murder scenes as the book was?] Well, I can't really say it just yet. [laughs] You'll have to wait and see.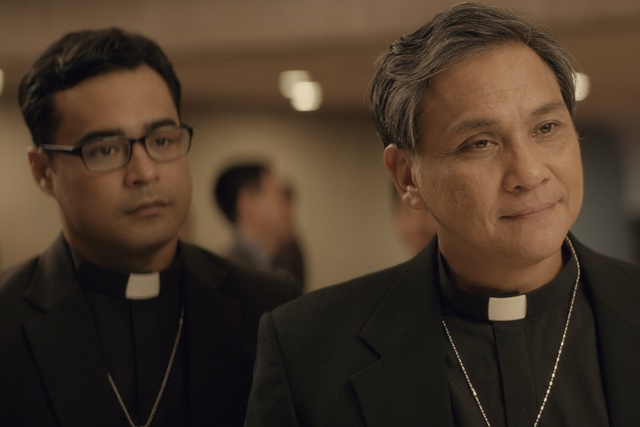 Sid Lucero as Father Jerome and Nonie Buencamino as Father Gus
Were you involved in the casting process?
Oh yeah, it was so much fun I remember playing fantasy casting [with Raya] and tossing around names. Of course, the first two people we cast were the two priests. For Father Gus, we were both quiet until Raya said, "Nonie Buencamino." We've both worked with Nonie—he's theater-trained, his wife is also a very highly regarded actor, he's just amazing. We knew he didn't fit the physical description—in the book, Father Gus is tall, mestizo, he has a shock of white hair, he's like an aging rock star—Nonie is many things, but he's not an aging rock star. [laughs] But he's a fine actor and we knew he could do it.
ADVERTISEMENT - CONTINUE READING BELOW
For Father Jerome, of course there are a number of young actors you could think of, but immediately, we thought of Sid Lucero. Again, one of the best actors of his generation and obviously, he has it in its genes. And what we love about Sid is that he fit the physical description of Father Jerome. It was so cool to cast him as a priest kasi Sid is always cast as the bad guy or the gago guy or the sidekick...alam mo 'yon? Imagine him as priest! We had to cover his tattoos! We spent a lot of money on this makeup we brought in from the States that covered tattoos because it was supposedly the best for it...and Sid is tattooed all over, arms, legs...But yeah, he was great.
And then for Joanna, the journalist, who is loosely sort of based on F.H. Batacan—that's her because she was a journalist in the Philippines in the '90s. In the book, Joanna is not a thin, pretty girl. She's a tough cookie, she has a low voice, she's intimidating, aggressive, really smart...then I thought, "What about Carla Humphries?" Immediately, Raya agreed. I didn't see 10,000 Hours but apparently she was really good at that. I had seen her other work, which was more teen flicks and comedies, but Carla is amazing because she's got this quality. Parang she's vulnerable and quirky, but at the same time, she's also a tough cookie. She's got great timing and she's never the bida. She always gets the sidekick, funny girl, the quirky best friend type, but she's never really The Girl. So we thought, "Let's make her The Girl in this one."
Did you have to audition everyone else?
Actually, we didn't audition except for the kid talents, which our casting director handled. But 90% of the cast were handpicked. We really thought about who would be good as Attorney Arcinas: Raffy Tejada is a theater actor and a teacher at the College of Saint Benilde. I saw him in a play with Cherie Gil at PETA and he really held his own with her. He was so, so good at this play. We actually had a different actor in mind but we couldn't get him for scheduling reasons. So I told Raya about him.
And then of course, Bembol Roco. We were just all floored that he said yes. He's super cool, he's a great guy. He actually danced at our wrap party! [laughs] We also really reached out to TJ Trinidad. I've always wanted to work with him and he's very versatile. He's really coming into his own as an actor. So we're super happy with our cast. We love our cast. Really, really love them. They're all amazing.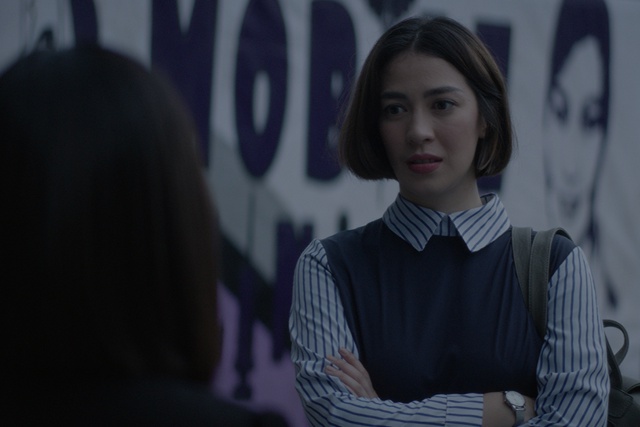 ADVERTISEMENT - CONTINUE READING BELOW
Carla Humphries as journalist Joanna Bonifacio
What was the shoot like? Did you film on location?
Yes! It was very bloody...Our schedule was pretty intense. When you shoot a film, you have to work around actors' schedules. Our actors could only shoot on certain days of the week because other days, they shoot for TV. Sometimes, when the teleserye shoots go on and on, they have to go from set to set. There were times when they barely had any sleep! It's hard because the hours are long and you're on location, so there are times when you can't control the weather. There was one scene where we had to shoot outdoors at 3 a.m. and it rained for 30 minutes. It stopped but we noticed that the ground was wet, so our continuity was screwed up. So we had to pack it up and shoot for another day. There's a lot of problem-solving involved, and you have to be flexible and patient.
[When exactly was filming?] We shot last year. Principal photography was in May and June 2016. [And you wrapped principal photography...] last year, but we finished post-production in May this year.
That's a quite a long time between shooting and editing…
It is! We really took our time, which is rare. We didn't have a target release date, so we really had the luxury of time in post-production—which I now realize is so important. Our editor, Jay Halili, is fantastic. He really did things to the film that I had never imagined. We also took our time with sound. Our sound designer, Corinne De San Jose, is also really good. You have to have breathing space. You do an edit, you watch it, but you need a little bit of time in between to realize what you have to take out for the next round. I think when you take your time and make the right decisions, it shows in the final product.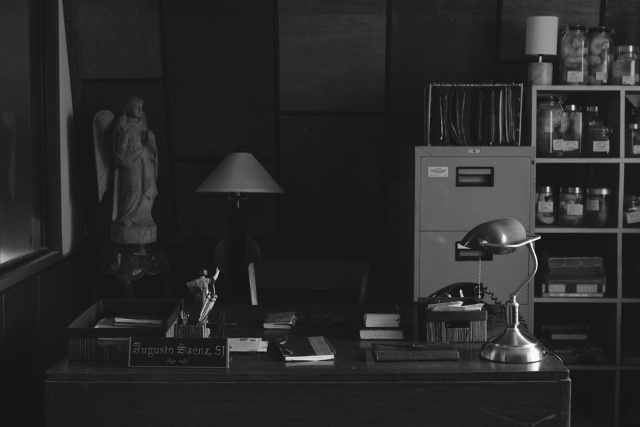 Father Gus Saenz's desk from the film
Will the film have a soundtrack or original music?
We love our music! From the very start, Raya said he wanted to work with [composer] Gardy Labad, who works with the Loboc Children's Choir. All our musical score is by the Loboc Children's Choir so we thought it would be eerie to hear these kids singing and you have a story about dead children...a film's score really makes a difference. [These are all original music] and Gardy composed the original theme. We also have two or three traditional songs and a bit of classical music, too.
ADVERTISEMENT - CONTINUE READING BELOW
There was a previous report that you submitted a script to the MMFF this year…
That's incorrect, we didn't have an intention to submit a script. If you want to join the MMFF, you have to give a letter of intent, which we did. And as we all know by now, the ruling this year is that they'll be accepting four finished films and four scripts. Our intention was really to submit a finished film. Mali lang talaga 'yong kumalat.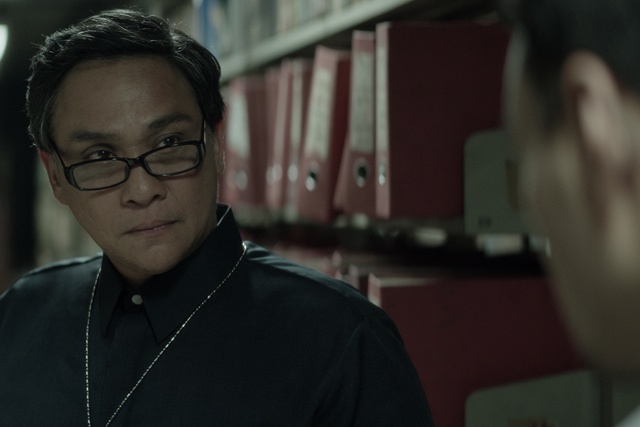 Father Gus
Do you still have plans to submit it as a finished film?
I really think we have to sit down and talk about it. We may, we may not. I just want this film to find an audience to appreciate it. And I think it's there! We feel there's a hardcore audience base out there that really wants to see it. Of course, we want that audience to see it first and then tell people about it...it's really just word of mouth. The audience is really smart; they know they have choices and they can express their opinions because of social media. You can't fool them into thinking it's good when it's really not, because they'll say so. Kakalat talaga 'yan. Tsaka kahit na popular, kunwari rom-com, and people will say "Corny, 'e." So we just really want to reach a lot of people.
It's just super tough because as you know, film distribution favors either Hollywood or popular films with big stars. I have no problem with it—people watch movies for entertainment and escape, and that's fine. I do that. Pero sana they give a fair chance na just because kaunti lang 'yong nanood noong Wednesday 'e iki-kick out na kayo. And it's a Wednesday! Who's gonna watch then? I'd just like the audience to have more of a choice. Not everybody wants to watch Transformers 12 or whatever rom-com is out there. So sana...may choice.
At this point, we're still a little bit "wait and see." The film is finished, but we just need to know if we're submitting it as a finished film or not. There's a little bit [of] unfair advantage, because the four films that were announced are already starting their promo. They're already saying, "Official Entry to the MMFF." What about the four films that will be announced in November? You have five weeks. Is that fair? Doon pa lang, you have to think about it. Do I want to put the film through that? So we'll see. But you know, it's really just about finding the right audience. We're also trying to see if it can go to film festivals abroad...wouldn't it be ironic if we got into a good festival there, and then MMFF rejected us? Then you know nothing has changed.
ADVERTISEMENT - CONTINUE READING BELOW
If you decide not to go the MMFF route, are you still planning a nationwide release?
Yes, for sure. We've already been doing school tours—universities all over—we've gone to Cebu, Dumaguete, Davao, Ozamiz...you know, in Ozamiz, there is one Robinsons Mall with three screens. But the students in Ozamiz are so excited to watch it that they're willing to write the owner of that cinema to say, "Please book [this film] when it comes out." The students in the regions—in Dumaguete, especially—they're so hungry for films. We want as many screens as possible.
That's the problem with MMFF. Smaller malls with say, six or fewer screens, will take the top [performing] four. It's just business, of course, but then who suffers? The audience and people who want to watch it, but how can they? There is always an audience. Think of Cinemalaya and how the CCP is always stuffed with people then, and [this crowd] is young! They're lining up for hours! We have European film festivals, Japanese film festivals, we have local film festivals...people are eager.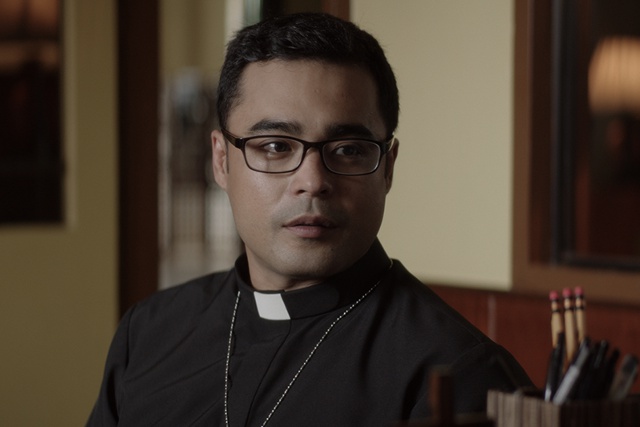 Father Jerome
You also worked on Heneral Luna, and that was also very word-of-mouth…
We were prepping for its marketing for a very long time, and we knew that we had to make content to engage the audience. That film was made to get your attention, of course, but we also did a school tour for it. Jerrold, members of the cast, a team from Artikulo Uno went to 33 universities and talked to thousands of students—this was prior to it being released. You have to prep the audience, 'e. As for social media, we knew we had to do it, but that really evolved. Heneral Luna opened with 100+ screens, it went down little by little—but it was performing well in that it couldn't get kicked out—but the problem there was that by the end of the six-day run, baka wala ng second week, 'e marami pang hindi nakakapanood.
I cannot stress this enough: People really have to watch on opening day. Crucial ang first and second day kasi Wednesday and Thursday 'yon 'e and it's hard because people have school or work, but I was manning the Facebook page of the movie when it opened. Every single message we got was, "Hanggang kalian kayo showing?" And we always replied with, "Hindi namin alam, baka wala na kami bukas. So manood na kayo today." Don't assume that it will run for over a week because you never know. We really need the help of the audience. Watch it as early as you can then talk about it. Even if you don't like it, talk about it pa rin. It encourages discussion.
ADVERTISEMENT - CONTINUE READING BELOW
What do you want audiences to take away from the film?
When I first met F.H. Batacan, I asked her why she wrote a story about a serial killer leaving the bodies of dead young boys in a dump site. She said that she lived in Quezon City and on her way home, she'd pass by Litex Road, which is near Payatas. She was in a van on her way home and stuck in traffic, and there were these street kids running around. If you live in Manila, you're familiar with that sight, so parang jaded na tayo with that. But Ichi's take on it was, "Look at these kids. If one of them disappear, will anyone even notice or care?" And that's how cheap life has become in the Philippines. There's an '80s documentary about Lino Brocka and I saw a part of it, and Brocka said, "Life is cheap in the Philippines." That really stuck [with me]. Ichi was just pointing out how, because there's so much poverty in this country, if one of those kids disappear, who's gonna even know?
We decided on a tagline: "Look closer." And so, Smaller is really a story about the things we do to each other—the bad things, the good things. I want people to think about that and how it affects the person next to you. Of course, it's a crime drama but there also a lot of good characters in the story. Good teachers, good priests, good journalists, good cops...so at the end of the day, it's your choice. If you're faced with a situation where you have to choose, then what do you do?
Share this story with your friends!
---
Help us make Spot.ph better!
Take the short survey
More Videos You Can Watch
Load More Stories