10 Scenic Locations for Your K-Drama Bucket List
Live out your Korean dreams!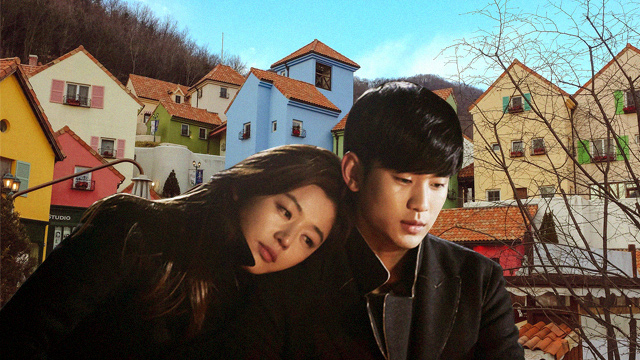 (SPOT.ph) There are plenty of good reasons to fly to Korea: The addictive K-barbecue, the amazing skincare, and yes, the swoon-worthy K-Dramas. (And no, we don't just mean searching for your favorite oppas.) After all, who doesn't want to relive their favorite Korean drama in person—especially when these sights are IG-worthy, too?
If you're planning a trip to South Korea anytime soon, make time in your schedule to see these spots! Don't forget to ready your camera while you're at it.
Muju Resort
As seen in: Boys Over Flowers (2009)
185 Manseon-ro, Seolcheon-myeon, Muju-gun, Jeollabuk-do, South Korea
Gu Jun Pyo (Lee Min Ho) and Geum Jan Di (Ku Hye Sun) may bicker all the time, but the feelings are definitely there—just watch the scenes during their ski trip in Muju Resort. If you're traveling with your significant other and want to create some special memories, this winter wonderland offers leisure activities such as skiing, outdoor hot springs, and even gondola rides to the beautiful peak of Deokyusan Mountain.
ADVERTISEMENT - CONTINUE READING BELOW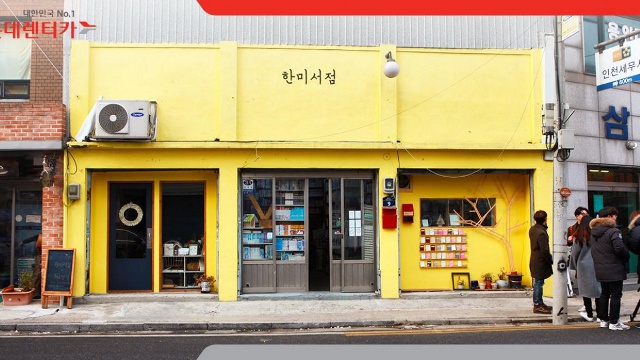 CONTINUE READING BELOW
Recommended Videos
Hanmi Bookstore
As seen in: Goblin (2016 to 2017)
14-4 Geumgok-ro, Dong-gu, Incheon, South Korea
Remember the quaint bookstore that Kim Shin (Gong Yoo) frequently visits? It won't be hard to miss this neighborhood spot in Incheon because one, it's been in the area since 1955; and two, its pale yellow exteriors are an immediate standout along the street. Bookworms will especially love this shop because it sells secondhand books at a very affordable price. And yes, you can definitely make like Kim Shin and Ji Eun-tak while you're there.
ADVERTISEMENT - CONTINUE READING BELOW
Petite France
As seen in: My Love From the Star (2013 to 2014)
1063 Hoban-ro, Cheongpyeong-myeon, Gapyeong-gun, Gyeonggi-do, South Korea
Fans of My Love From the Star will likely remember the scene where the dashing Do Min Joon (Kim Soo Hyun) confesses his feelings for Cheon Song Yi (Jun Ji Hyun). The romantic sequence was shot in a dreamy village called Petite France, best known as The Little Prince Theme Park. It even has a memorial hall dedicated to Antoine de Saint-Exupéry, the author of the celebrated French novel.
When you're done taking photos of the hillside's colorful buildings, you can also check out marionette performances, a special musical tour of the Orgel House (which displays a special 200-year-old music box), and even join plaster art classes where you can make your own Little Prince mascot. Want to keep living the French countryside life? Petite France has 34 guest rooms that can accommodate four to 10 people each.
ADVERTISEMENT - CONTINUE READING BELOW
Sanmotoonge Café
As seen in: Coffee Prince (2007)
97-5 Buam-dong, Jongno-gu, Seoul, South Korea
This spot served as the home of Choi Han Sung (Lee Sun Gyun) in the 2007 series but these days, it's a cozy coffee shop aptly named Sanmotoonge Café, which gives visitors a spectacular view of the valleys and lush mountains. The interiors are homey, but we suggest having your coffee on the terrace so you can really soak in that incredible view. If you want a trip down memory lane, you should visit the first shop of Coffee Prince in Hongdae, which now houses several memorabilia items from the show. Find it at 337-2 Seogyo-dong in Mapo-gu.
Beartree Park
As seen in: Lie to Me (2011)
217 Singsong-ro, Sejong Metropolitan Autonomous City, Jeondong-myeon, Yeongi-gun, Chungcheongnam-do, South Korea
A perfect spot to take in nature is the stunning Beartree Park in Chungcheongnam, home to several indoor and outdoor botanical gardens and even animals that you can see up close. Fans of Lie to Me will recognize it as the mansion of Hyeon Gi-jun's (Kang Ji-hwan) aunt. The park was reportedly built to honor the Manchurian Black Bear, which you can actually see and feed at the park! They also have a Bear Tree Café and a Teddy Bear Shop that patrons can check out after taking a stroll.
ADVERTISEMENT - CONTINUE READING BELOW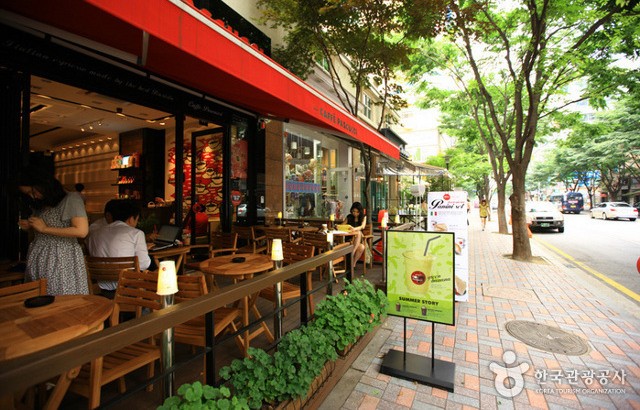 Bundang Jeongja-dong Street Café
As seen in: Descendants of the Sun (2016)
Jeongja-dong, Bundang-gu, Seongnam, Gyeonggi-do, South Korea
You've seen this cozy nook in one of the first episodes of Descendants of the Sun. This is where Captain Yoo Shi Jin (Song Joong Ki) and Sergeant Major Seo Dae Young (Jin Goo) exchange playful banter with adorable "stuffed animal girlfriends" next to them; later on, they bring real dates there.
Just like open-air cafés in Europe, this chic and charming coffee shop also has a patio that lets you sit al fresco with your friends, your significant other, or even by yourself.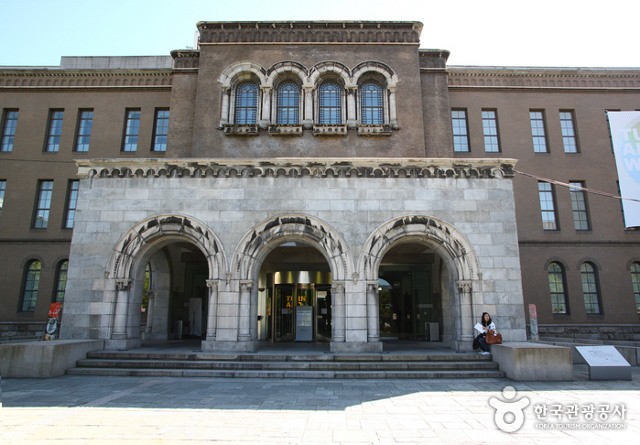 ADVERTISEMENT - CONTINUE READING BELOW
IMAGE Visit Korea
Seoul Museum of Art
As seen in: Weightlifting Fairy Kim Bok Joo (2016 to 2017)
61 Deoksugung-gil, Seosomun-dong, Jung-gu, Seoul, South Korea
You may have noticed the big ball of flowers in the background in the scene when Kim Bok Joo (Lee Sung Kyung) waits for Jung Jae Yi (Lee Jae Yoon) to arrive with medicine. This spot is actually in front of the Seoul Museum of Art, which boasts a beautiful Renaissance façade paired with modern architecture in the back. This three-story building has six exhibition halls, a lecture hall for educational programs for budding Korean artists, and a library that's accessible to the public.
The museum has even hosted collections from renowned artists like Henri Matisse, Pablo Picasso, and Vincent Van Gogh.
Namiseom Island
As seen in: Winter Sonata (2002)
1 Namisum-gil, Namsan-myeon, Chuncheon-si, Gangwon-do, South Korea
It's been over 10 years since Winter Sonata first aired, but the small island still continues to draw crowds who want to relive the immensely popular K-Drama. Majority of the show was filmed here, showcasing the picturesque roads lined with towering trees. Namiseom is small enough that you can explore the entire island by foot in two to three hours, but most tourists prefer to rent a bike. You can opt to ride a boat during the summer, but it's best to head here during fall as this is when the island is at its prettiest.
ADVERTISEMENT - CONTINUE READING BELOW
Facilities include a swimming pool, camping sites, water skiing, and even a theme park with a skating rink. Should you decide to stay a little longer, Namiseom also offers resort villas and bungalows.
Namsan Tower
As seen in: Oh My Ghostess! (2015)
105 Namsangongwon-gil, Yongsan-gu, Seoul, South Korea
Standing 480 meters above sea level, Namsan Tower (also known as N Seoul Tower) may be one the best places to get a good view of Seoul. First built as a broadcast tower in 1969, it is now considered a famous tourist and filming spot for Korean dramas such as Boys Over Flowers, My Love from the Star, and Oh My Ghostess! For those cheesy couples out there, declare your eternal love for your partner with sweet messages on "love locks" that you can hang around the base of the tower.
ADVERTISEMENT - CONTINUE READING BELOW
Cheonjuho Lake in Pocheon Art Valley
As seen in: The Legend of the Blue Sea (2016 to 2017)
4 Art Valley-ro, Sinbuk-myeon, Pocheon-si, Gyeonggi-do, South Korea
This dreamy landscape is a feast for the eyes. It may look familiar to K-drama fans because it was featured prominently in the second episode of The Legend of the Blue Sea. To refresh your memory, the romantic scene shows Se-hwa (Jun Ji Hyun) promising that she will see Dam-ryeong (Lee Min Ho) again, all while wish lanterns float into the air.
Formerly a granite quarry, Pocheon Art Valley was transformed into an art hub in 2009. Today, they offer exhibitions and weekend performances for visitors. Don't forget to geek out at the Astronomical Science Museum, where you can stargaze in their observatory or marvel at their 4D video room.
Share this story with your friends!
---
Help us make Spot.ph better!
Take the short survey
Load More Stories