Santa Clarita Diet Stars Drew Barrymore and Timothy Olyphant on Why The New Season Is Better Than the First
Along with a few clues about what Sheila and Joel have been up to.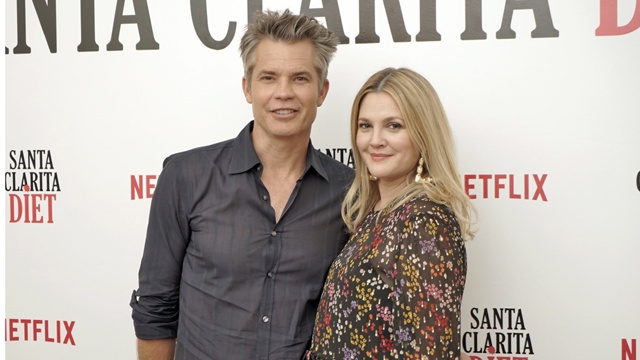 (SPOT.ph) The second season of Santa Clarita Diet picks right up where the first season ended. Sheila (Drew Barrymore) is quickly deteriorating and going feral because of her undead stage—her toe and eye are falling off, and she attacks without even getting provoked. She and her husband Joel (Timothy Olyphant) have been trying to look for a cure, with help from their teenaged daughter Abby (Liv Hewson) and their quirky genius neighbor Eric (Skyler Gisondo). They might have gotten better at the whole killing-people-for-food thing but it's difficult to keep it low-key, especially with the list of missing people in Santa Clarita getting longer and longer. 
Currently in Manila for the red-carpet premiere of the second season, stars Drew Barrymore and Timothy Olyphant took some time to talk to members of the media about what to expect. 
It seems that the family that slays together, really does stay together. The family really is just as close off-screen as they are onscreen. "We're really close, the four of us. And I think it's important for the show," Drew says. She also talks about how much she loves working with Liv and Skyler a.k.a. the two "kids" on the show. "I really like an all-ages party and I like the fact that it's about young people's perspectives as well as a married couple's perspective and I really think that's a nice balance." She continues, "We just have fun, we just get along, and like each other."
ADVERTISEMENT - CONTINUE READING BELOW
And it shows. The second season delves more into Sheila's worsening state, but it also needs the whole team working together to stop the virus that infected her from spreading to the entire world. It's a heavy task—especially for two realtors used to a suburban lifestyle—but the show still tries to keep things light and entertaining, which Drew attributes to the writing of the show. "There's a lot of energy and pace to the dialogue and it's written in a way that people don't normally speak, which gives it that special sauce. So, there's like a rhythm and a pace to it," she explains. "The dialogue has these funny witticisms and way of saying a sentence in an unorthodox way," she says before complimenting her co-star, "And Tim delivers it so well." She then turns to Tim and says, "You're really good at that strange way they write."
As for them, this writing is just the right kind of humor that makes this new season different from the first one. "It felt like last year we kind of found a sweet spot—like tonally, like around three or four episodes in. This year, it just felt like we hit the ground running," Tim says. He elaborates about how he likes going back to the characters they've already built. "It's nice when there's less set-up. It's just nice to see who these people are. We understand it, [and] we're invested in their relationship. It just feels like you're sucked right in."
CONTINUE READING BELOW
Recommended Videos
The humor is exactly what draws both stars to one particular episode that's somewhere in the middle of the season. (Hint: It has something to do with a special room.) "[It] was inspired comedy," Tim says. "I think we really embraced the drama this year, really, as well. So I thought there were moments when we really balanced some—we were allowed to breathe more a little bit into the drama. I loved it," he says. He also talks about his unexpectedly close relationship with a surprising character on the show. "It's amazing how much I enjoy both shooting those scenes but also—having seen this season—I love watching the scenes. It's really quite a great, unexpected and awesome relationship."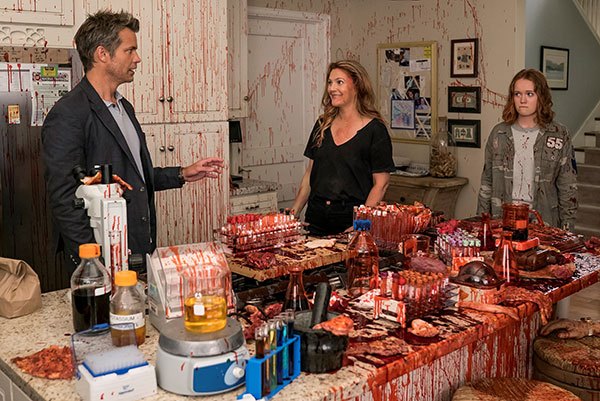 The second season delivers quite a few surprises but it still highlights how relatable Joel and Sheila's "normal" life is. "I also really like when Joel and Sheila are themselves around the kitchen, asking like, 'Where's the garden hose?' while we're actually trying to figure out how to save humanity," Drew says. So while the show may be about the supernatural, it still delivers on being relatable. "I also like when Joel and Sheila are in realtor mode and they go into a real salesmanship kind of attitude. I really love the weird humor in the show. I need to laugh in life—or I'll die," Drew (ironically) quips.
ADVERTISEMENT - CONTINUE READING BELOW
The familiarity along with the hilarious punchlines are why both stars agree that this new season of the show is even better than the first one. "I just thought this season was good—if not, even better—than season one," Drew says. Tim agrees, saying, "I think this season's for sure better than last season. This season really found its voice and the storytelling just felt like it really has more confidence."
But it's not just the characters that make it feel familiar—it's all the gore and blood, too. ""You know, there's a thing that happens where you just get used to things," Tim starts. "I was very dialed into [it] if we were getting the scene right, if it was funny, if it was touching and all that kind of stuff. And when I would watch it later and see the cut, I was shocked at how bloody it was, as if I wasn't there. I didn't even notice it the whole time I was shooting."
The thought of eating "human flesh" isn't appetizing for Drew, either. "The stuff that [makes] the fake human bodies, they look so real because they're made so well, but they taste so horrible." It might look like she's having the meal of her life onscreen, but it can't be farther from the truth. "I have to sell that it's the best thing I've ever eaten. I wish it was an In-N-Out burger or a pizza, but instead it feels like a fermented rubber," she jokes.
ADVERTISEMENT - CONTINUE READING BELOW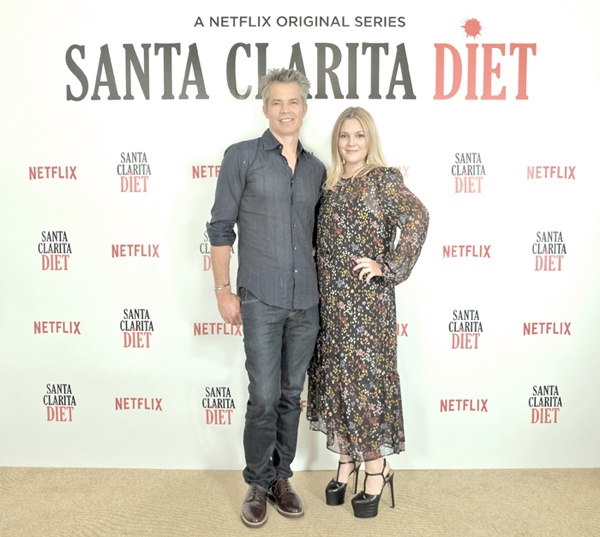 Yet despite the gruesomeness of it all, Drew shares about how her experiences as a viewer also makes her want to do better as an actor. "I liked the first season of The Crown so much I was like, 'Please don't come back and not be as amazing,' and yet it was," she reveals. "I think there's like a responsibility that you have to make it better. We came to work every day wanting to do our best and so I think you have to work harder so it's as exciting—if not better than the first season."
There may be a lot of hijinks and misadventures going on in the show, but it's still just as personal both for the viewers and the actors behind the beloved characters. Drew opens up, saying, "Entering this show after the loss of a marriage [that] I thought would last forever and was certainly my plan, I was happy to engage in a show where couples do make it work because we all know how difficult it is." It's the show's positivity that drew her to the show in the first place.  "The last thing I can ever imagine is to sit around watching a show about divorce—like, that is just not how I want to spend my free time after having gone through that, so I was just into Joel and Sheila's capabilities."
ADVERTISEMENT - CONTINUE READING BELOW
"It's not always easy. It's not always pleasant. It can be very confusing, but I like that they continue to come to solutions even when they're on opposing sides from each other. There's a diplomacy to their love that I like watching on the show," she says. And if there's anything the show talks about despite the seemingly random things like severed limbs, readying a dinner, and skipping school, it's really about making it all work out. As Drew says, "I want to believe, and focus, and watch functionality, not dysfunctionality."
Season 2 of Santa Clarita Diet premieres on March 23 on Netflix.
Your guide to thriving in
this
strange new world.
Share this story with your friends!
---
Help us make Spot.ph better!
Take the short survey
Load More Stories