10 Albums and EPs Everyone's Listening to Right Now
Thank you, music gods.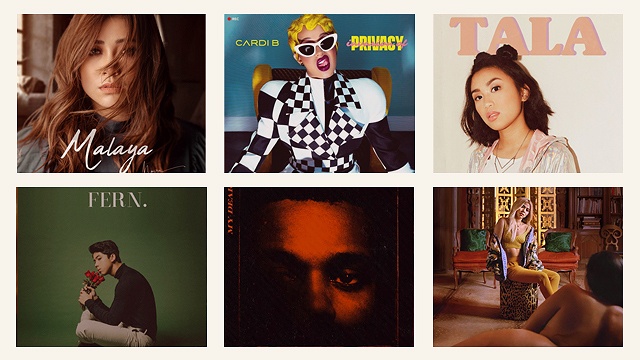 (SPOT.ph) The music gods have been blessing us with one great music release after another this 2018 with singles, albums, and EPs that we just can't help but play over and over again. (And to think that it's just the first few months of the year!) Be it for your commute, your downtime from work, or a jam session with friends, there seems to be an endless catalogue of great music to choose from and add to your playlist. We narrow it down to 10 certified bop albums and EPs you need to check out right now.
Invasion of Privacy by Cardi B
Everyone's new favorite female rapper Cardi B has finally released her debut album, filled with as much attitude and personality as you'd expect from her. The 25-year-old breakout artist shows her versatility and vulnerability in a span of 13 tracks, as she dabbles through different forms of rap—from tap, pop-rap, to simmered-down jams. Accompanying her smash-hit "Bodak Yellow" in this album are more solo tracks plus outstanding collaborations with artists like Chance the Rapper, SZA, and Kehlani.
Must-listen tracks: "I Like It," "I Do (ft. SZA)," and "Be Careful"
Fern. (EP) by Fern.
Seventeen-year-old singer/songwriter/producer Fern. joins the ranks of OPM acts who are taking things global with his self-titled debut EP. Featuring infectious tracks with a sound reminiscent of acts such as The 1975, LANY, and hits of the '80s, this wunderkind musician has already started to capture the attention of Filipino and global audiences alike. In fact, he's been included in hit charts in countries like Singapore, Thailand, Indonesia, Hong Kong, and Taiwan. His six-track EP includes upbeat songs you can't help but dance to, such as his chart-topping debut single "Into You," and some slower tunes that will get you hooked on some feelings.
ADVERTISEMENT - CONTINUE READING BELOW
Must-listen tracks: "Into You," "Lie 2 Me," and "Wanna Dance With You"
Expectations by Hayley Kiyoko 
Emerging queer icon and former Disney star Hayley Kiyoko makes her studio album debut with the release of Expectations. The ambitious 13-track effort features tracks that highlight Kiyoko's unapologetic outlook on life—tackling topics about the intricacies of LGBT love and experimentation. Kiyoko is definitely on her way to become a beacon for LGBT representation in the music scene, apart from being a worthy addition to your playlists.
Must-listen tracks: "Curious," "What I Need (feat. Kehlani)," and "Sleepover"
Materyal (EP) by Shanti Dope
We know you just can't get his fiery-hot hit single "Nadarang" out of your head, so it's probably time to add more Shanti Dope to your playlists. The 17-year-old Pinoy rapper proves to be more than just a one-hit wonder as he showcases both depth and experience in his writing, with songs like "Shantidope" (featuring non-other than Shanti's mentor and OPM Rap Legend himself, Gloc-9) that talk about being young, in love, and trying to pursue your passions. We can't wait to hear what other hits will come next from this young artist.
Must-listen tracks: "Shantidope (feat. Gloc-9)," "Materyal," and "Norem"
My Dear Melancholy, (EP) by The Weeknd
The Weeknd is back with his newest solo effort, My Dear Melancholy, a six-track EP that showcases the musician's return to his origins—featuring songs that have more somber, morose narratives. This EP still includes the beats that the artist is known for (following his experimentations in his previous LP Starboy), all while showing his versatility in providing cool, contemporary hits to both old and new fans alike.
CONTINUE READING BELOW
Recommended Videos
Must-listen tracks: "Call Out My Name," "Wasted Times," and "Try Me"
Grey by Kiana Valenciano
Following her breakout single "Does She Know," Kiana Valenciano released her four-track debut EP, which she calls "a preview for what's to come" for her future music releases. Though this release has a short tracklist, its songs definitely show that she's ready to make her own mark in the music industry.
Must-listen tracks: "Caught U," "Grey (feat. Moophs)," and "Misfits"
TALA (EP) by TALA
It's all about empowerment and self-love in this 18-year-old Filipina singer/songwriter's debut EP, where she showcases her knack for relatable storytelling while serving some soulful, charming vocals. Case in point: Her hit single "Nothing Personal" will make you go, "Story of my life, tbh," followed by equally bop-worthy anthems to chill to at any point of the day.
Must-listen tracks: "Nothing Personal," "Boy," and "Walk Away"
Geography by Tom Misch
If it's easy listening you're looking for, Tom Misch can surely provide an ethereal sonic experience with his debut effort. The 22-year-old British singer/producer has a unique approach to music, successfully blending pop, R&B, jazz, hip-hop, and electronica all throughout the album's 13 tracks. With his effortlessly smooth vocals and head-bopping tracks, you wouldn't mind chilling and dancing to his album all day long.
Must-listen tracks: "South of the River," "Lost In Paris (feat. GoldLink)," "Disco Yes (with Poppy Ajudha)," and "Movie"
Malaya by Moira dela Torre
There seems to be no stopping Moira Dela Torre from churning out even more heartbreaking tunes with the release of her debut album. After several years of trying to make it in the business, the 24-year-old singer/songwriter has charmed her way into Filipino hearts and ears aplenty—equipped with her dreamy voice and talent for writing songs. You might have shed a tear or two listening to her breakout hit "Malaya" from the film Camp Sawi or her sweet rendition of "Torete" for the movie Love You to the Stars and Back. The 13-track album not only features the soundtrack hits Moira has come to be known for, it also includes equally heart-wrenching and dreamy originals that you can put on loop till her next certified hit comes out.
ADVERTISEMENT - CONTINUE READING BELOW
Must-listen tracks: "Malaya," "Tagpuan," and "We & Us"
Black Panther: The Album by Various Artists
Let's face it—Wakanda IS forever. You might still be reeling from the cinematic and cultural masterpiece that is Marvel Studios' Black Panther. But as we await the release of the most ambitious crossover event, we can't help but play this album again and again. Produced by American rap icon (and now, Pulitzer Prize winner) Kendrick Lamar, the 14-track rap album serves as a backdrop to the film, giving more substance and style to its overall tone. Featured in the album are songs by Lamar himself, along with an all-star lineup of artists such as SZA, The Weeknd, Khalid, Future, and Travis Scott, among many others. Aside from being the source of the film's music, the album can also stand alone as a well-produced rap album.
Must-listen tracks: "All the Stars (with SZA)," "King's Dead (with Future, Jay Rock & James Blake)," and "Pray For Me (with The Weeknd)"
Share this story with your friends!
---
Help us make Spot.ph better!
Take the short survey
Load More Stories