10 LGBTQ+ Artists You Should Already Be Listening To
Add them to your playlists, stat!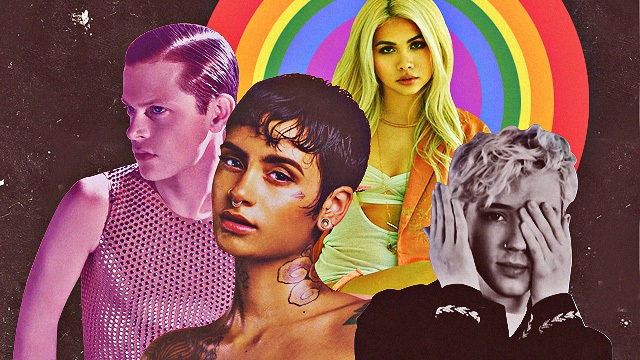 (SPOT.ph) There's still a lot left to be done when it comes to LGBT representation in all forms of media, whether in movies, TV shows, or in music. But it's good to know (and finally see) that LGBT artists are finally getting the platform and recognition that they deserve—not just for them, but for everyone who can relate to them as well. So, we round up 10 artists that you should definitely add to your playlist—that is, if they aren't already there.
ADVERTISEMENT - CONTINUE READING BELOW
Hayley Kiyoko
Must-listen: "Curious," "Girls Like Girls," "Gravel to Tempo"
Dubbed by her fans as "lesbian Jesus," singer-songwriter Hayley Kiyoko identifies as a gay woman. She actually started out as part of the band, The Stunners, which toured with Justin Bieber in 2007. She was also part of a couple of Disney Channel movies and shows like Wizards of Waverly Place and Lemonade Mouth. Now, she has a solo album called Expectations, where she sings about having crushes on girls, which she was once afraid to talk about in her dream-pop tunes. "I didn't want to lead with [my sexuality] because I didn't know what people were going to think. I felt like people weren't going to accept me as a pop artist. Not to make myself sound special, but there's no one out there. It's scary," she shares in an interview with Billboard.
Perfume Genius
Must-listen: "Queen," "Slip Away," "Just Like Love"
ADVERTISEMENT - CONTINUE READING BELOW
Perfume Genius a.k.a. Mike Hadreas began his music career by starting up a MySpace page in 2008. His art-pop-slash-indie-rock music talks about his experiences being bullied—because he was the only one who was openly gay at his school. With four studio albums to date, he's been known for his eccentric looks and his original sounds that take a deeper look at sexuality, his health, and how the world treats gay men.
Janelle Monáe
Must-listen: "PYNK," "Q.U.E.E.N.," "Tightrope"
Singer, songwriter, rapper, and music producer Janelle Monáe has been releasing one great album after the other, and has even starred in critically acclaimed films: Oscar-winning Moonlight and Hidden Figures. She's been hounded by questions about her sexuality and in an interview in 2011, expressed that she wanted to wait before talking about it. Now, with her 2018 album Dirty Computer, Monáe freely sings about her womanhood and queerness. She has expressed identifying with bisexuality and pansexuality. Monáe also reveals that her sexual freedom has always been in her music, if you listen close enough. (Fun fact: Her song "Q.U.E.E.N." was supposed to spell out the word "queer," instead, though "queer" can still be heard in the backing vocals.)
ADVERTISEMENT - CONTINUE READING BELOW
Recommended Videos
Load More Stories